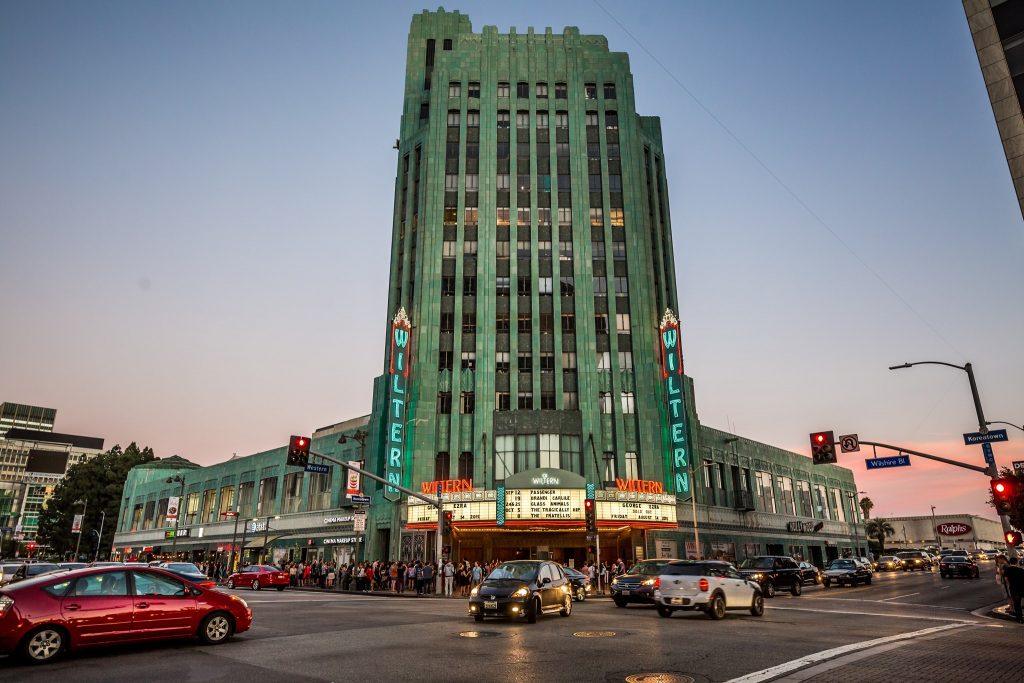 The Wiltern History
On the edge of Los Angeles' Koreatown neighborhood, the Wiltern sits at the base of the historic 155-foot Pellissier Building. Opened in 1931 as the Warner Brothers Western Theatre, the Wiltern's name is derived from its cross streets, Wilshire Boulevard and Western Avenue. The fixed theater seats remain in the mezzanine and loge levels, and today, the Wiltern is home to concerts and musicals under the majestic sunburst design of Art Deco skyscrapers on the concert hall's ceiling.
The Wiltern Performers
The Wiltern was largely a movie house until its 1985 renovation, when Tom Petty & The Heartbreakers played one of the first concerts following construction. The venue has hosted acts from across the musical spectrum — like STS9, Dream Theater and Noname. In 2004, David Bowie played a whopping 28-song setlist, and in 2019, Madonna played a 10-night run of shows on her Madame X tour. Keeping with tradition, The Nutcracker Ballet continues to call the Wiltern home every winter.
Planning Your Visit to The Wiltern
The Wiltern offers standard concession food like burritos and nachos, along with fully stocked bars throughout the venue. Some of the best Korean restaurants in LA are right around the corner. Soowon Galbi and Soot Bull Jeep are solid bets for proper Korean BBQ, while Chef Kang Sul Box makes street-style Korean bites. Here's Looking at You offers delicious cocktails and gastropub fare. All are walking distance from the Wiltern, the Purple Line Metro stop and nearby parking structures.
The Wiltern Frequently Asked Questions
What are the parking options at The Wiltern?
Parking structures are nearby, and the Wiltern recommends the Ralph's Parking structure adjacent to the venue. Wilshire Underground Parking is available for certain shows.
Does The Wiltern serve food?
The Wiltern offers concession fare like burritos, nachos, pretzels and popcorn.
What are the seating options at The Wiltern?
The main floor of the Wiltern is generally standing room only, while assigned seats can be purchased for the Loge and Mezzanine levels. Premium Seating info can be found here.
What are The Wiltern safety & security guidelines?
Items not permitted at the Wiltern include outside food or drink, large bags or backpacks, cameras with detachable lenses and audio/video recording devices. A full list of prohibited items can be found here. A clear bag policy is in place, and detailed info on bag sizes and COVID-19 safety policy is available here.
Additional California Venues
You Might Like
Everything you need to know about Miami's hub for sports and entertainment.
Xfinity Center History Since 1986, Xfinity Center has been Massachusetts' premier venue for outdoor concerts in a tree-lined setting. Originally known ...
Gainbridge Fieldhouse History In the heart of Indianapolis, Indiana, Gainbridge Fieldhouse has hosted a dizzying number of all-star athletes and world-class ...