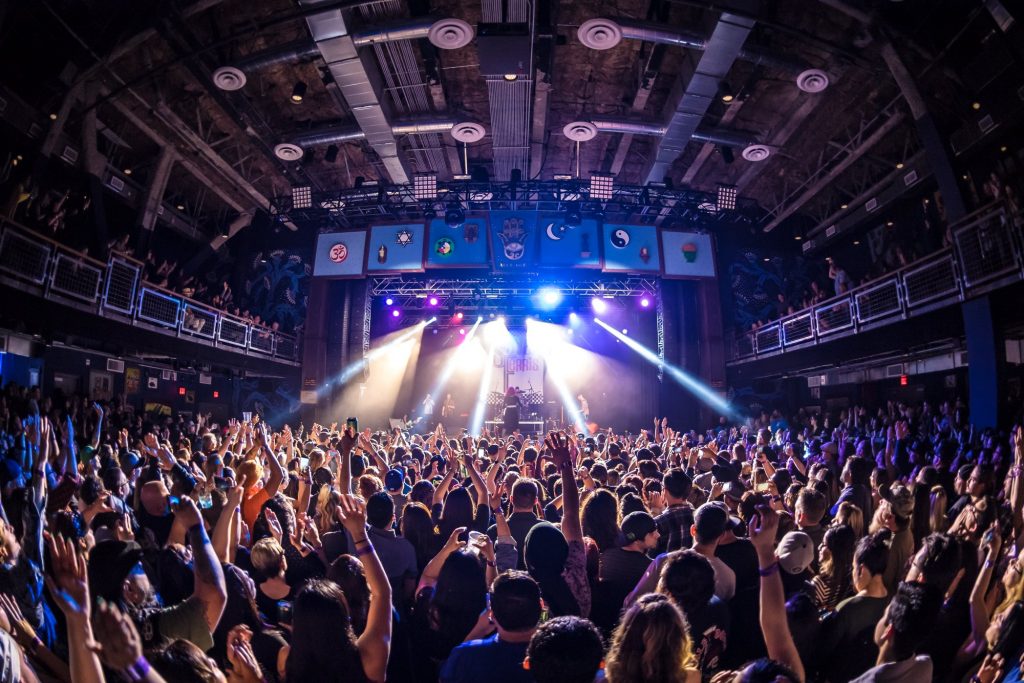 House of Blues Anaheim History
Following a 15-year run in Downtown Disney, the "Mouse House" moved to the nearby STC Anaheim GardenWalk in 2017 to be reborn as House of Blues Anaheim. With 44,000 square feet of space under one roof, HoB Anaheim is a go-to concert hall destination in Orange County, featuring a 2,200-person main room and the more intimate 400-capacity Parish.
House of Blues Anaheim Performers
House of Blues Anaheim reopened with a bang as the Blues Brothers cut the ribbon to welcome acts like Social Distortion, Anderson .Paak & the Free Nationals, and Jason Isbell and the 400 Unit for the inaugural slate of shows. Since then, HoB Anaheim has hosted some of the most well-known acts in the world across a wide spectrum of genres — rock legends Billy Idol and Santana, contemporary stars like Maren Morris and Tori Kelly, rappers DMX and Young Dolph, and the harder rock vibes of Korn and Thrice.
Planning Your Visit to House of Blues Anaheim
For the authentic House of Blues experience, you'll want to have dinner at the HoB Anaheim Restaurant & Bar. Fried chicken and BBQ ribs highlight the Southern-inspired menu, along with Southern tacos, flatbreads, salads and more. Reservations can be made here. There's on-site parking at the Gardenwalk Parking structure, as well as numerous other dining options in the outdoor shopping marketplace — P.F. Chang's China Bistro, California Pizza Kitchen and Roy's Hawaiian fusion.
House of Blues Anaheim Frequently Asked Questions
What are the parking options at House of Blues Anaheim?
The GardenWalk self-parking structure is your best bet, with two entrances on Disney Way and Katella Avenue between Harbor Boulevard and Clementine Street. House of Blues Anaheim guests get their first three hours validated. More parking structure info here.
Does House of Blues Anaheim serve food?
Yes. Check out the full menu of Southern-inspired cuisine at the House of Blues Anaheim Restaurant & Bar here.
What are the seating options at House of Blues Anaheim?
HoB Anaheim is a general-admission venue with mostly standing room. VIP seating options are available, and more info on those can be found on the venue website.
What are House of Blues Anaheim safety & security guidelines?
House of Blues Anaheim has a clear-bag policy and small-bag restrictions. All security and COVID-19 safety details can be found here.
""