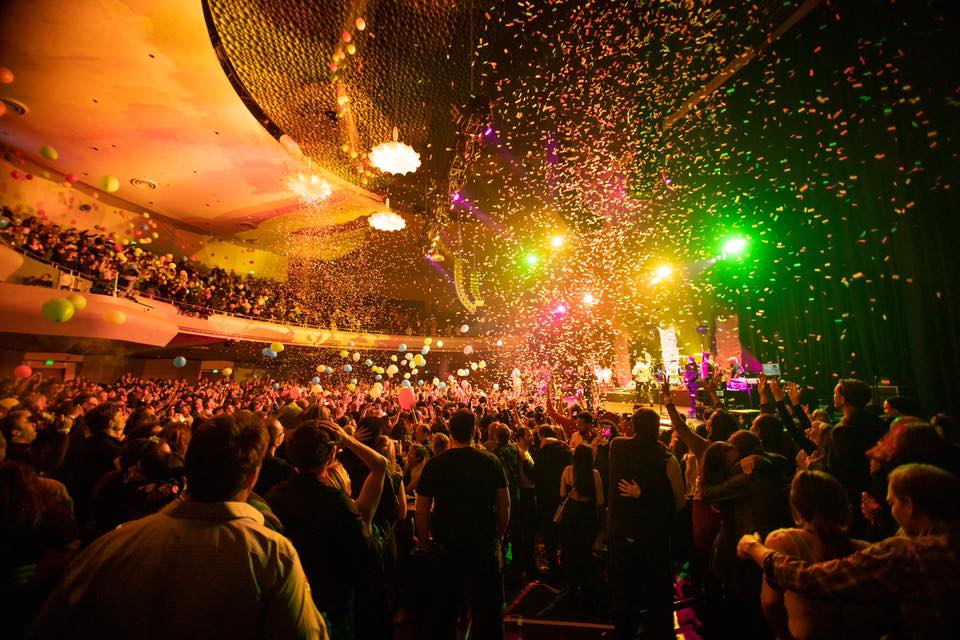 SF Masonic Auditorium History
This SF Masonic Auditorium temple doubles as San Francisco's most stunning midsize theater. Opened in 1958 at the top of Nob Hill, the building is a modernist architectural marvel that houses the main SF Masonic Auditorium Auditorium, the Masons' Grand Lodge of California, and the Henry W. Coil Library and Museum of Freemasonry. The exterior facade is engraved with a war memorial designed by famed sculptor Emile Norman, while the building's grand lobby features an astonishing 38' x 48' "endomosaic" mural also created by Norman. In 2014, this historic site was subjected to major renovations that updated it with all the hallmarks of a modern concert hall, including tiered standing levels, light and art installations, and an expanded capacity for 3,300 attendees.
SF Masonic Auditorium Performers
During the '60s, the SF Masonic Auditorium hosted America's most celebrated entertainers, including Barbra Streisand, Bob Newhart, Bob Dylan and Ella Fitzgerald, and it's continued to showcase the best of the best. In the '80s, it became the place to catch living legends like Ray Charles and Frank Sinatra in their golden years, while the 2000s saw it welcome more contemporary acts like Ray LaMontagne, Antony and the Johnsons, and comedian Patton Oswalt. Following its 2014 renovation, the SF Masonic Auditorium has become San Francisco's premier venue for catching alt-pop stars like Florence + the Machine and Janelle Monáe, and rock pioneers like Iggy Pop and Brian Wilson.
Planning Your Visit to the SF Masonic Auditorium
The SF Masonic Auditorium sits in one of San Francisco's most picturesque neighborhoods, Nob Hill, a stone's throw from local landmarks Grace Cathedral and Huntington Park. It's also a short walk (or cable-car ride, if you don't like strolling steep slopes) to many restaurants, like the Nob Hill Cafe gourmet pizzeria and The Big 4 Restaurant, a French-styled bistro inside the Huntington Hotel.
SF Masonic Auditorium Frequently Asked Questions
What are the SF Masonic Auditorium's parking options?
The venue's 24-hour on-site parking garage can be accessed via California Street, right next to the main entrance. Other options include the Grace Cathedral garage (on Taylor between California and Sacramento) and the Crocker Garage (on California between Taylor and Mason).
Does the SF Masonic Auditorium serve food?
There are bars and concession stands inside the venue.
What are the seating options at the SF Masonic Auditorium?
Whether it's a seated show or a general-admission/standing-room affair, the SF Masonic Auditorium's tiered main level ensures everyone in attendance has a clear view of the stage. Balcony seating provides an overhead view of the action. VIP boxes are also available.
What are the SF Masonic Auditorium's safety & security guidelines?
Attendees will be subjected to a bag search and various levels of screening. Forbidden items include weapons, sharp or dangerous objects, drugs, wallet chains, mace, cameras, and video/audio recorders. For a complete list of security guidelines — including COVID-19 protocols — visit the venue's website.
Additional California Venues
You Might Like
Everything you need to know about Miami's hub for sports and entertainment.
Xfinity Center History Since 1986, Xfinity Center has been Massachusetts' premier venue for outdoor concerts in a tree-lined setting. Originally known ...
Gainbridge Fieldhouse History In the heart of Indianapolis, Indiana, Gainbridge Fieldhouse has hosted a dizzying number of all-star athletes and world-class ...