How We'll Remember Kobe's Legacy off the Court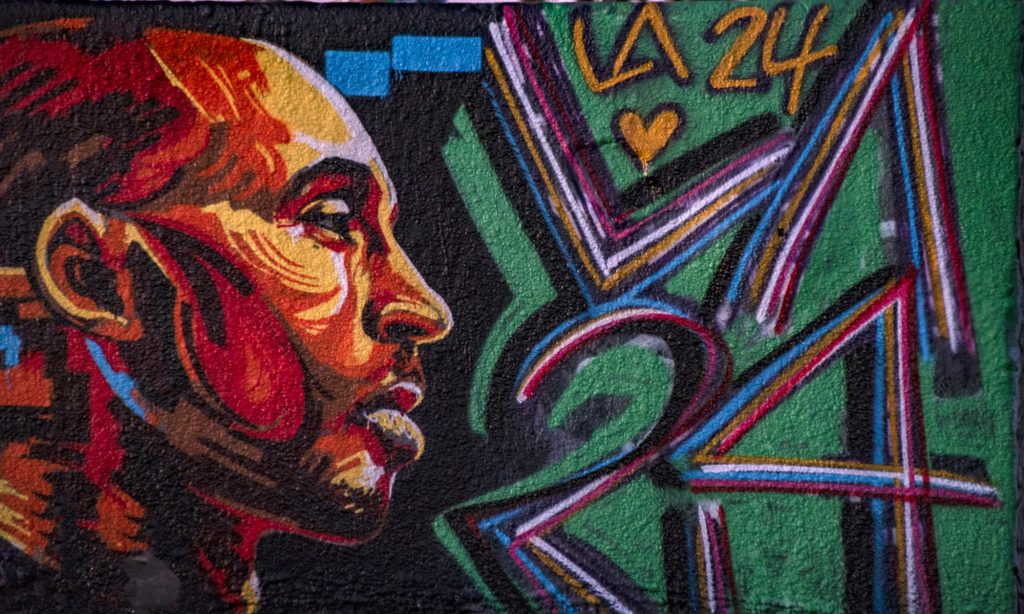 On August 24, the world will honor the memory of one of the greatest players in NBA history: Kobe Bryant. Not only does Mamba Day celebrate the uniform numbers — 8 and 24 — that Bryant wore in the first and second halves of his pro career, it also falls one day after what would have been his 42nd birthday. Here are eight memories that go beyond what most people think of when they remember the Black Mamba.
A Loving Father and #GirlDad
Kobe Bryant was the father of four daughters with wife Vanessa: Natalia, Gianna, Bianka and Capri, who was born in 2019. He relished raising his children, and instilled in his daughters a love of sports on par with his own. While expecting his fourth child, Kobe joked to ESPN's Elle Duncan about how he wanted to finally father a boy, before confessing that he'd have five more daughters if he could, calling himself a "girl dad." The quote, which went viral after Kobe's passing, inspired a mass embracing of the #GirlDad label.
Making the Mamba Mentality a Life Philosophy
Kobe Bryant's actions both on the court and off made it abundantly clear that he believed anyone can achieve whatever they set their mind to, if they're willing to work for it. He never stopped driving himself at the thing that he was most revered for — basketball — but he said that that relentlessness wasn't a mindset that applied only to sports. "The Mamba Mentality is a way to live," he once stated. "It's not something where you live with a bravado, or anything like that. It's just the simplest form of trying to get better at whatever is that you're doing."
Giving Time and Financial Support to Those In Need
Several charities were close to Kobe Bryant's heart. From 2007 onward, Kobe was an honorary ambassador for After-School All-Stars, an organization founded by Arnold Schwarzenegger to mentor underprivileged children. Kobe was also heavily involved in the Make-A-Wish Foundation, granting over 200 wishes by the time he retired from the NBA in 2016. Kobe's personal charities — the Kobe and Vanessa Bryant Family Foundation and the Mamba & Mambacita Sports Foundation — have furthered his philanthropic aims.
Supporting the WNBA
The WNBA lost two of its greatest champions upon the passing of Kobe Bryant and his daughter Gianna, both of whom supported the league beyond being fans. Much was said about Gigi's eventual trajectory as a player, and how she could have been to the WNBA what her father was to the NBA, but even as a fan, she showed others just how much the league meant to a younger generation. In honor of Kobe and Gianna, the WNBA has created the Kobe & Gigi Bryant WNBA Advocacy Award, which salutes those who raise awareness and visibility of women's basketball on and off the court.
Representing Philly
On February 4, 2018, the Philadelphia Eagles won Super Bowl LII over the New England Patriots, and like every Philly fan that night, Kobe Bryant was ecstatic. While holding his daughter Bianka, Kobe jumped, danced for joy and slapped his knee as his wife Vanessa captured the moment for her Instagram account. In kind, the National Football League paid their respects to Kobe, with the Kansas City Chiefs and San Francisco 49ers participating in a moment of silence on the 24-yard line before Super Bowl LIV.
"Dear Basketball"
On November 29, 2015, Kobe Bryant announced his retirement via The Players Tribune, in a heartfelt letter he wrote that was titled "Dear Basketball." In 2017, "Dear Basketball" was animated by veteran Disney animator Glen Keane and scored by legendary composer John Williams for a short film that was narrated by Bryant. The film went on to win Best Animated Short at the 90th Academy Awards in 2018, making Bryant the first professional athlete to win an Oscar.
Supporting Future Generations of Athletes
In 2018, Kobe teamed up with Chad Faulkner's Sports Academy to form Mamba Academy, with locations in Thousand Oaks and Redondo Beach, California. The facilities helped young athletes and All-Stars alike to reach their true potential. In May 2020, the "Mamba" name was retired out of respect for his family and his estate, but his legacy lives on through The Sports Academy.
A Life Long Learner and Teacher
A multilingual student of philosophy, Kobe was on a lifelong quest to grow, learn, expand and teach. He was a voracious reader, often sharing book recommendations to teammates and anyone who'd listen – Paul Coehlo's The Alchemist and Malcolm Gladwell's The Tipping Point were two of his favorites –and an author, with several books to his name. Perhaps one of his most influential teachers, though, was Bruce Lee, whose Jeet Kune Do philosophy resonated with Kobe for emphasizing the importance of remaining flexible and adapting to new challenges in life. Kobe once explained why he thought Lee was so inspirational and what he hoped he could learn from him about teaching others: "He was really big on sharing his knowledge and hoped he could inspire. Not to learn how to fight, but through the art of fighting, learn how to be a better person. That's what I want to pass on to the future generations."
Image Courtesy of Circe Denyer 
Tags
You Might Like
Social media has kept these sports stars connected with their legions of admirers.
There are some definite upsides to watching a show from a venue that's all yours.
Professional athletes and athletic organizations seize the opportunity to salute our nation's troops.