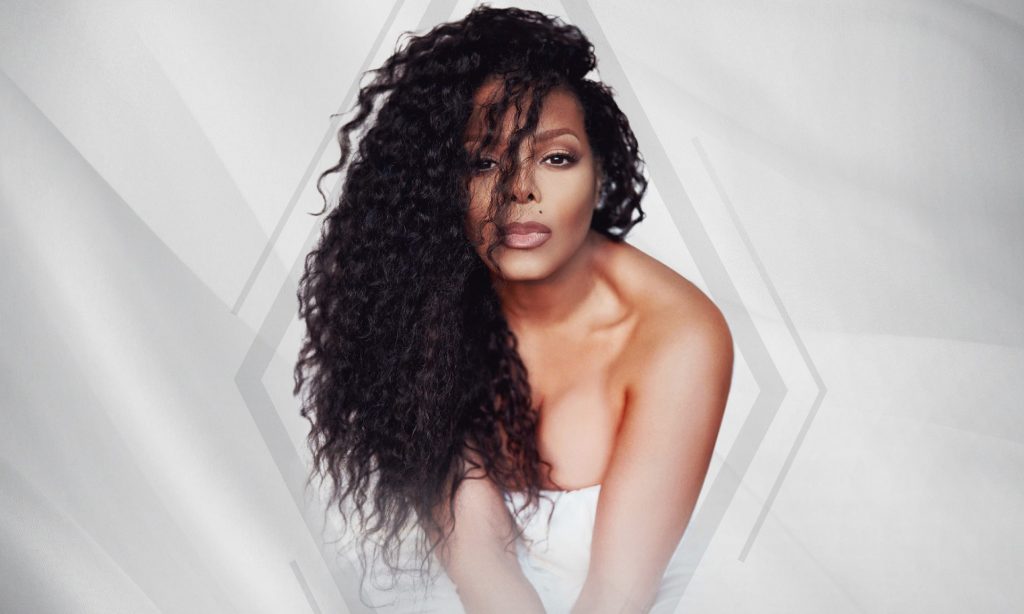 As NBA All-Star Weekend kicks into gear in Chicago, this February 14 also brings sweet surprises (and even some diamonds) from pop great Janet Jackson and alt-rock vets Pearl Jam. And who says hard rock and Valentine's Day don't go together? If you're still looking for just the right gift for your sweetheart, may we suggest tickets to see the newly reunited icons Rage Against the Machine or maybe rock legends Def Leppard and ZZ Top together at last?
1. Janet Jackson Announces Black Diamond World Tour
The indomitable Miss Jackson recently celebrated the 30th anniversary of her monumental 1989 album, Rhythm Nation 1814, and now she's announced the upcoming release of her 12th studio album, Black Diamond, plus an accompanying world tour. As for the name, Jackson says: "Black Diamonds are the toughest of all the diamonds, the hardest to cut. I see that as the hardest to hurt or destroy… I see myself as a Black Diamond in its purest form." The Rock and Roll Hall of Famer will kick off her Black Diamond World Tour on June 24 in Miami and make her way across the U.S. throughout the summer with a final date on August 23 in Tacoma, Washington. Tickets are on sale now.
2. NBA All-Star Weekend Kicks Off in Chicago
The 2020 #NBAAllStar #TeamLeBron & #TeamGiannis rosters as drafted by @KingJames and @Giannis_An34! pic.twitter.com/zV0w37TgDN

— NBA (@NBA) February 7, 2020
The best of the best in basketball have arrived in Chicago for All-Star Weekend. Tonight, the Rising Stars game will see 10 first- and second-year NBA players from the U.S. (including Atlanta's Trae Young) go up against 10 young talents from around the world (including Dallas' Luka Doncic from Slovenia). Tomorrow, the State Farm All-Star Saturday Night will include a Skills Challenge, 3-Point Contest and Slam Dunk battle. Then on Sunday, the 69th NBA All-Star Game begins at 8 p.m. ET at United Center with the Los Angeles Lakers' LeBron James and Milwaukee Bucks' Giannis Antetokounmpo leading their teams of 10 players each. The weekend will also include performances by Chaka Khan, Jennifer Hudson, Quavo and Queen Latifah.
3. Rage Against the Machine Plan More Reunion Shows
Rock firebrands Rage Against the Machine announced their reunion late last year after a nine-year hiatus. Now, they'll be bringing their revolutionary rock to cities across North America with an extensive 2020 world tour. All proceeds from the first three shows — in El Paso, Texas (March 26), Las Cruces, New Mexico (March 28), and Glendale, Arizona (March 30) — will go to immigrant rights organizations. Meanwhile, portions of ticket sales from the rest of the tour, which has a final date on August 13 at Madison Square Garden, will go to various other charities. Tickets are on sale now.
4. Pearl Jam Unveil New Song
Last month, Seattle alt-rock stalwarts Pearl Jam announced the release of their 11th studio album, Gigaton, scheduled to drop March 27, along with a spring tour around North America. This week, they offered up another taste of that album with the song "Superblood Wolfmoon." You'll have to put in a little extra work if you want to hear it. First, you'll need to download Pearl Jam's app, then head outside and point your phone's camera at the moon to get the song to play and see some lunar-inspired animations on your screen. 
5. Def Leppard to Hit the Road with ZZ Top
Rock warriors Def Leppard already have a busy 2020 lined up, first with their summer stadium tour alongside fellow '80s heroes Mötley Crüe, Poison and Joan Jett. Once that trek ends on September 5 in Los Angeles, the band will then join forces with ZZ Top for their fall 20/20 Vision tour, which launches on September 21 in Albany, New York. Tickets go on sale next Friday, February 21.
You Might Like
Plus: The Smashing Pumpkins return, Netflix Is a Joke Fest and more.
Plus: Maren Morris announces tour, the NFL combine and Kraftwerk turn 50.
Plus: NCAA Men's Basketball rankings, a new album from Grimes and The National hit the road