Step Inside: MSG – Home of the Knicks & Rangers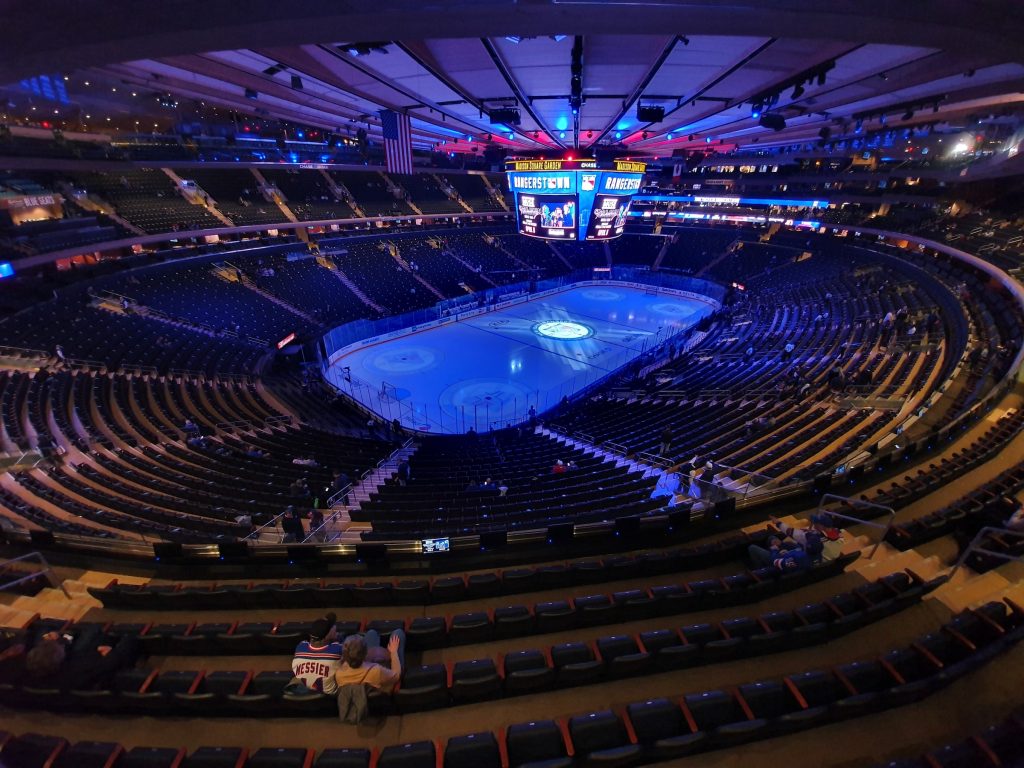 Stadium History | Parking & Admission | Seating & Capacity | Food & Concessions
One of the world's most famous arenas. Madison Square Garden is located in the heart of Midtown Manhattan at 7th and 8th Avenue between 31st and 33rd Street. The stately venue occupies an entire block of real estate and sits conveniently on top of Pennsylvania Station, near other NYC landmarks like the Empire State and Chrysler buildings. The facility is best known as the official home of the NBA Knicks and NHL® Rangers, and fans had the opportunity to see both teams win a championship game on their own dedicated home court.

The multi-use court converts to accommodate many other sporting and entertainment events apart from basketball and hockey home games over the years, including world-class boxing, WWE wrestling, ice skating competitions, professional bull riding tournaments, live concerts, musical theater, circus acts, and many more. With a calendar booked nearly 300 days out of the year, it's no wonder that Madison Square Garden serves as a top destination in the New York metropolitan for tourists and locals alike.
What events are coming up at Madison Square Garden?
See upcoming events and buy tickets for Madison Square Garden right here on Ticketmaster.

Madison Square Garden History
Madison Square Garden — often abbreviated by its initials — has a colorful history that includes three failed predecessors that each contributed to its lasting reputation as The Most Famous Arena in the World.
MSG I (1879–1890) and MSG II (1891–1925) were located upon the square which the venue was originally named after; MSG III was built in 1925 further uptown at 8th and 50th, later becoming the first air conditioned arena to ever exist. During this era, the seating at Madison Square Garden could accommodate over 18,000 spectators across three separate floors, most of whom came to watch the legendary boxing matches that would take place in the 200-foot long arena.
After the third failed attempt to make a profit, demolition plans began as the search for a new location got underway. The cityscape changed significantly since then and space was at an all-time premium, eventually leading to the construction site above Penn station, considered to be a feat of ingenuity at the time. The Garden, as it's now colloquially known, opened in 1968 and has remained in business since, making it the oldest operating arena in the United States.
Throughout its tenure, The Garden venue has been the site of some of the most memorable moments in professional sports, including The Fight of the Century between Muhammad Ali and Joe Frazier, the New York Knicks NBA Championship win in 1970, and the New York Rangers® Stanley Cup® Championship in 1994. The venue has hosted some of the most iconic concerts in history, with performances by the Rolling Stones, The Beatles, Bob Dylan and Elton John, to name a few. In more recent years, high-profile names like Lady Gaga and Katy Perry have taken the stage.
Having undergone two separate rounds of renovation and expansion in 1999 and 2013, The Garden is now not only one of the most famous arenas in the world, but also one of the most expensive. It's equipped with state-of-the-art lighting and sound systems, with modern amenities such as free Wifi throughout the venue.
Parking & Admission at Madison Square Garden
The best way to get to Madison Square Garden is by taking the train to Penn Station. If you plan on driving, you can book a parking space in nearby options ahead of time through the Spothero app. Follow the signage to locate the gate entrance indicated on your digital ticket based on your assigned seat. (Pro Tip: VIP at Madison Square Garden have a separate entrance with faster lines).
Guests should arrive early and travel light, as oversized bags larger than 22" are prohibited. They don't have to be clear, but must fit comfortably under your seat. There is no checked baggage area.
Guests are also not allowed to bring signs, skateboards and weapons into the venue. According to the Madison Square Garden rules, guests are not allowed to leave and re-enter. All exits are final.
Madison Square Garden Capacity & Seating Options
The Madison Square Garden capacity for hockey games is 20,000 people and 18,000 people for basketball games. There are five stories of seating that offer great views throughout the venue.
Madison Square Garden seating options range from standing-room only to standard seating, with options for balcony or premium seating, in addition to the highest-rated luxury suites. The Garden seating chart varies by event and may include behind-the-stage seats for concerts and shows.
What are the best seats at Madison Square Garden?
The best seats at Madison Square Garden vary depending on the event and personal preferences. Check out Madison Square Garden seating charts and find your favorite seat today.
Food & Beverage Options at Madison Square Garden
Food and beverages can be purchased from a variety of vendors at The Garden with cashless payment methods, including credit card and mobile pay. Reverse ATMs are available onsite, allowing you to convert cash into a debit card. Madison Square Garden policy states no outside food or drinks are allowed in the arena, even if they're sealed (though clear, empty water bottles are okay).
Food options go beyond your basic concession stand with upscale New York steaks, a kosher deli, slow-cooked barbeque, and Japanese cuisine. Water fountains are accessible inside the venue and alcohol is available for purchase at most events for guests 21 and older.