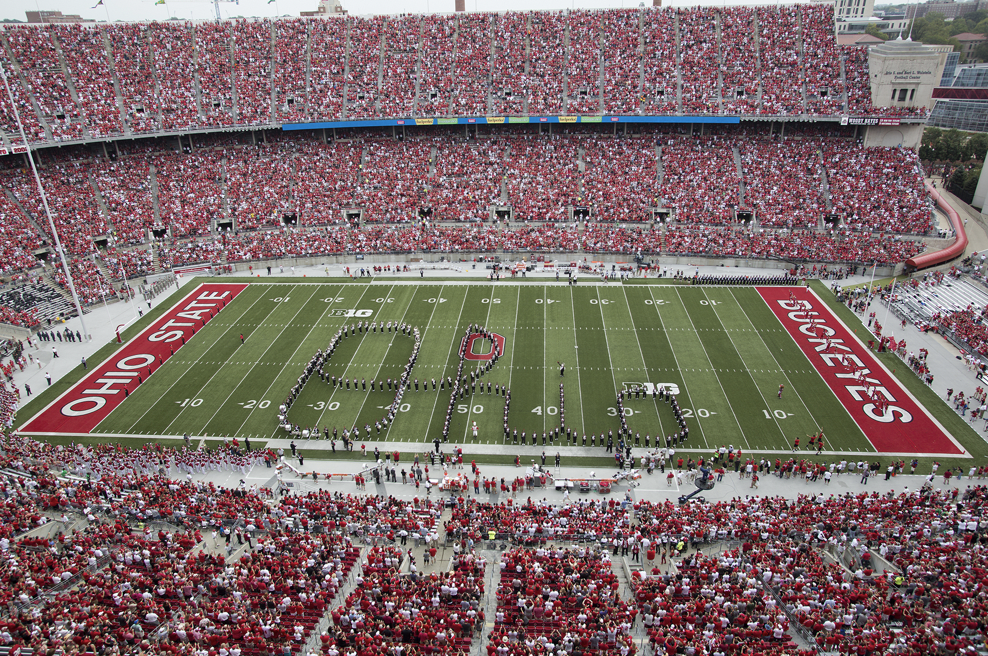 Welcome to Ticketmaster Insider's new series chronicling some of NCAA Football's most significant traditions. We've dominated quarters one, two, three, and four. Here we go into overtime!
Ohio State Buckeyes
The Ohio State University Marching Band is famous for the script Ohio, first performed in 1936. Lesser known, it is an honor to be the one to dot the "i" in Ohio on the field. The honor is usually given to a fourth or fifth year sousaphone player. Originally there was no special emphasis placed on the i-dotter, until in 1937 the original i-dotter asked to switch places with a sousaphone player. Then in 1938, the drum major arrived at the top of the i a few measures too early. The sousaphone player who was supposed to dot the i turned and bowed to the crowd to use up the rest of the music. The crowd went wild, and the bow has been in every show since.
Sometimes, non-i-dotters are given the special honor for various reasons. Comedian Bob Hope, Sen. John and Annie Glenn, and retiring Marching Band director John R. Woods have all been given the honor. Former Ohio State football coach Earle Bruce dotted the i most recently in 2016, and he said, "I think this is the greatest honor I've ever received."
University of Washington Huskies
What better way to take advantage of one of the few universities you can travel to by boat than with "sailgating" on game day? For each home game, students, friends and family take the tailgate out to the water. Dock your own boat in Husky Harbor or board one of the charter boats before kickoff and get excited for UW football!
Stanford University Cardinals
One of Stanford Football's most famous traditions is actually quite untraditional. Formed in 1893, the Leland Stanford Junior University Marching Band is nicknamed "The World's Largest Rock and Roll Band." They are much more relaxed on uniform and performance than other university marching bands – you may see band members wearing Halloween costumes, running around for no apparent reason, or participating in pranks.
University of Michigan Wolverines
At the start of each game, Michigan football players run in unison down a narrow tunnel and onto the field, greeted by thousands of fans dressed in maize and blue. Their first sight on the field is a large "GO BLUE – M CLUB SUPPORTS YOU" banner, that players run and jump to touch. This has been a tradition of Michigan football since 1962.
University of Tennessee Volunteers
Smokey the dog is beloved by University of Tennessee students, faculty, and fans. The search for a coonhound to be their live mascot began in 1953 – but not any "ordinary hound. He must be a 'Houn' Dog' in the best sense of the word." In a game against Mississippi State, all the hounds in the contest were lined up on the field and the crowd would cheer for their favorite after being introduced. Blue Smokey, the last to be introduced, barked as his name was announced, and the crowd went wild. He proceeded to howl, and University of Tennessee's new mascot was chosen. Today, Smokey X's handlers are members of the Alpha Gamma Rho fraternity. They run alongside him in the end zone after every touchdown, and Smokey hangs out in the fraternity house during game day weekends.
Looking to experience some of these traditions in person? Check out the widget below for tickets to some of the most thrilling games in all of sports.
You Might Like
An exciting array of food, drink, and assorted fun if you're heading to town for the Final Four.
Family-friendly and fan-centric activities, shows, and events in Minneapolis to extend your excitement for March Madness.
A look back at the best matchups in tournament history before Washington and Ohio State face off.