Countdown to the 2019 Rose Bowl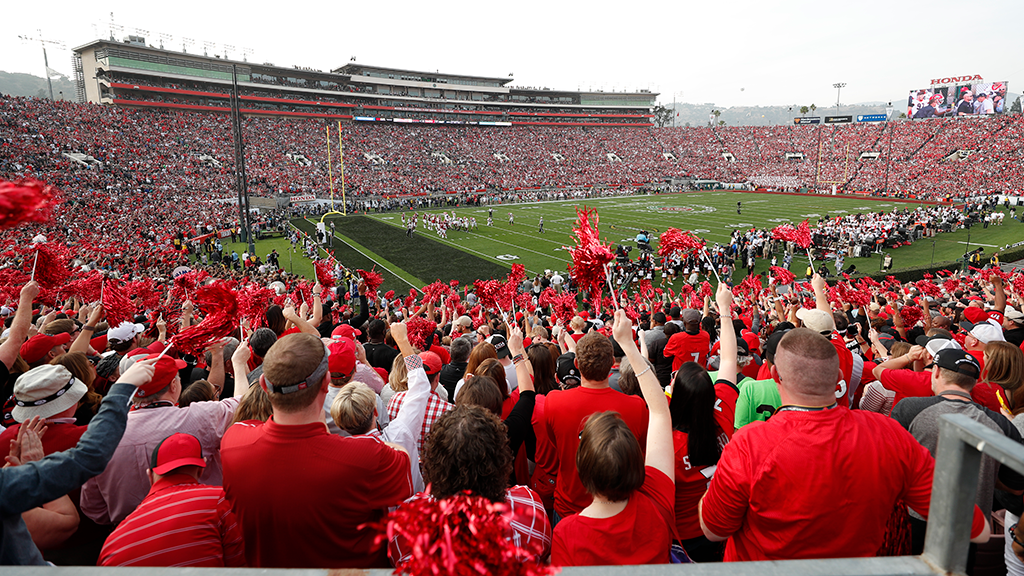 The Rose Bowl, affectionately known as the "Granddaddy of Them All," is the oldest bowl game in College Football. The first Rose Bowl was played in 1902, and it has been an annual tradition since 1916. It is part of the yearly Rose Parade in Pasadena, California, and carries with it one of the most impressive histories in sports. This year, fans nationwide will be gripped as the Washington Huskies (No. 9) take on the Ohio State Buckeyes (No. 6) in the Tournament of Roses.
With such a long and storied past, there have been some incredible Rose Bowl games – but these five stand out as the best… until, of course, fans catch what action and unforgettable moments stem from the upcoming 2019 match-up.
---
5. Michigan State vs. Stanford (2014)
This was the 100th Rose Bowl game, and both teams were in the Top 5 in the nation. Stanford got off to an early 10-0 lead, but Michigan State came back to take a 24-17 lead in the fourth quarter. Stanford kicked a field goal to cut the lead to 24-20, then got the ball back with a chance to mount a game-winning drive in the final two minutes.
Michigan State's defense proved ready for the challenge, stuffing a run on 4th-and-1 to halt Stanford's drive and win the game. Quarterback Connor Cook led the way for Michigan State, finishing with 332 passing yards and two touchdowns.
4. Texas vs. Michigan (2005)
Somehow, this game marked the first time these two storied programs had ever faced each other. In a preview of what would come the following year, Texas quarterback Vince Young could not be stopped. He led the Longhorns back from a 10-point deficit, but Michigan scored to take a 37-35 lead with time running out.
Young put together a last-minute drive, setting up a potential game-winning field goal on the final play of the game. Michigan called timeouts twice trying to ice kicker Dusty Mangum, but it didn't work. Mangum delivered the clutch kick, giving Texas a 38-37 win. Young finished with 350 yards of total offense and scored five touchdowns.
3. USC vs. Ohio State (1980)
Both teams were undefeated coming into the game. Ohio State was No. 1 in the nation, but USC had Heisman Trophy-winning running back Charles White, who proved to be the difference. White led the Trojans to a quick 10-0 lead, but Ohio State came back to tie the game at halftime.
The Buckeyes added two field goals in the second half to take 6-point lead, giving the Trojans one final drive to respond. They leaned on White again, who proved to be unstoppable with the game on the line. He turned six carries into 71 yards and scored the game-clinching touchdown in the waning moments, leading USC to a 17-16 win.
2. Georgia vs. Oklahoma (2018)
In last year's College Football Playoff semifinal, two electric offenses rewrote the Rose Bowl record books. Heisman Trophy winning quarterback Baker Mayfield led Oklahoma to a 31-14 lead, and the Sooners seemed primed for a berth in the National Championship game. But Georgia, led by current NFL running backs Sony Michel and Nick Chubb, stormed back to erase the lead and force overtime.
The teams traded scores in the first extra period, leading to a second overtime. Georgia blocked a field goal, and Michel followed that with a 27-yard touchdown run to give the Bulldogs a 54-48 walk-off win. Michel and Chubb finished the game with a combined 367 yards from scrimmage and six touchdowns, and Michel was named MVP.
This game broke several Rose Bowl records. It was the first overtime game in Rose Bowl history. The combined 102 points are the most in Rose Bowl history. Georgia's 17-point comeback is the largest in Rose Bowl history.
1. Texas vs. USC (2006)
This isn't just the best Rose Bowl game — it's one of the best games in the history of College Football. The National Championship was on the line between No. 1 USC and No. 2 Texas, and this game was full of huge plays. Both teams lit up the scoreboard, and USC scored a touchdown to take a 12-point lead with less than 7 minutes remaining. That's when Texas quarterback Vince Young took over.
Young scored a rushing touchdown to cut the lead to 38-33, and USC got the ball back with a chance to run out the rest of the clock. Facing a 4th-and-2 with time winding down, the Trojans decided not to punt and instead went for a first down to clinch the win. But Texas stuffed running back LenDale White at the line of scrimmage, forcing a turnover on downs and giving Young one more chance to win the game. He didn't disappoint.
Texas faced a 4th down with the game on the line, and Young dropped back looking to pass. When the play broke down, he pulled the ball down and ran for a touchdown with less than 20 seconds left. That was the game-winning play — Texas ended USC's 34-game winning streak and won the fourth national championship in program history.
---
Don't miss your chance to witness another chapter in College Football history as Washington and Ohio State face off in the 2019 Rose Bowl on January 1, 2019 in Pasadena, California!
You Might Like
An exciting array of food, drink, and assorted fun if you're heading to town for the Final Four.
Family-friendly and fan-centric activities, shows, and events in Minneapolis to extend your excitement for March Madness.
Welcome to Ticketmaster Insider's new series chronicling some of NCAA Football's most significant traditions. We've dominated quarters one,...