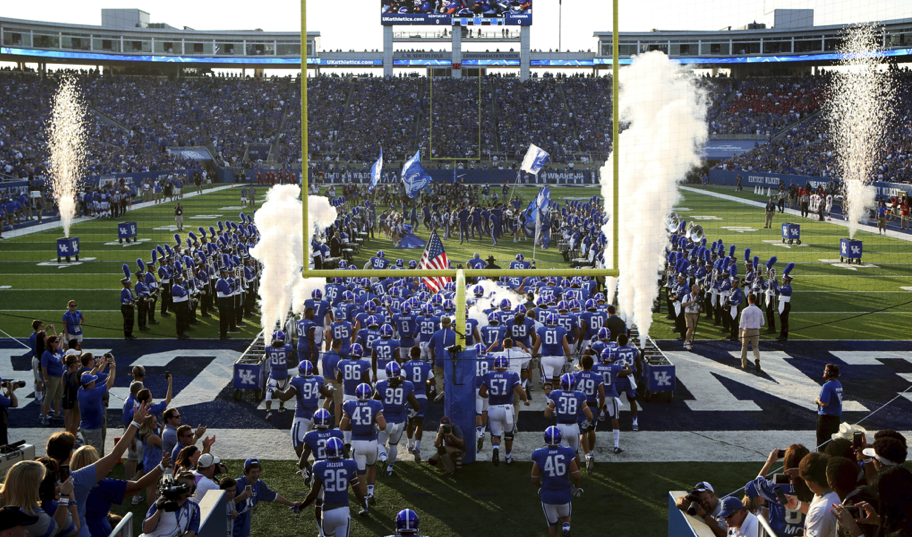 Welcome to Ticketmaster Insider's new series chronicling NCAA Football's Greatest Traditions. Rounds one, two, and three were full of fire – will round four be as heated? Time to get loud and see!
University of Georgia Bulldogs
UGA takes the tradition of their school mascot to the next level with the heritage of Uga, the real life bulldog that sits on the sidelines for every home game. Uga has his very own lineage dating back to 1956, with each dog coming from the Seiler family of Savannah, Georgia. This "Damn Good Dawg" really lives the life. Uga not only sports his own custom jersey, but gets his own hotel room (with his owners, of course) when the Dawgs play away games, and resides in his very own air conditioned doghouse "between the hedges" of the iconic Sanford Stadium.
University of Kentucky Wildcats
Kentucky fans bleed blue, and most fans wear Kentucky blue to all their games, creating "a sea of blue." It is a sight to be seen, but not many know the reason that specific shade of blue was chosen. In the years 1891 and 1892, there was disagreement over what the school's colors should be, but blue and white were ultimately chosen over blue and light yellow. A student asked one of the football players what shade of blue the official blue color should be, and without hesitation he took off his royal blue tie and raised it. Ever since then, Royal Blue has been the official shade of blue of the Kentucky Wildcats.
San Diego State Aztecs
After a huge 39-0 win during a night game in 1930, nearly 75% of SDSU's football games have been played at night! SDSU football is famous for putting their own personal spin on Game "Day."
University of Nebraska Cornhuskers
Nebraska fans release red balloons into the air just after the first touchdown! This tradition is believed to have started in 1963. The sight of thousands of red balloons released into the sky from the stadium is truly an experience one must see in person in order to fully appreciate!
West Virginia University Mountaineers
"Take Me Home, Country Roads" is played before each home game and after each home victory. Fans put their arms around one another and sing along to the American classic signifying their love for their home, the great state of West Virginia. In the midst of the craziness of NCAA football, its the moments like these that remind fans why they are rooting for their home or college team.
Looking to experience some of these traditions in person? Check out the widget below for tickets to some of the most thrilling games in all of sports.
You Might Like
An exciting array of food, drink, and assorted fun if you're heading to town for the Final Four.
Family-friendly and fan-centric activities, shows, and events in Minneapolis to extend your excitement for March Madness.
A look back at the best matchups in tournament history before Washington and Ohio State face off.