How Drive-In Concerts Work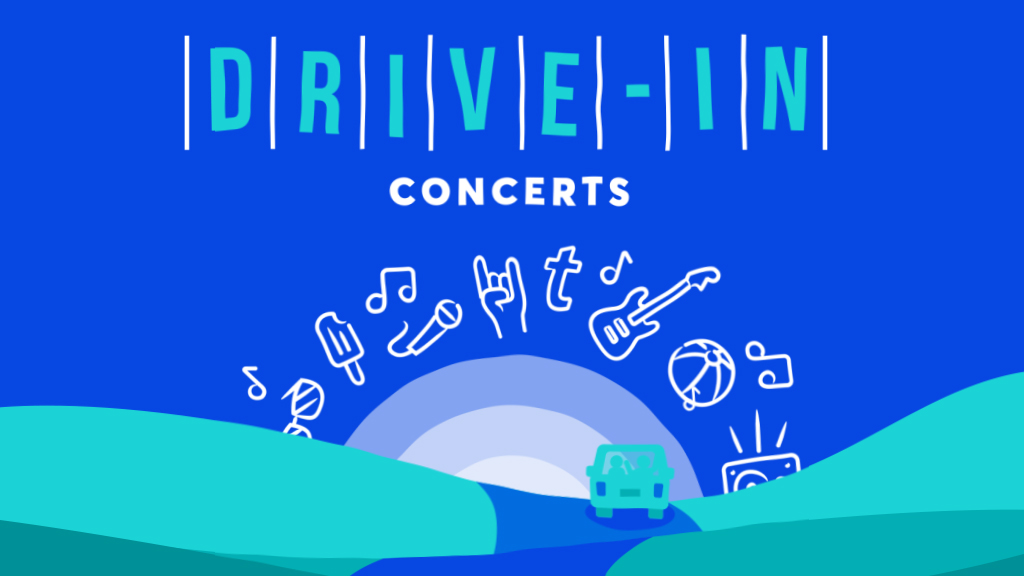 Back in the 1950s and '60s, drive-in theaters were the hottest spots in town. Now, decades later, drive-in concerts have become some of the hottest tickets to score. As a way to offer some much-needed entertainment away from our laptops and tablets while still practicing social distancing, artists and concert organizers have come up with an ingenious idea to get musicians back on the stage by getting fans into their cars. Drive-in concerts allow you to enjoy the thrill of live music again — safely and responsibly — while letting your favorite artists do what they do best: entertain. Here are some general tips on what to expect and how to prepare for your first drive-in concert, and we also recommend that you reference your venue or event's specific guidelines to make sure you have the most up-to-date information.
Arriving
One ticket will secure a spot for your standard car or truck (no RVs or oversized vehicles will be permitted). Check your ticket to see the maximum people allowed per vehicle — this will typically be up to four or six. Spaces are typically general admission and first-come-first-serve, though some drive-in concerts will have various price levels denoting specific areas where you can park. For the best spot, it's best to arrive early. Keep in mind that gates will usually open one hour before showtime. When you arrive, keep your ticket handy so that you're ready to show it to venue staff at various checkpoints until your car is safely parked in a designated space.
Settling In
Once you've been ushered to a spot, you'll be able to enjoy your own private tailgating zone. You'll have a space for your vehicle, as well as an area to safely enjoy the show outside of your car. Next to that, there will be a buffer zone between your party and the next vehicle. This amount of space allows for safe social distancing. When outside of your vehicle, you must stay within your designated spot. LED screens and speakers will be set up around the venue, and sound will also be broadcast through FM radio. Just be sure to keep your headlights off when parked so as not to impact the viewing experience for those around you.
What to Bring and Not to Bring
The beauty of a drive-in concert is that you can bring your own chairs, food and drinks (alcohol rules depend on state, location and event organizer, so be sure to double-check). Many events will also have food and non-alcoholic beverages available that you can purchase via a web-based ordering system and have delivered straight to your vehicle. Don't forget to bring a face mask and some hand sanitizer. Blankets and binoculars are great to have, too. Consider also bringing a battery-operated radio to give your car battery a break. Please keep all audio and video recording devices at home (as you normally would for any concert). And, sorry, no pets!
On-Site Protocols
Safety is the number one priority at every drive-in concert. Different cities have different requirements. Local and state regulations are continually changing, so be sure to stay up-to-date on what's required at your location and event. It's best to always have a face mask on hand, and it's strongly encouraged to wear a mask when leaving your space to use the restroom. Portable restrooms will be available and sanitized in accordance with current guidelines. You will be required to practice safe social distancing at all times. This goes for the venue staff as well, who will be masked up and following strict protocols, including temperature checks, health screenings and sanitation training before the show. 
Enjoy the Show!
Top music acts like Blake Shelton, Garth Brooks, Brad Paisley, Keith Urban and Nelly have already organized their first drive-in concerts, and fans are loving it. Urban was one of the first to try out the trend, surprising fans and frontline workers at a drive-in in Tennessee. Meanwhile, Brooks pulled off quite a performance on June 27 when he hosted a viewing of a recorded performance that was transmitted to more than 300 drive-in theaters. "Thank you @garthbrooks for including 'We Shall Be Free' in tonight's #DriveInConcert. Rarely has a song fit the times more than that one does right now," Tweeted a fan after the show. Expect more artists to jump on board, coming up with even more innovative ways to make your drive-in concert experience unforgettable.
You Might Like
Last Updated 2/18/2021 As we continually communicate with teams about how to best support and improve fan safety for this upcoming season, we're dedicated to...
The NBA has adapted its plans for the 2020-2021 season to keep everyone safe.
The world of live performance has quickly and successfully adapted in all kinds of ways this year.