See How Socially Distanced Events are Bringing Back Live Events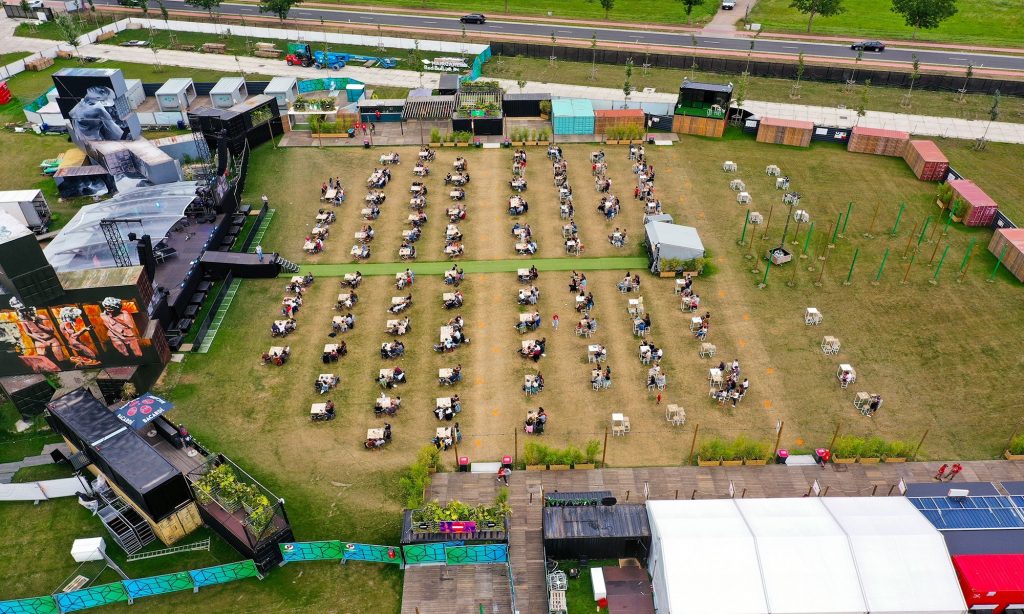 If 2020 has proven anything, it's that people really, really love live music — whether they are performers of it or fans. It's also taught us how resilient, resourceful and adaptive humans can be when we put our minds to it. All around the world, people have continued to find new ways to entertain and be entertained, and some artists have had the honor of getting back onstage and performing live.
Socially distanced concerts have successfully brought eager fans back to the live music experience, from Finland to the UK to the USA. Venues and events have been experimenting with a wide variety of "pod seating" options, which allow for safe social distancing even within what you could call a crowd. Grassy fields, scenic amphitheaters, parking lots and other makeshift venues have been transformed into classy, comfortable live music locales. There's even a fully dedicated pandemic-proof arena now hosting major shows in England.
Here's a peek at what socially distanced concerts look like around the world.
Finland: Suvilahti Summer Event
Nothing was going to stop the city of Helsinki, Finland, from kicking off their first Suvilahti Summer series to showcase the best in Finnish music and film. The event's organizers turned Suvilahti Energy Field, a large plot of land located in the burgeoning industrial port area of Finland's capital, into a pleasant, park-like venue. Picnic-style tables and benches were set up six feet apart — with boundaries designated by a cozy patch of artificial turf—allowing concertgoers to comfortably sit alongside their companions and have plenty of space to set down their beverages while enjoying the show.
Belgium: Rock Werchter Zomerbar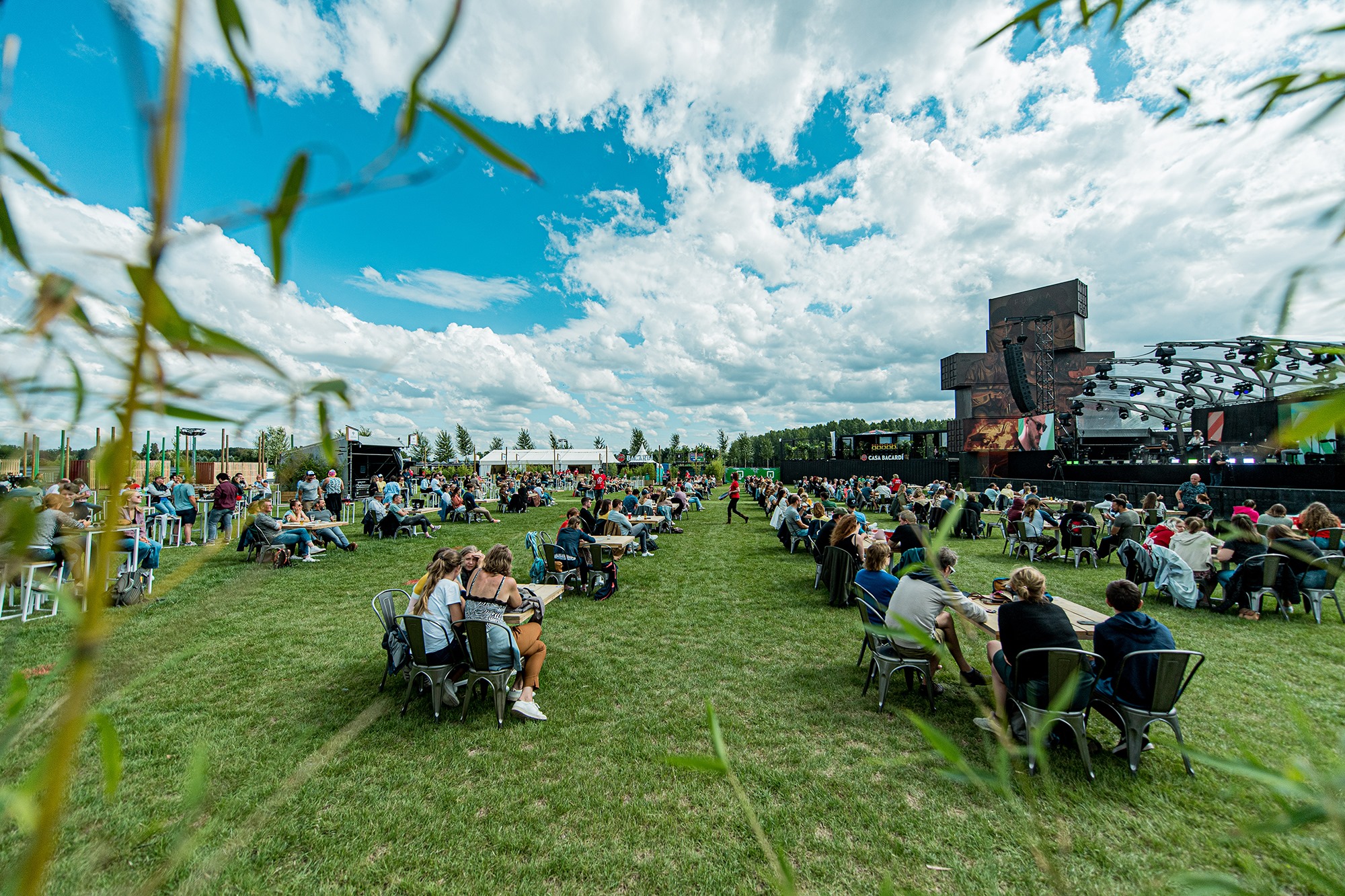 Rock Werchter is Belgium's largest music festival and typically features big international headliners as well as new local talents. This year, the event looked slightly different — and still ended up being a massive success. Around 400 people at a time were able to kick back and take in a show featuring some of the country's top performers, including Arno, Stan Van Samang and Equal Idiots & High Hi. Tables and chairs were positioned on the grassy field, giving it the ambiance of a sunny, spacious club that guaranteed everyone their own special VIP spot. In total, the Rock Werchter team pulled off thirty-six concerts throughout the month of July with this setup. 
Netherlands: Open Air Theatre Bloemendaal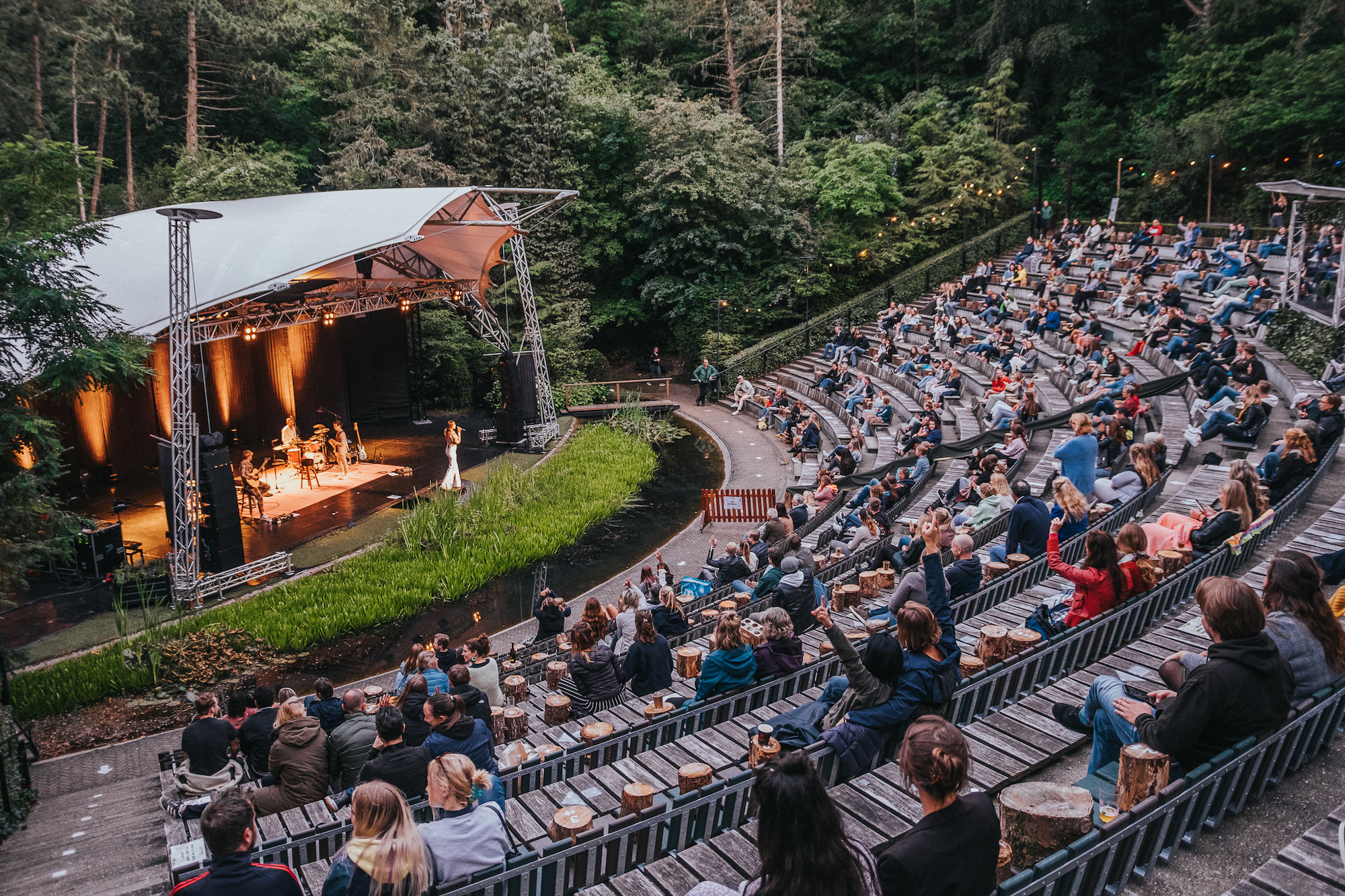 In the nearby Netherlands, the gorgeous Caprera Open Air Theatre was back in business in no time, thanks to its tucked-away-in-nature location and classic semicircle tiered seating. Cross-section slices of tree trunks separated groups of people, creating a whimsical feeling like the forest was enjoying the show too and adding to the atmosphere of a secret, intimate woodlands shindig. 
USA: Andrew McMahon Drive-In Shows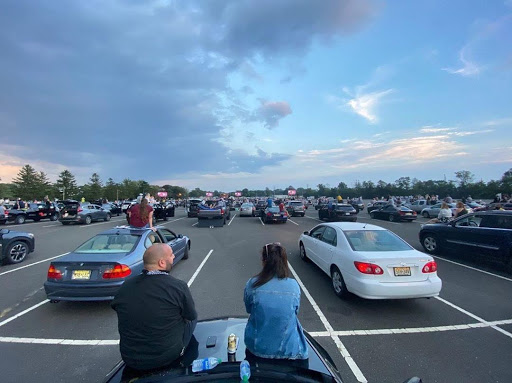 The drive-in is officially back! Americans have embraced their nostalgic love for the classic theater experience with the advent of the drive-in concert. The concept is an easy one: Each car gets its own parking spot and spectators can eat, drink and watch the show from the comfort of their vehicle — or its hood or rooftop. Several artists have put on drive-in shows, including Keith Urban in Tennessee, Alan Jackson in Alabama, and Andrew McMahon, who performed the Jack's Mannequin album Everything in Transit in honor of its 15th anniversary to sold-out crowds in Southern California and New Jersey. More artists are jumping on the bandwagon, too: In October, Staind's Aaron Lewis and Godsmack's Sully Erna will be heading out on their American Drive-In Tour, where they'll perform unplugged sets side by side.
The UK: Virgin Money Unity Arena
The UK's first socially distanced concert took place in August at the Virgin Money Unity Arena, a new pop-up venue in Gosforth Park, Newcastle upon Tyne. The area allowed for 500 viewing spaces that could fit up to a total of 2,500 people. Concert attendees parked their cars a safe two meters apart before they were guided to their own private viewing area — one of 500 raised metal platforms. Food and drinks were ordered before the show or via an app and collected or delivered according to COVID-safe protocol. Singer/songwriter Sam Fender christened the site, performing in front of a sold-out crowd for two nights in August. Van Morrison, Declan McKenna, Kaiser Chiefs and others have followed suit.
Tags
You Might Like
As we head into the 2022–2023 NHL® Season, we want to make sure fans have all the information they need to get ready to see their favorite team hit the ice l...
The NBA has adapted its plans for the 2020-2021 season to keep everyone safe.