Garth Brooks Fans Told Us How They Rocked Out at His Drive-In Shows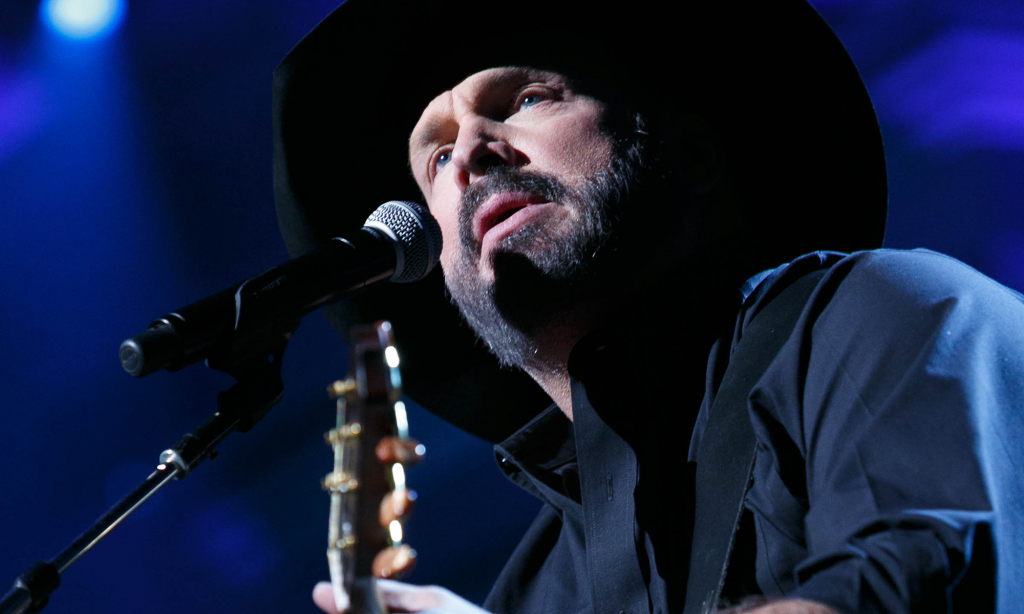 The man who became a musical phenomenon by bringing arena-rock excitement to country music for the first time is no stranger to thinking outside the box. So if anyone were likely to come up with a concert alternative for the COVID-19 era involving something more eventful than a live stream on your device, it would be Garth Brooks. 
Sure enough, Garth did indeed find an unprecedented way to connect with his fans in a time when people are longing to be together, yet social distancing remains essential. He staged and recorded a full-band concert that was simulcast for one night only on June 27 — at 300 drive-in theaters all over North America.
With a setlist full of hits from all across his career, Garth gave concert-hungry fans who hadn't been able to see a show in months a special night the likes of which they'd never seen, in more ways than one. From the ominous "The Thunder Rolls" to the good-time honky-tonk anthem "Friends in Low Places," the Garth nation got their hero's best, all from the privacy, safety and comfort of their own vehicles.

We gathered some firsthand accounts of the concert from hardcore fans who turned out for an experience both familiar and new. Here's the scoop on the show straight from the fans.
Lynn McLean saw the show at the Valley Drive-In in Nova Scotia, Canada, and said that although this wasn't the usual way to see Brooks perform live, it was equally excellent. "I can honestly say that this is the way to see a concert!" she says. "Sitting on the back of my truck, drinking beer, in my comfy clothes and outside in the fresh air. No heavy traffic in and out, no large crowds of people to make your way through, no small stadium seats! The minute he appeared, it was like he was right beside us! Only Garth could play that show to 'no one' and 'everyone' at the same time. And of course, he managed to draw you in, like only he can, and have you feel like he's singing to just your group. The crowd still turned on their cell phone flashlights for 'The River,' and hearing the whole place singing along gave me chills." 
The concert footage also aired at Canterbury Village Drive-In in Lake Orion, Michigan. Micki Lyons, who saw it there, says, "Of course it was different… but it was nice and exciting to have something to get out and do with my grandkids and introduce them to a true storyteller and entertainer… My youngest grandson had my phone and was videoing when Garth sang 'The River,' and I got him swaying back and forth while he was taking the video." Lyons added that she loved seeing Brooks perform her favorite song, "Much Too Young (To Feel This Damn Old)," and that her grandkids had a blast during "Friends in Low Places." 
"The minute he appeared, it was like he was right beside us!"
"The atmosphere was great, everyone was friendly, singing and dancing together," said Maria Navarette, who watched at Warwick Drive-In in Warwick, NY. "My favorite song is 'Much Too Young (To Feel This Damn Old).' Our two-year-old was singing and dancing along to all the songs and didn't stop until the show was over. It was nice to finally have a night of 'normalcy' during this strange period of time." She added that it felt very much like Brooks was there with them, performing live. 
Some fans were willing to take a bit of a road trip to catch the show. Greg Wray says he drove two hours to get to Columbus, to see the performance at the South Drive-In Theater. "When we arrived, everything went really smooth, and when the gates opened we went right in," he said. "When we got in and parked it was cool to see all the folks sitting on tailgates, chairs and having fun anticipating the event. We brought chairs for our family and we sat outside our vehicle with the back hatch open and the radio on tuned to the drive-in station…There was a countdown on the screen, and when it got to 10 seconds people joined in on the countdown and were also screaming with excitement." 
Wray said that just like during any typical live performance, the crowd was very much engaged — social distancing and all — singing, dancing and clapping along to crowd favorites such as "We Shall Be Free." He added, "There were also large fireworks going off outside the venue that made a cool effect in the sky during the concert. Even when Garth sang a cover song [The Nitty Gritty Dirt Band's 'Fishin' in the Dark'], everyone was singing and dancing. It was almost like when I was growing up sitting around a campfire listening to music with the sky and stars above." 
Deborah Jane Power, a fan who made her way to Pima County Fairgrounds in Tucson, AZ, to see Brooks perform, said that joyous fans found an innovative way to show their excitement, aside from the usual methods of clapping, cheering and dancing — they honked their horns. "The camera work made you feel as if you were at a real concert… just watching on the big screen," she said. "'Callin' Baton Rouge' was a super high-energy moment…" She added that she's all in to support any efforts to get music performance back up and running. "Live would be awesome, but this felt pretty good after having so many concerts and festivals cancelled or postponed," she said.
After seeing the show in Versailles, IN, at Kelley's Bel Air Drive-In, Victoria Edwards was grateful for the chance to relax and have fun, and in awe that Brooks was able to bring so much energy and passion to the performance, without feeding off the energy of a real live crowd. "'We Shall Be Free' and 'More than a Memory' were two songs that went above and beyond for me," she said. "I really enjoyed the drive-in approach. Everyone had a great view, we were all comfortable, we were able to get up and dance with who we came with, we could still socialize with people around us just at the acceptable distance. For my group we made an adult double-date night out of it. Dinner, laughs, concert, memories made and feeling like we were having the first 'normal' night out in a very long time."