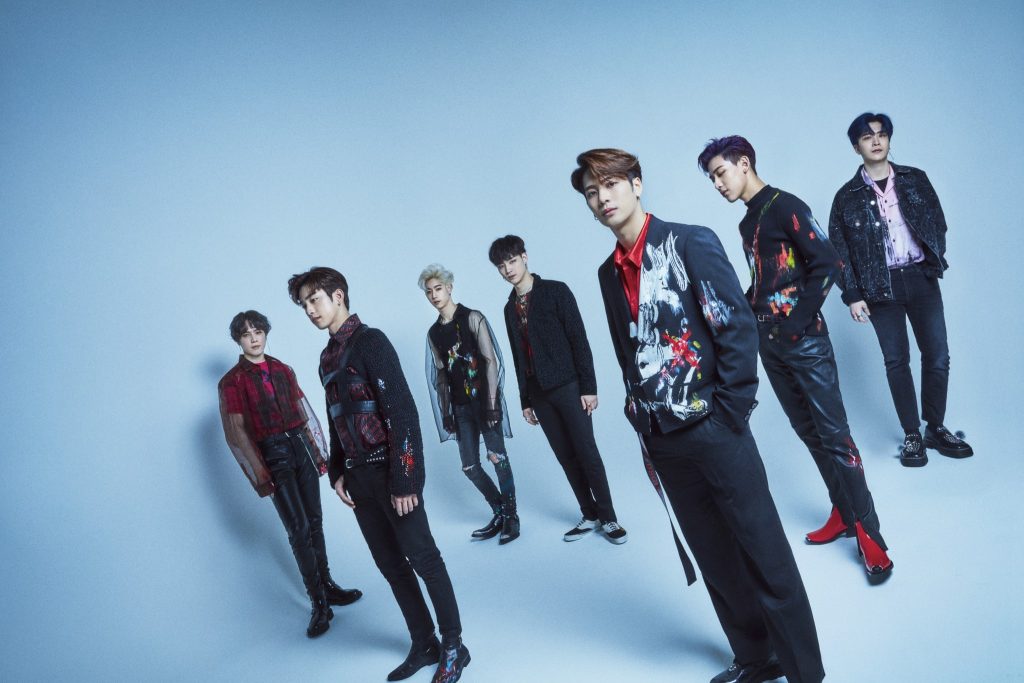 It's going to be a big, busy summer for South Korean boy band GOT7.
The seven-member group — singers JB, Jinyoung, Jackson, BamBam, Youngjae, Yugyeom and Mark — are set to kickoff their Keep Spinning World Tour on June 27, just after becoming the first-ever K-pop group to appear in-studio on NBC's Today show on June 26. Before they officially hit the road, though, the boys took a few minutes to answer personal questions about their favorite songs and dream collaborations — and give a little life advice — as part of our Ticketmaster 10 interview series.
Read the complete Q&A below, and buy tickets now to see GOT7 in a city near you this summer.
---
Ticketmaster 10 With GOT7
1. What's the first song you learned to sing?
JB: Mario — "Let Me Love You"
Mark: Glen Hansard & Marketa Irglova — "Falling Slowly"
Jackson: R. Kelly — "I Believe I Can Fly"
Jinyoung: Glen Hansard, Marketa Irglova — "Falling Slowly"
Youngjae: Jin Won — "I'm Gonna Change (고칠게)"
BamBam: Chris Brown — "Without You"
Yugyeom: Chris Brown — "With You"
2. What was your favorite concert that you've attended as a fan?
JB: [South Korean R&B group] Brown Eyed Soul
Mark: The very first [K-pop entertainment hit-factory] JYP Nation concert. Artists such as Rain were there, and it was really unforgettable.
Jackson: When I was 16, I saw a show of local Hong Kong artists. The moment I watched the show, I realized that I wanted to become a singer and performer.
Jinyoung: Chris Brown
Youngjae: Park Hyoshin
BamBam: I have more memories on the stage than off the stage.
Yugyeom: I also have more memories on the stage rather than attending a show.
3. Describe your performance style in one word.
JB: Variety
Mark: Effort
Jackson: Wang
Jinyoung: Can't define in one word.
Youngjae: JYP
BamBam: TURN-UP
Yugyeom: ALL
4. If you could have dinner with anyone, who would it be?
JB: Scarlett Johansson
Yugyeom: Avengers, because they're cool. It will be a big party.
Mark: I will be with Yugyeom when he has dinner with Avengers.
Jackson: My family, because after becoming a singer time flies and it really got me thinking that I actually couldn't spend enough time with my family.
Jinyoung: My family
Youngjae: Bruno Mars
BamBam: Post Malone
5. Fill in the blank: I would get nervous if I knew _______ was in the audience watching me.
JB: No one. There's no one that would make me nervous.
Mark: [South Korean singer and JYP Entertainment founder] J.Y. Park
Jackson: My parents, because I was always their little child and it feels weird.
Jinyoung: Me, because I am the person that knows myself the most.
Youngjae: J.Y. Park
BamBam: Kendall Jenner
Yugyeom: No one! There's no one that would make me nervous.
6. What's the first lyric you wrote that you were really proud of, and why?
JB: The lyrics of "PAGE." I loved how well it was written overall.
Mark: The lyrics of "OMW": "Life is like a long, dark tunnel when it's low / Let's say it's another beautiful night." I like it because it has positivity inside – saying that even your darkest, hardest moments are nonetheless beautiful moments.
Jackson: "I'm the '90s generation of China." It really shows what I am.
Jinyoung: "My face is getting red even though I'm not having a fever." (열이 나는 것도 아닌데 얼굴이 빨개져) – lyrics from "못하겠어(Can't)."
Youngjae: The lyrics of "Sick(아파)" – "I hope you could listen to this song." It stays in my mind (니가 이 노래를 듣길)
BamBam: The lyrics from "97 Young and Rich": "It's BamBam!"
Yugyeom: "It may be obvious, but I won't change" – I got to catch both the meaning and the rhyme of the flow (in Korean) with just one sentence, and it's very ordinary, simple words: "뻔할지는 몰라도 변하지는 않을거야)"
7. What's your dream collaboration?
JB: Various hip hop and R&B artists, because I want to make great music with lots of people.
Mark: Justin Bieber, because I love his songs and his voice.
Jackson: Bad Bunny I really love his music and his style.
Jinyoung: Justin Timberlake
Youngjae: Bruno Mars
BamBam: Ozuna
Yugyeom: Travis Scott
8. Fill in the blank: If a music lover is into ______, _______, and ______, they'll love GOT7…
JB: Diversity, intimacy (between the members of GOT7), steadiness.
Mark: Humor, craziness, "visuals."
Jackson: International, passion, teamwork.
Jinyoung: Teamwork, style, fun.
Youngjae: Intimacy, performance, skills.
BamBam: Luxury, turn up, fireworks.
Yugyeom: Skill, visuals, heart.
9. Who (what) do you do it for and why?
JB: Because it's fun, and I want to enjoy it with lots of people / turn up.
Mark: Because I love being on the stage and being with our fans. It's what really makes me happy.
Jackson: To make history and perform for our fans.
Jinyoung: Because it's what I'm good at.
Youngjae: I want to be on the stage singing and performing for people.
BamBam: Because I want to turn up with our fans.
Yugyeom: For GOT7, because this was my dream.
10. What are your words to live by? Any life advice?
JB: Make it short and strong.
Mark: Stay true, be real.
Jackson: Stay hungry, make history.
Jinyoung: Can't take it when you're gone / No pain, no gain.
Youngjae: Just do it!
BamBam: Just live my life (like you guys everyday).
Yugyeom: Enjoy and live as I want!
Catch K-Pop septet GOT7 live on the Keep Spinning World Tour – grab tickets here or in the widget below.
You Might Like
Revisit our Ticketmaster 10 interview with pop phenoms Chloe x Halle.
Revisit our 2019 interview with the keeper of good vibes.
The wrestling brothers and businessmen let us know what makes them tick in this Ticketmaster 10 interview.