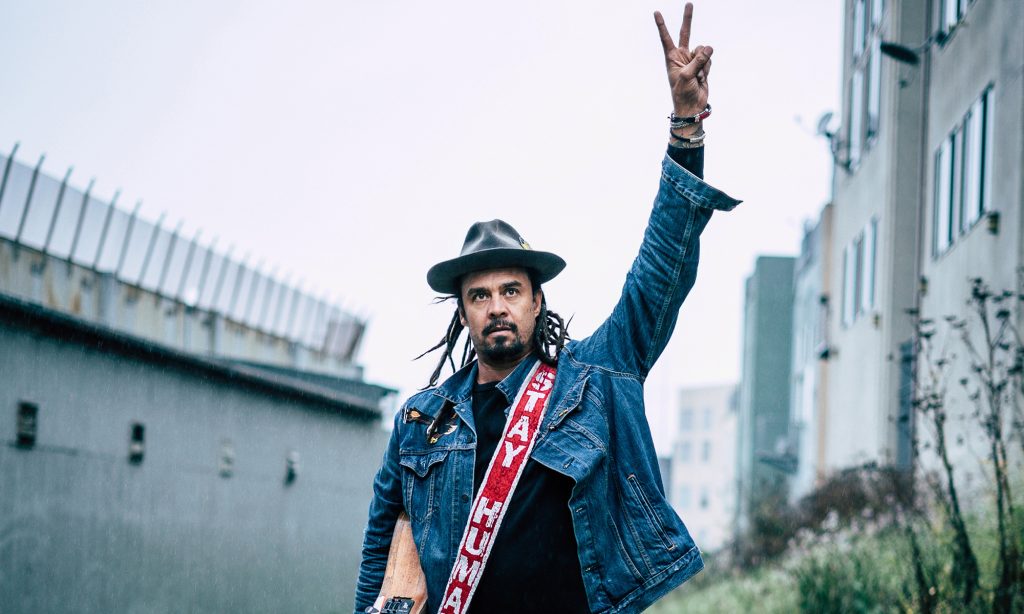 Originally published in September 2019.
Michael Franti has been a musical purveyor of peace, love and positive vibes for the better part of three decades. Now, the often-barefoot artist and activist — along with his longstanding band, Spearhead, and their dedicated fanbase— is about to take his good vibrations on tour with Kenny Chesney, Florida Georgia Line and Old Dominion for the Chillaxification Tour in 2020.
What might appear on the surface to be an unlikely lineup for Franti to join actually makes a lot of sense. First and foremost, Franti and Chesney are buds, and just got out of the studio together for a new tune. And secondly, Franti's entire MO is finding the common ground that exists between people even when aesthetics or interests are a little bit different. In the case of the Chillaxification Tour, the common ground for Franti, Chesney and the rest is fairly simple — show fans a great time at every single concert.
Ahead of the tour, we caught up with Michael Franti for a quick conversation about all the things he wants longtime and new fans to know about him. In our Ticketmaster 10 interview below, we talk to Franti about his undying optimism, family, favorite Instagram accounts and much more.
Dive into the interview below, be sure to pick up tickets to see the Chillaxification Tour in 2020 and as an added bonus, make sure to sign up for Franti's fan club to get presale access.
1. What's the first song you learned to play?
"This Little Light Of Mine" was the first song I remember singing. My mom was the organist in church and we had to learn it. Then came "ABC" by the Jackson 5. Lots of bathroom mirror singing went down to that one!
2. What's your favorite memory of attending a show as a fan?
My first concert I saw Lionel Richie play "Three Times A Lady" on a white grand piano. I was hooked.
3. Describe your performance style in one word.
Interactive!
4. If you could have dinner with anyone, who would it be?
My dad was a bad drunk for most of my life, and family dinners weren't always so fun because of it. But later in life he quit drinking and blossomed into the most beautiful person I ever knew. By that point I'd long left the nest, but I'd love to have at least one more dinner with my Pops. He showed me that anyone can change.
5. Fill in the blank: I would be a nervous wreck if I knew _______ was in the audience watching me.
Whenever my mom comes to a show I get hella nervous. I don't really know why. She's my biggest supporter so it should be a cakewalk, but I just do.
6. What's the first lyric you wrote that you were really proud of?
"Every single soul is a poem, written on the back of God's hand." I remember thinking that the line essentially sums up the way I feel about humanity. Every person is precious and deserves to be treated with love, kindness or at least respect. We're all in this together.
7. What's your dream collaboration?
All my collaborations have come through friendships: Kenny and I met four years ago and have kept in contact. Recently we linked up and wrote a tune. That was pretty special because although our musical styles are different, I admire the sense of hope in the face of challenge that runs through all of his music — and hey, who doesn't wanna just hang out with Kenny and trade stories all afternoon.
"Every person is precious and deserves to be treated with love, kindness or at least respect. We're all in this together."
8. Fill in the blank: If a music lover is into ______, _______ and ______, they'll love Michael Franti.
Good vibes, good people, good times and giving back. Oops that's four things, not three!
9. Who do you do it for and why?
I make music to promote optimism. I want to be there for people in the most meaningful moments of their lives, whether it's a wedding, funeral or a party on the beach. I hope my music inspires folks to always find the light.
10. What are your words to live by?
My wife and I have a family motto, it's even inside of our wedding rings, "Be your best. Serve the greater good and rock out wherever you are!!!"
Encore!
11. On a scale of 1–10, how stoked are you on life right now?
We have a new one-year-old baby son; my wife Sara keeps me laughing and gives me encouragement when I'm down; I'm a musician traveling the world playing for people almost every night; and summer 2020 we'll be on the road with the No Shoes Nation! What's not to love? I'm on 11!
12. What's your favorite ritual before you grace the stage?
Talking to folks who are coming to see the show always makes me feel more connected before we rock it. That's the one thing I do every show.
13. What Instagram accounts made you laugh the most recently?
I follow Celeste Barber and Kookslams on Instagram. Everyday Celeste makes me laugh my ass off when she hilariously emulates fashion icons, and Kookslams makes me say "Ouch! Why the F did they even try that?!"
14. What is your favorite instrument in your collection?
I only play one guitar, "Mama Brown," it's a 20-plus-year-old Maton Acoustic that I got in Australia. I named it after my grandma Brown — the last time I visited her she was in the hospital after 96 years of love and fire. I walked in and she was hooked up to heart meter and I was scared. I asked her "Grandma, why you in the hospital?" She sat up and said, "Because I'm pregnant! Why you think I'm in the hospital…I'm old!"  We laughed hysterically and felt at ease. I hope my guitar can do the same for people whenever I play it.
15. What's your most-used emoji?
The Poop-moji and thumbs up, because good sh-t happens!!! 💩 👍
You Might Like
Revisit our Ticketmaster 10 interview with pop phenoms Chloe x Halle.
The wrestling brothers and businessmen let us know what makes them tick in this Ticketmaster 10 interview.
The Super Bowl-winning Eagles tight end answers a Ticketmaster 10 interview.