Exclusive Interview: Jack & Jack Bring Back The Lost Art Of The Duo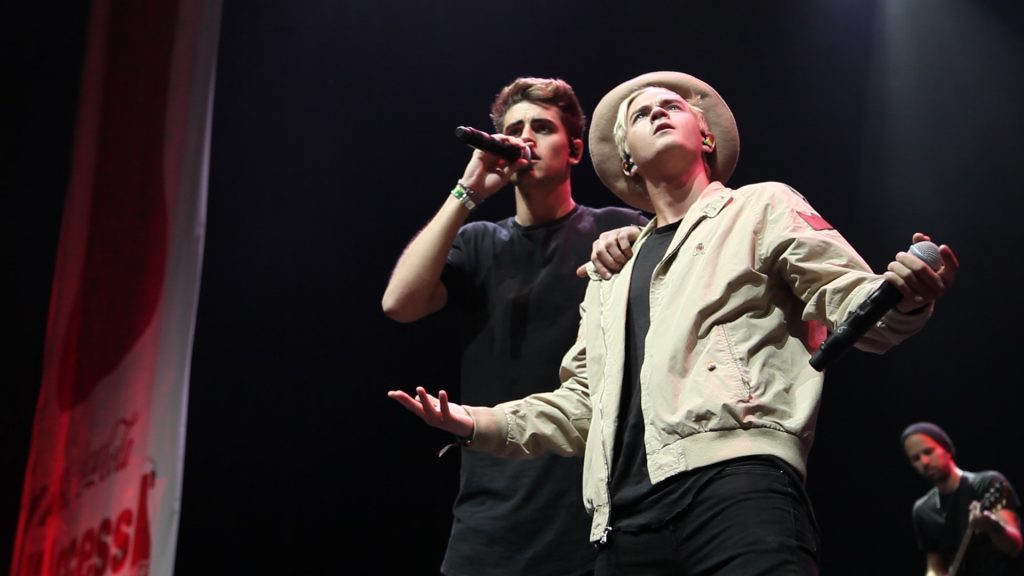 Watch Jack & Jack Video Interview
In the old days, a band or artist paid their dues on the road on a succession of one off shows, or pestered record label execs outside their offices, singing on street corners.
Nowadays, artists that want to make it in the music industry better have a banging YouTube channel and be on top of their social media.
Despite making a name for themselves with a succession of viral videos, however, pop-rap dynamic duo Jack & Jack take their live show as serious as any veteran rock band.
"I think our show is different than the typical show because we have the whole duo aspect on stage, which a lot of people don't have," says bleach blonde MC Jack Johnson, adding "There's a very noticeable chemistry between Jack and I on stage."
His singing partner Jack Gilinsky concurs, "We are both kind of the frontman, and command the crowd as a duo." The end result is, in their words, "super high energy," and "very refreshing."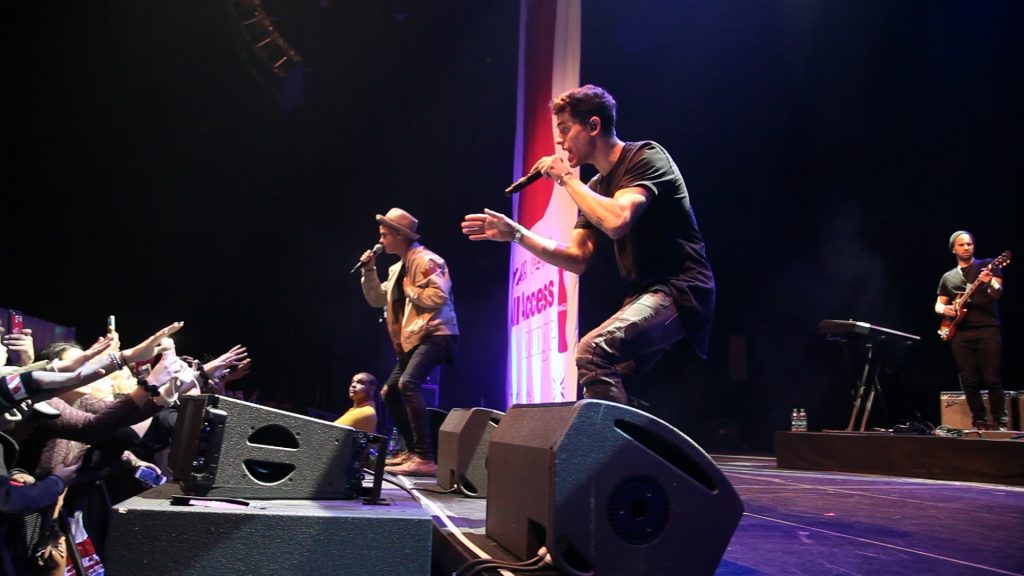 Jack & Jack got their start on the first day of kindergarten when they both showed up wearing the same shirt. The two Jacks grew up the best of friends in Omaha, Nebraska and earned a reputation as class clowns.
In high school, they harnessed their friendship and their eagerness to entertain into a series of Vine videos. As they went viral, they amassed a gigantic social media following, which currently stands at over 23 million.
The pair eventually turned their attention to music, with Johnson summing up the arrangement as "He sings, I rap. We both like doing the other one, but we're just not as skilled as the other person at the other one. The dynamic works good for what it is."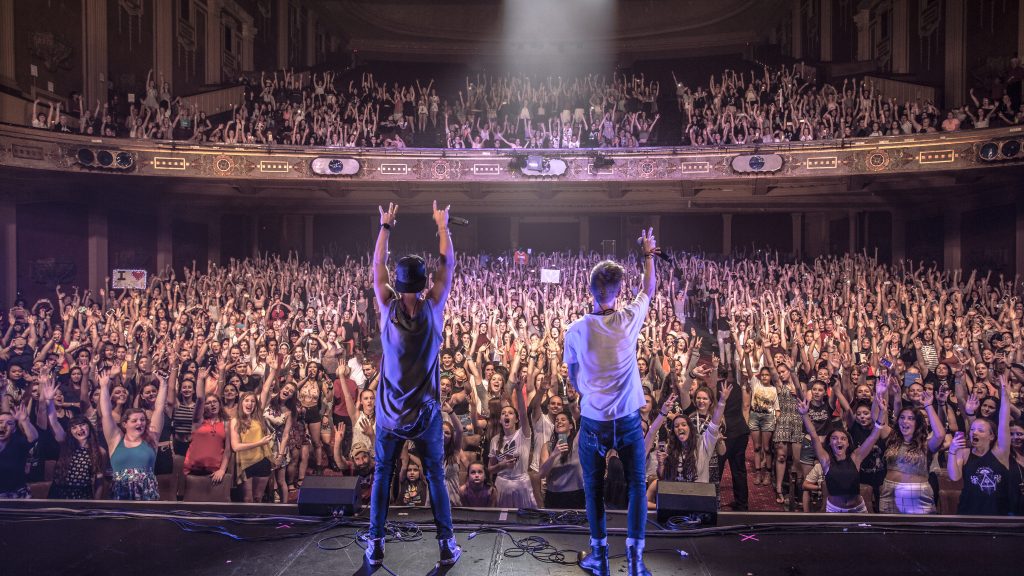 As one might expect from such a social media-savvy group, Jack & Jack were quick to capitalize on the promotional opportunities of the Internet, organizing tours around fan outreach and creating singles for the download market. To date they have sold over 1,000,000 singles on iTunes.
At the core of Jack & Jack's music, is their nearly lifelong friendship. "I just know exactly what Jack's going to do always, and vice versa," says Johnson, "Growing up with each other for 15 years just allows you to understand the ins and outs of another human being."
Johnson says both Jacks are the type to stay in the studio from the beginning to the end of a session, overseeing the creation of a track from building the beats, to layering the final vocal overdubs.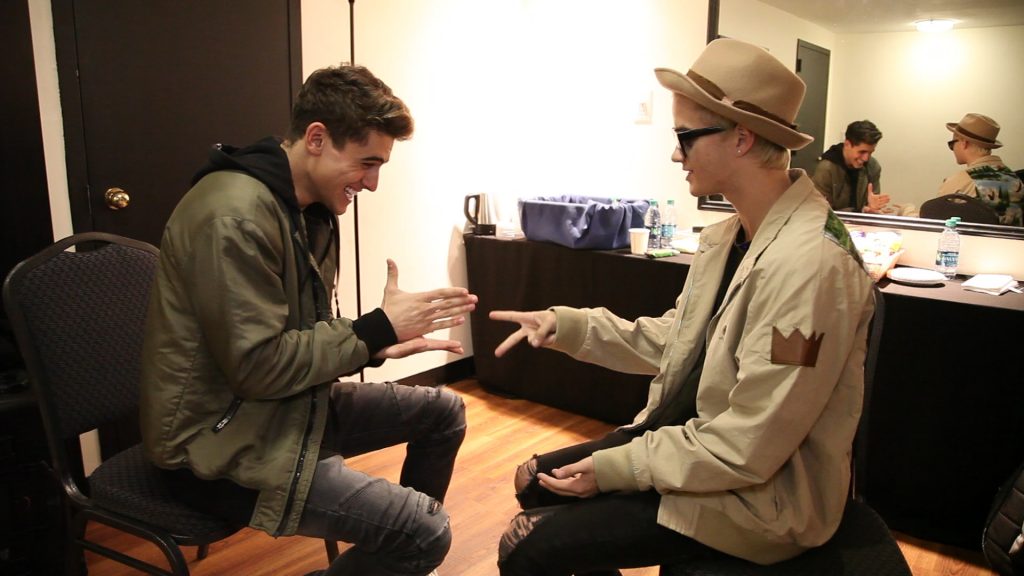 While the band doesn't have any current tour dates booked, they're eager to get back out on the road. A recent tweet from Jack Johnson said "We are gonna make you guys proud this year. Proud to call yourselves supporters."
Live, the duo are known for incorporating comedy skits and fan interaction into their performances of such hits as "Wild Life," "Like That," and their latest single "All Weekend Long."
In an exclusive video interview with Ticketmaster Inside, Jack & Jack reveal a peculiar pre-show ritual they perform before every show.
Says Johnson, "We have a little handshake action. We'll always just say a random phrase that has something to do with the country or city we're in."
Ominously, the one time they didn't do it, the group experienced "some really bad technical stuff." Gilinsky says not performing the ritual is "bad juju," with Johnson adding "if we don't do out little chant thing, things go bad."
Check out the full Ticketmaster Insider interview with Jack & Jack above, and don't forget to tune in for additional New Music Favorites content still to come.
Tags
You Might Like
Watch an intimate performance with the rising singer-songwriter.
Our partners at Ones to Watch invited Greyson Chance to perform live. It's a must-watch.
Our partners at Ones to Watch invited Carlie Hanson to perform live. Watch it here.