For the Band A R I Z O N A, Having Fun is the Most Important Thing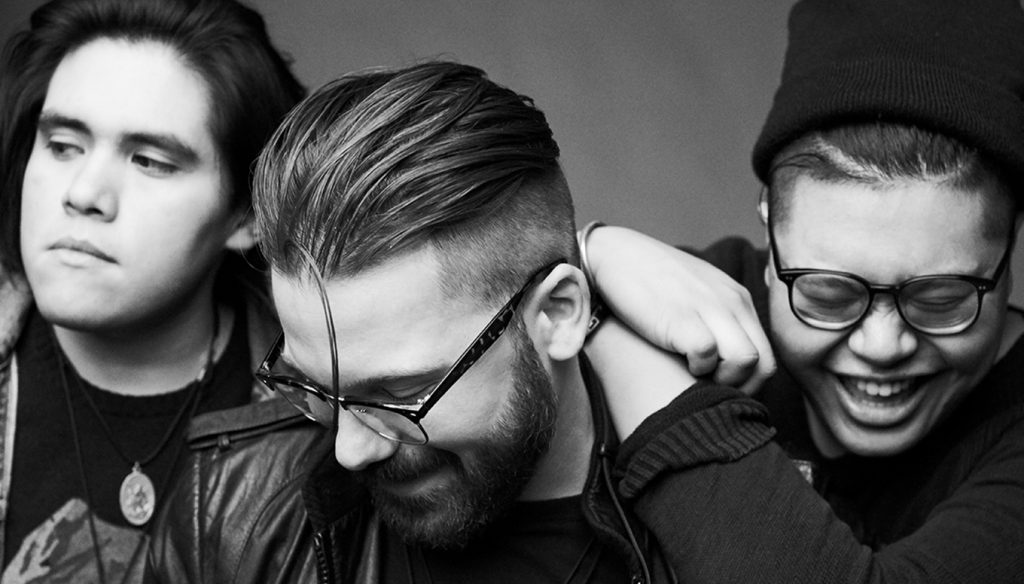 Watch A R I Z O N A's Exclusive Interview
Since emerging a little over a year ago, A R I Z O N A have built a solid fanbase thanks to their music's popularity on various streaming services. They have already racked up over 160 million Spotify streams and their debut album GALLERY is garnering rave reviews, as is their electric live show. Not bad for a band keyboardist Dave describes humbly as "just three best friends, making music and doing what we love."
Despite their South Western state name, the boys' home base is suburban Glen Rock, NJ, and they actually came together while attending college in Boston.
As singer Zach explains, "We've all known each other for a long time. Dave and I grew up together producing and songwriting and then when he went to school in Boston, (guitarist) Nate was his roommate." Nate's memory of events is slightly different, saying, "When I first met (Zach) I hated him. (laughter) I was like, 'Man who's this kid going into my fridge eating all my tortillas!'"
Dave, Zach and Nate formed a solid friendship, creating music and traveling around the country over the next several years. After struggling to make something happen, Zach says they "decided to do something with absolutely no bounds, requirements, goals, or marks. We just wanted to create for the sake of creating."
The idea of having fun and not taking things too seriously extends not just to creating music, but to their band name as well. As Zach explains, "I don't think any of us had even thought about what to call it but Nate was wearing a hat that said 'Arizona' and Dave said 'Let's call it Arizona.' Dave does this thing where he's half kidding all the time but we never really now if he's serious." After Dave, who does all the band's graphics, began experimenting with different logo treatments for the name, Zach says "at some point it just looked really cool."
Now with the release of their debut album, GALLERY, A R I Z O N A hopes to bring fans in on the fun. While the band's alternative pop is indicative of laptop production as its best, the band kicks things into high gear with a live drummer and instrumentation.
Nate explains that "We have a lot of people come up to us, after seeing us for the first time that are like 'I didn't know what to expect. I didn't know if I was going to get a DJ set and when you came out you were like a full band that really rocks and has fun. We try to make our shows a big party for everyone." As Zach says, "Having fun is the most important thing."