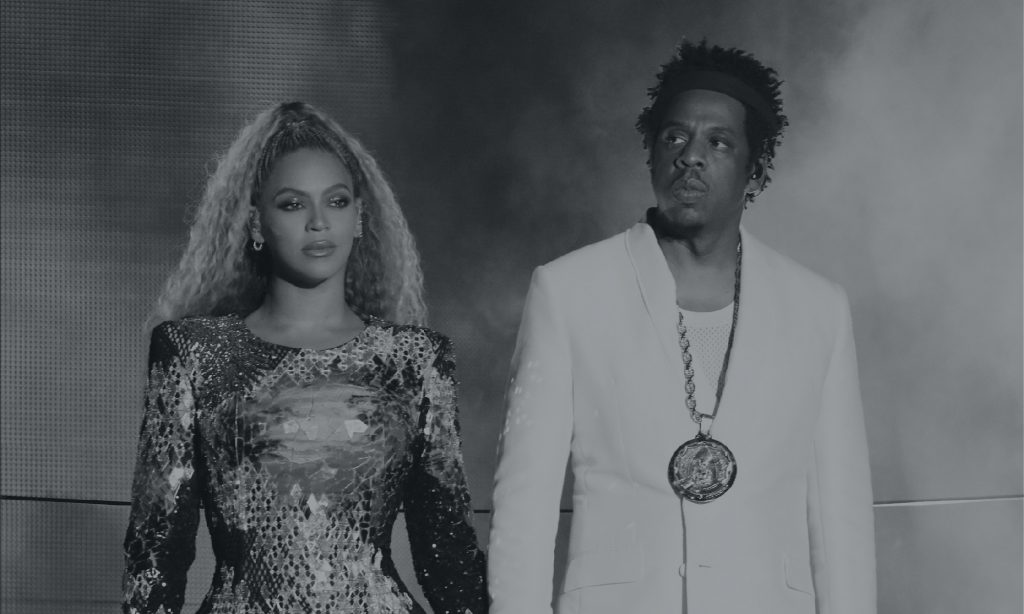 As the New Year approaches, Ticketmaster takes a look back at 2018's biggest, sweetest, most heartwarming stories in live music and pop culture. Fans were treated to some mind-blowing performances by music's undisputed royal couple, and taken on a romantic roller-coaster ride with pop's greatest obsession. Elsewhere, a rock icon blows away Broadway, a pop provocateur becomes Hollywood's leading lady, and a former First Lady reveals all. Here's the five best of 2018.
---
1. The Year of The Carters
First, there was Beychella — the night (two nights, actually) that Beyonce ruled and redefined the stage at the most anticipated festival of the year. Then came The Carters' Everything Is Love, Bey and hubby Jay-Z's first album together, and their extravagant On the Run Tour II, which became the year's third-highest-grossing tour. But let's not forget that groundbreaking video for "Apesh*t" filmed in the Louvre in Paris. Could any other couple pull that off? We think not.
---
2. Ariana Grande Makes Everything Sweet
From hip-hop's king and queen we move on to pop's reigning princess. After a busy yet traumatic time, Ariana Grande seamlessly stepped right back into the spotlight with her fourth studio album, Sweetener, which debuted at No. 1 and gave us such hits as "No Tears Left to Cry" and "God Is a Woman." All the while, she was enjoying a very public engagement with comedian Pete Davidson. Then, came the breakup and eventually the record-breaking single "thank u, next" and its accompanying video, which smashed YouTube's record for most views in the first 24 hours of release. We can only guess how 2019 will be for Grande, whose Sweetener World Tour has been voted Ticketmaster's Most Anticipated Event of 2019.
---
3. Springsteen Takes on Broadway
Even with Beyonce, Jay-Z, and Ariana, the good news is there's still plenty of room left for the rock veterans. Jersey hero Bruce Springsteen proved yet again how vital his music is after he was voted Ticketmaster's Event of the Year for his Springsteen on Broadway run. The great troubadour graced the stage at Walter Kerr Theatre on Broadway, performing to more than 200,000 fans over the year in the intimate setting. He even received a special Tony Award for the show. If NYC wasn't in your reach this year, you can at least see the show now on Netflix.
---
4. Gaga Impresses on the Big Screen
While Springsteen dominated The Great White Way, Lady Gaga made her move to the big screen, blowing film fans and even the harshest critics away with her debut lead role alongside Bradley Cooper in A Star Is Born. The movie is set to be a favorite in the upcoming award season, and it's already scored Grammy nominations for record of the year, song of the year, and best pop duo/group performance, as well as Golden Globe and SAG (Screen Actors Guild) nominations for Best Actress for Gaga. As if that wasn't enough, she's now kick-starting her two-year Vegas residency.
---
5. Michelle Obama Tells Her Story
From pop culture to politics, one of 2018's biggest stories in books belongs to Mrs. Michelle Obama, who released her memoir, Becoming. It quickly became a bestseller — in fact, it sold more books than any other published in the U.S. this year — in just 15 days. What was even more noteworthy, was the accompanying book tour, Becoming: An Intimate Conversation with Michelle Obama, which featured moderators like Oprah Winfrey and Reese Witherspoon. The tour was such a success, the First Lady has extended it into 2019. This means, you'll have another chance to see her next year.
---
Follow Ticketmaster on Facebook, Instagram, and Twitter for even more on news, culture, and the most exciting live events happening near you.
You Might Like
Plus: The Smashing Pumpkins return, Netflix Is a Joke Fest and more.
Plus: Maren Morris announces tour, the NFL combine and Kraftwerk turn 50.
Plus: NCAA Men's Basketball rankings, a new album from Grimes and The National hit the road