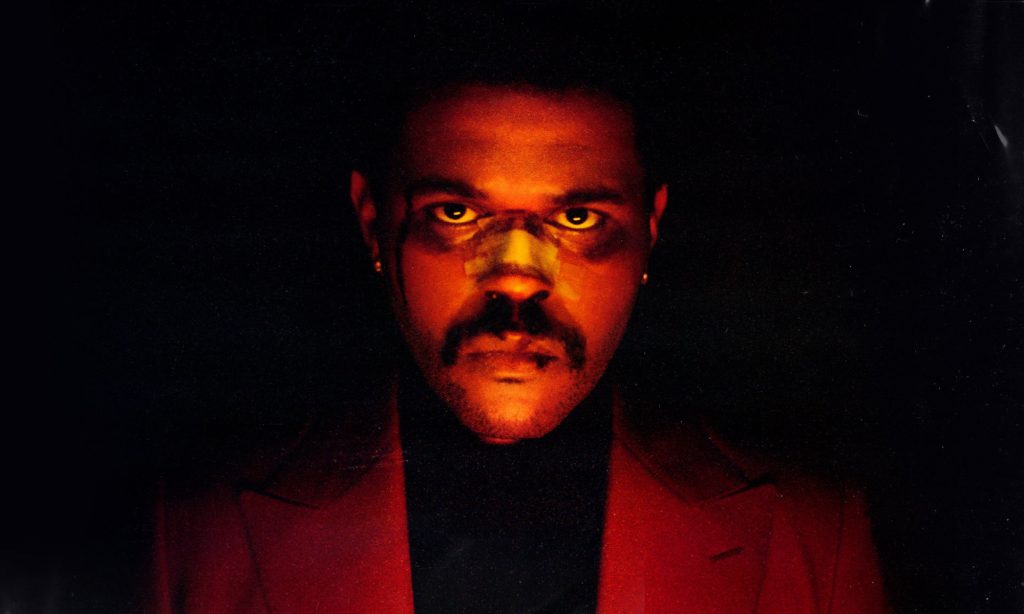 As you finally press "play" on Grimes' much-anticipated new art-pop album Miss Anthropocene — a deep, dark dive into dystopic dreams and nightmares — it's also a good time to clear your schedule for some just-announced tours. The Weeknd will be heading out on the road this summer to support upcoming release After Hours, while The National will take a short trip through select cities in July. Meanwhile, those old enough to remember the Foo Fighters' debut in 1995 may want to relive those innocent times by checking out their 2020 Van Tour, which sees the band revisiting stops from their very first tour 25 years back. But before all that, the NCAA is gearing up for March Madness with some new men's basketball rankings just released.
1. The Weeknd Announces After Hours Tour
R&B maverick The Weeknd is set to release his new album, After Hours, on March 20. It's the follow-up to his 2016 chart-topping Starboy. This week — on the auspicious date of 02/20/2020 — he announced a corresponding tour, his first in three years. The multiple Grammy winner will head out on the road this summer, starting with a few dates in Canada in mid-June, before an extensive tour through the U.S., ending at New York's Madison Square Garden on September 3. Tickets go on sale next Friday, February 28.
2. Foo Fighters Celebrate 25th Anniversary With 2020 Van Tour
The Foo Fighters will be hopping in a van and living like it's 1995 come this April. The rock vets will revisit stops from their first tour 25 years ago, when they released their self-titled debut album, written and recorded solely by Dave Grohl himself. Grohl and co. will kick off the 2020 Van Tour on April 12 in Phoenix and head to a small selection of cities around the U.S. with a final date in Hamilton, Ontario, on May 20. Tickets go on sale today.
3. NCAA Men's Basketball Rankings Released
As February starts to fade, it can only mean one thing for men's basketball fans: March Madness is just around the corner. With round 1 of the NCAA tournament scheduled to begin on March 19, teams across the nation are gearing up in anticipation. As of now, Baylor sits at the top of the NCAA rankings with an impressive 23-1 record and 1,559 points. Following close behind are Gonzaga (26-1; 1,518 points), Kansas (22-3; 1,434 points), San Diego State (26-0; 1,404 points) and Dayton (23-2; 1,294 points). Last year's champions Virginia are nowhere to be found in the Top 25, while runners-up Texas Tech just missed the mark at 26.
4. Grimes Releases New Album, Miss Anthropocene
Art-pop princess Grimes returns with her fifth studio album, Miss Anthropocene, a doomy dark-pop thriller in which she brings us the "sound of the end of the world," as she sings on "Before the Fever." The Canadian singer, songwriter and producer has been teasing the album for quite some time now, giving us glimpses of its apocalyptic experimentations, with songs like "Violence" and "So Heavy I Fell Through the Earth." Listen to the entire album now.
5. The National Head to Select U.S. Cities This Summer
Ohio greats The National will be heading back on the road following last year's world tour in support of their eighth album, I Am Easy to Find. They've just announced a few U.S. tour dates to take place in the heart of the summer, starting July 20 in Minneapolis and closing out August 1 in Cooperstown, New York. Phoebe Bridgers, Lucy Dacus, Julia Jacklin and Sharon Van Etten will each join the band on select nights. Tickets go on sale today.
You Might Like
Plus: The Smashing Pumpkins return, Netflix Is a Joke Fest and more.
Plus: Maren Morris announces tour, the NFL combine and Kraftwerk turn 50.
Plus: New Rage Against the Machine shows, new music from Pearl Jam and Def Leppard tour news