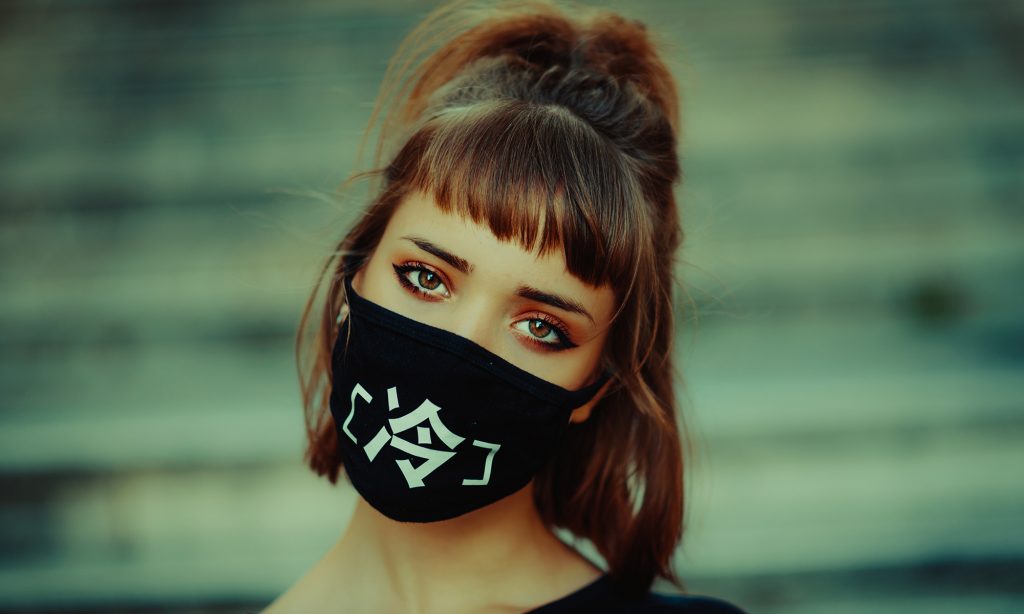 In 2020, fashion statements are no longer mostly made from the neck down — the best way to express yourself is (literally) right in front of your face. As artists have taken to livestream performance and athletes have dramatically transformed the way they play, all have had to mask up just like the rest of us. And some have been especially creative, thoroughly owning the face-mask-wearing statement as another extension of personal style. Check out some of our favorite artists and athletes who are taking the face mask to a whole new level. 
Lady Gaga
If she can pull off a meat dress, surely Lady Gaga can make a face mask work. Always up for a fashion challenge, the pop iconoclast has found inventive new ways to promote her latest album, Chromatica. Since the album's release, Gaga's shown us a few face-mask styles, but this one's our favorite: a hot pink piece plastered with the liquid-metal Chromatica font, studded with sharp spikes, and framed by her cotton-candy-colored locks and a handmade tie-dye hoodie. In a later Instagram post, she added heavy chains to the look and kept her message simple: "Be yourself, but wear a mask." 
Lizzo
Leave it up to Lizzo to stay fierce, fabulous and safe — even at the pool. This year, the hip-pop heroine has kept us inspired with her empowering words, including an inspiring speech she recently recorded to accept the 2020 BET Award for Best Female R&B/Pop Artist. She's also been spending the summer getting some much-needed R&R at the pool in all  tropical-inspired "pankini" (that's a "pandemic bikini") from Thick by Robyn that includes a matching face mask, bikini and gloves. 
Clint Frazier
New York Yankees outfielder Clint Frazier has proudly worn a mask during his time out on the field, even with a lot of backlash from fans: "A lot of people have their own opinions, but the way that I'm trying to go about is, it's my decision and our teammates need to stay safe," he told MLB reporter Bryan Hoch. His decision to keep his mask on certainly hasn't affected his playing one bit, like when he blasted one out of the park for this two-run homer during the Yankees' first exhibition game on July 18.
Billie Eilish
Billie Eilish was already rocking the face mask back in January at the Grammy Awards, where she arrived decked out, face to feet, in Gucci. The "bad guy" star, who has been releasing brand-new material (see the stunning lullaby "my future"), has continued to make the face accessory a smart, stylish extension of her look. Here, she pairs a simple black mask with baggy knitted pants and an oversized hoodie, but it's hard to deny that the pièce de résistance is that adorable charcoal-colored pup. 
Kyle Busch
Kyle "Rowdy" Busch has been especially vocal about the importance of wearing a mask in public, and the reigning NASCAR Cup Series champion has made himself quite the style maven to complement his message. He's been seen in a number of colorful masks, often pairing his face covering with his firesuit. Here he's honoring the 2020 graduating class of North Carolina's Appalachian State with a mask featuring their black-and-gold logo, which couples nicely with that bright yellow M&M outfit.
Katy Perry
Katy Perry is making it gracefully through a pandemic, a pregnancy and the promotion of her upcoming sixth studio album — Smile, due out August 28 — all while maintaining her quirky sense of style. On the heels of releasing lead single "Daisies," she posed with a face mask featuring the song's cover art and a floral, off-the-shoulder top to round out the flower-power look. The mask is currently available to purchase on her website, with all proceeds going to Direct Relief, a Santa Barbara organization dedicated to providing personal protective equipment and medical supplies to health workers around the globe.
Erykah Badu
Music's most beguiling fashion plate, Erykah Badu has made the hazmat suit a whole must-have trend, starting with this instantly iconic, social-distancing entrance as she arrived in Austin, Texas, sporting a full-body Louis Vuitton suit to accept a soundtrack award at the Texas Film Awards. Since, she's offered up an array of hot (and haute) items with her Badu World Market shop, including an "Apocalypse One Quarantine Concert Series" hoodie to go along with her interactive livestream series. Hopefully, this show-stopping "Ugly Mask" will be coming in autumn 2020, as teased in the Instagram post pictured above.
Jerry Jeudy
Jerry Jeudl, the star wide receiver from the University of Alabama, was selected by the Denver Broncos in the first round of the NFL Draft back in April. In late July, he made the deal official, signing a four-year, $15 million contract. He shared the big moment with the world on Instagram, looking both fashionable and formidable in a Broncos hat and matching face mask, with the caption: "Time to be legendary."
Serena Williams
Serena Williams wants all of us to "Look good, do good" with her sleek line of face masks made out of custom denim and cotton fabric from existing S by Serena styles. Here, she models the masks alongside her daughter Olympia. The tennis champion has also been dedicated to making sure everyone has access to a mask, teaming up with BELLA+CANVAS, the National School Boards Association and Scholastic to donate 4.25 million masks to underserved schools through the #MasksForKids program.
LeBron James
LeBron James is no stranger to face masks, like when he wore a futuristic custom carbon-fiber mask to protect his broken nose back in 2014. Now, he's rocking a slightly different mask to protect not only himself but also his fellow Lakers as they get back onto the court. "WAR READY!" he posted at a practice in July while posing in this vibrant, Lakers-purple face mask.
Image Courtesy of William Felker on Unsplash