11 Athletes Who've Made Fandom Fun in 2020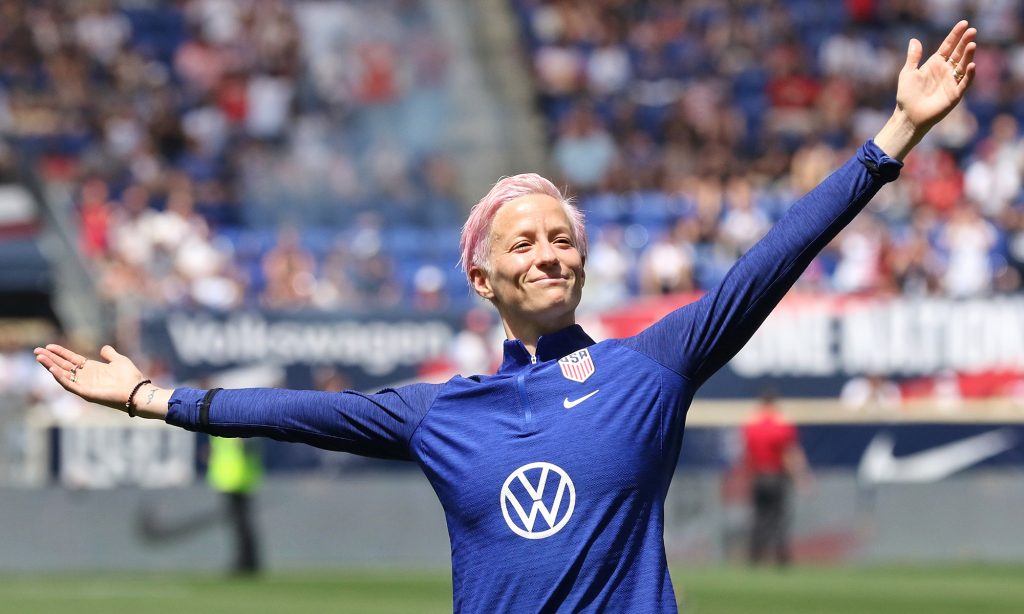 Social media has always acted as a fun way for athletes to connect with their fans. Most leagues and teams haven't been competing in front of stands packed with screaming superfans this year, which makes inventive ways to engage more important than ever. 
The action of a streaming sports event can sometimes be enough to make you forget you're not physically there. But while you're on your couch, at least during commercial breaks and halftime, chances are you're also scrolling on your phone. Here are eleven athletes who have gone the extra mile to connect with their fans through social media in 2020. 
Megan Rapinoe & Sue Bird
View this post on Instagram
Sue Bird, fresh off winning her fourth WNBA title with the Seattle Storm, and Megan Rapinoe, one of the most decorated U.S. soccer players (particularly following the U.S. team's win at the 2019 FIFA Women's World Cup), took to Instagram Live every Saturday night in the spring. Their hour-long talk show was titled "A Touch More" and featured casual, personal banter between the newly engaged couple and star-studded guests. One episode even found Bird cutting Rapinoe's shaggy hair.
Marcus Rashford
Marcus Rashford could comfortably rest on his laurels as a prolific Manchester United and England national team forward, but the 23-year-old has been actively campaigning for those less fortunate — in particular, kids in the UK who lack secure food resources — using his social-media accounts. 
Naomi Osaka
View this post on Instagram
Naomi Osaka claimed the 2020 U.S. Open, her third career grand slam title. As she continues to ascend the ranks, the typically shy Osaka is beginning to open herself up to her fans on Instagram. Quiet as she is, she has a sly sense of humor and tons of charm. 
LeBron James
In October, King James led the Los Angeles Lakers to their first NBA championship since 2010. While the league was still on hiatus, the four-time NBA MVP welcomed fans into his first-ever Instagram Live session. And he's shared workouts, shown his adorable kids learning a TikTok dance and been a vocal ally in the Black Lives Matter movement. 
Stephen Curry
View this post on Instagram
Golden State Warriors All-Star point guard Steph Curry has been a charismatic presence on Instagram during an injury-riddled season, sharing anything from at-home drills to a new book club. And then there was that photo of him and his beautiful family, looking as fierce as they could on Halloween. 
Breanna Stewart
Breanna Stewart, a Seattle Storm forward and two-time WNBA Finals MVP, began hosting an online talk show called Stewie's World from the bubble. She gets into the topical things that both fans and athletes are thinking about and talks them over with fellow athletes, like the time she talked through the prospect of another "bubble" season with Kevin Durant and Kelsey Plum. 
Russell Wilson
View this post on Instagram
Seattle Seahawks quarterback Russell Wilson has kept fans engaged with the team's success this season by speaking directly to them after victories through Instagram videos. Wilson also began hosting the DangerTalk podcast and often posts clips from daily life with his wife, Ciara, and three children.
JuJu Smith-Schuster
Pittsburgh Steelers star wide receiver JuJu Smith-Schuster has been popular on TikTok for a while now, but this season, he's bringing deprived fans access into the team's locker room. No better way to celebrate a win than with a TikTok dance. 
Tom Brady
View this post on Instagram
The future Hall of Fame quarterback is likely not having the first season with the Tampa Bay Buccaneers that he'd had in mind, but he is endearing himself to his new base through simple Instagram recap videos. And he definitely knows the appeal of letting fans peek into his life with Giselle and the kids. 
P.K. Subban
View this post on Instagram
New Jersey Devils All-Star defenseman P.K. Subban consistently gives fans inspiration with his workouts, including yoga ones. And he reveals just enough about his relationship with Lindsey Vonn (and his dog) to be playful and sweet. 
Header image by Jamie Smed/Wikimedia Commons
Tags
You Might Like
There are some definite upsides to watching a show from a venue that's all yours.
Professional athletes and athletic organizations seize the opportunity to salute our nation's troops.
He's staying focused on driving himself toward his goals.