How Players Relax Inside the NBA Campus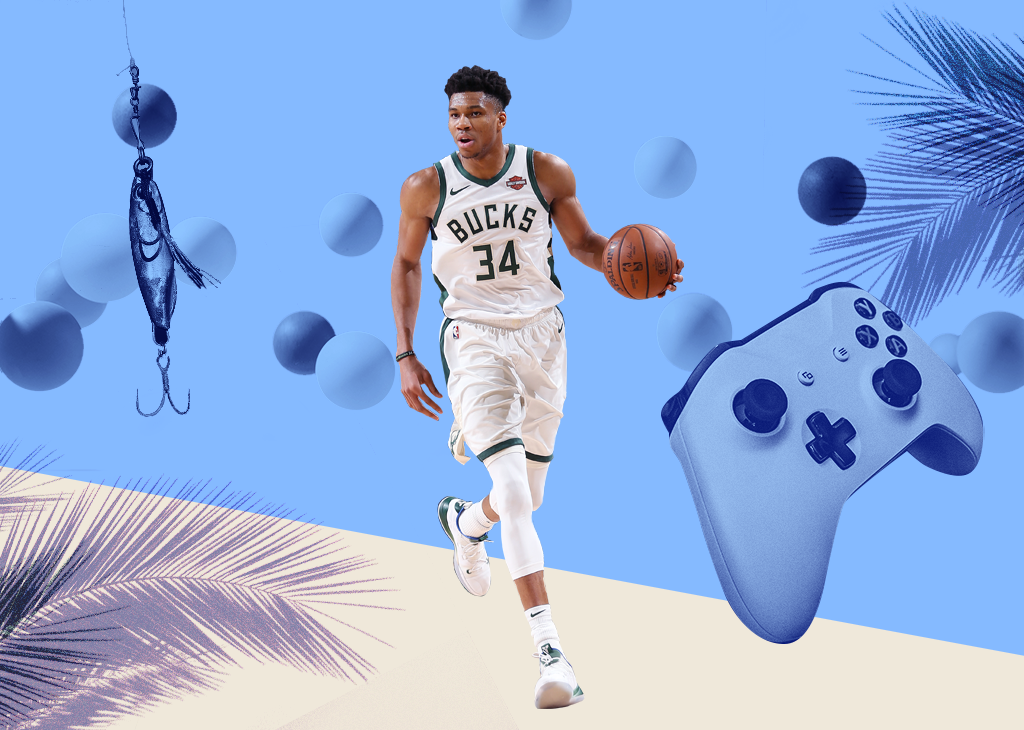 Basketball players' and fans' undying devotion to the game was stoked on July 9 when the twenty-two NBA teams who qualified to resume the 2019-20 season began arriving at the NBA Campus in Orlando, more commonly called the NBA Bubble. Nope, it's not a giant sphere that'll enclose them (although that's fun to imagine). The idea is that the remainder of the schedule will be fully conducted within Disney's ESPN Wide World of Sports Complex in Orlando, Florida, keeping players, coaches and support staff as healthy as possible by tightly controlling whom they interact with. 
Games restarted three weeks later, on July 30. Before returning to the floor, people across the league enjoyed exploring the leisure activities around what will hopefully be their new home until October 13. Yes, basketball is a game, but for the players it's their job and so the bubble is set up for non-basketball activities to somewhat duplicate the normal experience of work versus leisure. And of course, the players themselves have gotten creative with making their own fun. Some players, such as Philadelphia 76ers rookie guard Matisse Thybulle and Denver Nuggets guard Troy Daniels, are documenting it all on social media. Below is a look at some footage of how these pro athletes are making the best out of their unprecedented season.
Fishing
TNT's Inside the NBA crew usually commemorates a team's exit from the playoffs with a popular segment called "Gone Fishin'." However, Los Angeles Clippers All-Star forward Paul George and guard Reggie Jackson went fishing before the 2020 NBA Playoffs even began. George in particular has a long history with fishing. The thirty-year-old went on record with ESPN to describe how deep-rooted fishing is in his life — he's hosted an annual celebrity fishing tournament since 2017. Other notable players who took to the lake were Dallas Mavericks guard and reigning NBA Rookie of the Year Luka Dončić, Philadelphia 76ers point guard Ben Simmons, Sacramento Kings guard Buddy Hield and Houston Rockets teammates Ben McLemore and Robert Covington.
Golfing
Ben Simmons says at Disney World @NBABubbleLife all he does is practice, workout, play video games

And fish 🎣 and today golf ⛳️

Sixers did not practice today.
Hit the golf course.
This bubble sounds fun #Sixers
🎥 @J_Rich1 pic.twitter.com/619XFlZe1q

— John Clark (@JClarkNBCS) July 15, 2020
Ben Simmons and others have also been taking to the links. There are three Disney courses available in the bubble: the Lake Buena Vista Golf Course, the Palm Golf Course and the Magnolia Golf Course. Boston Celtics All-Stars Jayson Tatum and Kemba Walker crammed in two rounds in four days shortly after arriving in Florida, and they seemed to be taking it about as seriously as basketball. (The Celtics have also stoked their competitive fires through sand volleyball and swimming.) Brooklyn Nets guard Caris LeVert, meanwhile, doesn't quite have the same touch with a golf club.
Grooming
NBA Barbershop being built in the bubble 💈

(via @tiagosplitter) pic.twitter.com/DyuKFZiWE3

— Bleacher Report (@BleacherReport) July 19, 2020
Style is the game within the game for NBA players, so the folks planning the bubble knew an on-site barbershop would be a necessity. As reported by ESPN's Baxter Holmes and Eric Woodyard, the league carefully selected which barbers would be allowed into the bubble. Orlando Magic guard Terrence Ross and Dallas Mavericks guard Seth Curry and Toronto Raptors guard Norman Powell are among those keeping their looks sharp.
Video Games
Necessities!! (Pending how strong this Wi-Fi is) pic.twitter.com/R7oUKkCWKN

— Josh Hart (@joshhart) July 8, 2020
Gamers plays video games to feel like professional athletes but professional athletes play video games as an escape. New Orleans Pelicans forward Josh Hart set up a gaming station in his hotel room. Dallas Mavericks center Boban Marjanović was spotted in the players' lounge rockin' it old-school with Ms. Pac-Man. Phoenix Suns center Deandre Ayton carried in his own monitor when arriving at the bubble. Perhaps nobody came more prepared than Miami Heat big man Meyers Leonard, though, whose setup is truly insane.
Cornhole
"League sources say that Chris Paul is nervous" 😂😂😂@CP3 | @BazleyDarius | @shaiglalex pic.twitter.com/tPImgr29uI

— OKC THUNDER (@okcthunder) July 10, 2020
The Oklahoma City Thunder are one of the most surprising stories of the 2019-20 campaign thus far. A young, explosive backcourt led by veteran All-Star Chris Paul is the reason why the Thunder became true playoff contenders in what was projected to be a rebuilding year. However, when it came to cornhole, that camaraderie turned into friendly in-fighting. Ultimately, Paul emerged victorious and ordered rookie forward Darius Bazley to drop and give him 20 pushups. 
Ping Pong
Best ping pong player in the bubble 👀👀 https://t.co/oAdJEw7iel

— Donovan Mitchell (@spidadmitchell) July 13, 2020
Ping pong was made for the age of social distancing. The league's extensive health and safety manual states that doubles ping pong is prohibited, but players haven't let that stop them from competing in singles. Utah Jazz All-Star point guard Donovan Mitchell proclaimed himself the "best ping pong player in the bubble," while the San Antonio Spurs held a team-wide tournament that athletic development coach Kelly Forbes won. 
Multitasking
Sorry meant to post this earlier. Multitasking post practice. @budlight @NBABubbleLife pic.twitter.com/pBsau1SHoQ

— JJ Redick (@jj_redick) July 12, 2020
New Orleans Pelicans veteran guard JJ Redick posted a video of himself shotgunning a Bud Light during a post-practice ice bath. Heat forward/center Meyers Leonard wouldn't let Redick become the undisputed champion and tweeted a video chugging an "incredibly full" Coors Light. Utah Jazz guard Jordan Clarkson accepted Leonard and Redick's challenge.
For the most current sports events near you, head to www.ticketmaster.com/discover/sports