What to Wear: 31 Concert Fashion Trends for All Seasons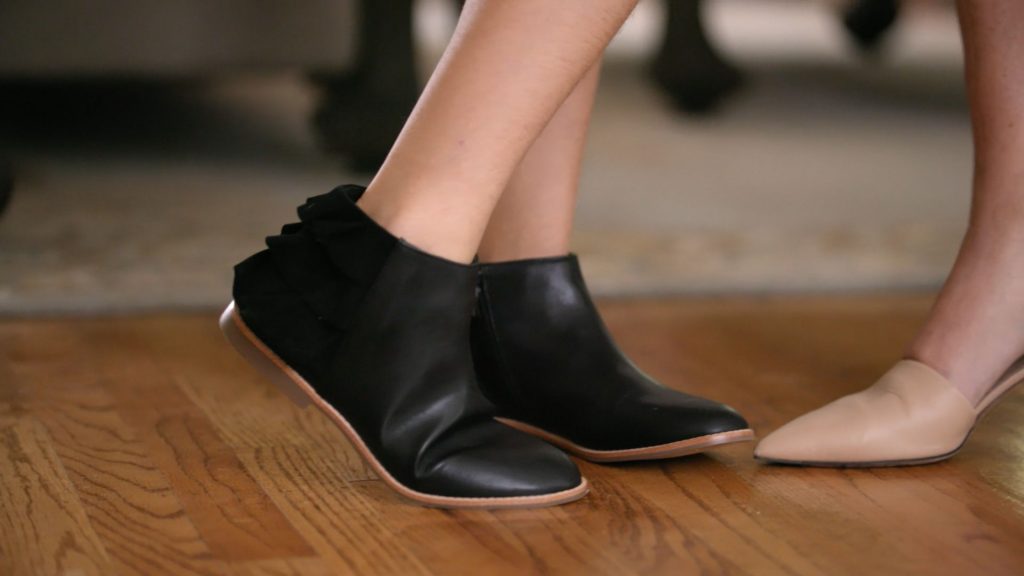 For us fans, one of the most stressful parts of attending a concert is figuring out what to wear. That's why we put together this guide to help you decide what to wear to concerts during all four seasons of the year.
Spring Fashion
Summer Fashion
Fall Fashion
Winter Fashion
Spring Concerts
From street wear bomber jackets to sleek black leather pieces, crop tops, and sneakers, lots of sneakers, here are 8 utterly cool celebrity outfits from Instagram for inspiration on what to wear to concerts of all music genres this Spring.
T-Shirt, Jeans, and a Leather Jacket
https://www.instagram.com/p/BCf-WGtPd7j/
Exude an effortless model-off-duty vibe like Chanel Iman to see Ben Folds, The 1975 or The Cure this spring. Recreate her look with a pair of distressed jeans, a t-shirt of your favorite rock stars, and complete the look by draping a leather jacket over your shoulders.
---
Leather Pants or Accessories, a Crop Top, and White Sneakers
https://www.instagram.com/p/BA2xj4SnGmr/
To see Queen Bey or JB on stage in the spring, rock this Kylie Jenner-inspired ensemble. The sleek leather pants or a cute leather backpack with a crop top scream fun, while crisp white sneakers make it perfect for dancing the night away. A brightly colored jacket helps balance the look.
---
A Little Black Dress and Sneakers
https://www.instagram.com/p/8FFP8zJmLB/
Zendaya has the right idea by pairing a body-hugging little black dress with sneakers instead of heels. The look is laid-back but still very much sexy, which makes it perfect for a Rihanna concert. BadGalRiRi is, after all, the queen of unexpected fashion pairings.
---
A Shaggy Jacket and Lace-Up Shoes or Sneakers
https://www.instagram.com/p/-zMHWuwr3O/
For a grunge concert, throw on your favorite pair of dark wash skinny jeans, a pair of black lace-up combat boots, and top off the look with an oversized fringy jacket like Shay Mitchell, the actress from Pretty Little Liars. The throwback '90s style is great for a Pearl Jam concert or the upcoming reunions and revivals hitting the road.
---
A Funky Shirt
https://www.instagram.com/p/BCVpVB3PaA6/
Heading to a dance music concert? Here's your chance to get creative with your concert attire. Do like Steve Aoki and opt for a crazy-cool printed shirt—the quirkier the better.
---
A Bomber Jacket
https://www.instagram.com/p/BBa3Z8Eu81A/
Bomber jackets are all the rage this season and work for both guys and girls. They add an undeniable cool factor to just about any look and will keep you nice and cozy during chilly spring nights. Go with one in a classic black or add a little edge with a green one like Bruno Mars and Gigi Hadid
---
A Versatile Denim Jacket
https://www.instagram.com/p/BCnzSC9qjTv/
A denim jacket as seen here on Maroon 5 frontman Adam Levine works for concerts of all musical genres. The timeless style staple pairs nicely with everything. Dress it up with a flirty dress for Ellie Goulding, layer it over a graphic t-shirt for a rock show, or accessorize it with a cowboy hat to see a country crooner like Kenny Chesney this spring.
---
Layers Up Top and Colors All Over
Ideal for a grunge concert, Miguel's bold printed sweatshirt pairs nicely with camo pants and a pair of sneakers just waiting to get dirty. And if you have concert tickets to more than one show this spring, the sweatshirt also works for a hip-hop show styled with jeans. Let's face it, layers and patterns are very fest-friendly.
---
Shout out to the creators of these amazing outfit sets from the Polyvore fashion community.
No matter which concert you're attending this spring, the most important fashion rule is to come as you are!
Summer Concerts
Ahhh, summer. It's everyone's favorite season and there's no better way to celebrate it than by nabbing tickets to a concert or music festival—especially one that takes place outside where you'll find yourself dancing under the stars all night long. There's just something about summertime that makes you feel care-free and ready for adventure, which means you need a concert look that will match that vibe. From flirty floral dresses for the ladies to cool laid-back sunnies for the dudes, here's eight trends you'll want to rock to your next summer concert.
Off-the-Shoulder Top
https://www.instagram.com/p/BjKt0aPnqV-/?tagged=offtheshouldertop
We don't have to tell you off-the-shoulder tops have been everywhere these past few seasons and we don't think they're going anywhere anytime soon. The denim-inspired ones are especially cool for a summertime concert pair with white shorts and those aforementioned strappy sandals.
Flirty Floral Dress
https://www.instagram.com/p/BSM33OeFjBW/?tagged=floralskaterdress
With its playful ruffles and dreamy floral print, this dress is just begging to be worn at a summer concert. You can't go wrong with any floral dress really. That's one trend you can always count on every warm weather season. Play up the feminine vibe for a concert with tousled hair and dainty jewelry.
Mini Crossbody Bag
https://www.instagram.com/p/B7RYsjoADyv/
Hands-free is the way to go at any concert, which is why a small crossbody bag will be your new best friend during the summer concert and festival season. Go for a classic black one with a gold chain that will go with everything. Or, if you're feeling funky, opt for a mini bag in a fun color to add a pop to your outfit.
California-Cool Sunglasses
https://www.instagram.com/p/B3fJQqohVKu/
You can't head out to a concert without a cool pair of shades. Ditch the aviator style everyone else will be wearing for something a little different, and dare we say, edgy like oversized squared frames.
Short Sleeve Button Up
https://www.instagram.com/p/BaMpbxXhOp_/?tagged=shortsleevebuttonup
When the temperature is soaring, you definitely want to go with a shirt that's lightweight and breezy like a short sleeve button up shirt that exudes a summery vibe. Soft colors are best for keeping you cool and if you want to stand out, we suggest one with a fun and quirky print.
Chino Shorts
https://www.instagram.com/p/B_AmdHcgVa2/
Who wears short shorts? You do! Summer concerts are hot, hot, hot and you want to stay cool, cool, cool so rocking a snazzy pair of chino shorts is definitely the way to go. The styling possibilities are endless but our favorite look includes a basic t-shirt, boat shoes, and a cool pair of shades.
Boat Shoes
https://www.instagram.com/p/B9C5LNgh3M_/
Boat shoes and summer concerts go hand in hand. For a hot concert experience, you want shoes you can wear sans socks, exude a vacation vibe, and are comfortable to boot. Boat shoes are exactly that.
Fall Concerts
During the fall, the time for short shorts and breezy dresses has passed. There's a chill in the air now, which means you'll need to bundle up a little bit more. But don't worry, you don't have to let the cold put a damper on your fall concert look. Here's eight pieces you can wear to stay warm and look good doing it.
Leather Jacket
https://www.instagram.com/p/BjLa1ENl88d/?tagged=leatherjacket
A leather jacket is always a good idea. It's so easy to just throw it on over a dress. Or, you can use it to elevate a simple jeans and a t-shirt ensemble. To give it that extra oomph that a concert demands, we suggest throwing on pair of heeled booties on too.
Velvet Booties
https://www.instagram.com/p/BjLTwGSA_4w/?tagged=velvetbooties
Speaking of booties, look no further than these velvet babies. They're on-trend, sexy, and edgy. What more can you ask for in a pair of shoes? They look best when paired with a fun mini skirt and a jacket flung over your shoulders. Cool girl look, indeed.
Distressed Jeans
https://www.instagram.com/p/BjIV5w5hqEj/?tagged=distressedjeans
A good distressed pair of baby blues works good for almost any occasion—especially a concert. They can be easily dressed up with a pretty blouse, a nice jacket, and a killer pair of pumps. Done and done.
Romper
https://www.instagram.com/p/BjLbASVB8e5/?tagged=romper
Just because it's fall that doesn't mean you can't show a little leg. Opt for a chic romper in a fall-inspired color like army green and pair it with boots and a leather jacket.
Classic Sneakers
https://www.instagram.com/p/BjLiqQknTPo/?tagged=whitesneakers
A classic pair of white sneakers will never ever fail you. Turn to them when you want to add a cool, laid-back twist to your fall concert look. Rock them with fitted jeans and a nice button up shirt and you're good to go.
Herringbone Cap
https://www.instagram.com/p/BZrGeCDlbJ7/?tagged=herringbonecap
Embrace the autumnal vibe with a dapper cap in a classic herringbone finish. Pair it with a lightweight jacket and some nice dress boots and you have yourself a good-looking fall concert look.
Cozy Cardigan
https://www.instagram.com/p/BghHSARBuaG/?tagged=cozycardigan
Cardigans and fall go together like peanut butter and jelly. Although you typically think of cardigans being more of a casual piece, you can easily make them look a little fancier by layering it over a button up shirt and styling it with dressy pants.
Cashmere Scarf
https://www.instagram.com/p/BxARLzwgUCK/
A cashmere scarf screams fall and adds just a hint of luxury to any look. Wrap one around your neck in any autumn-esque hue like camel, burgundy, or forest green. Plus, they'll add a nice pop of color to all of your concert selfies.
Winter Concerts
Dressing up for a winter concert is tough. Your outfit needs to be cozy enough to keep you warm but it also needs to look good too. Concerts are where you dress to impress, after all. Luckily, there are a few key winter trends that make wintertime concert dressing easy. From fur coats to suede boots, check them out below. Consider this your winter concert fashion cheat sheet.
Velvet Dress
https://www.instagram.com/p/BjGiP1mgi3S/?tagged=velvetdress
Velvet dresses are everything this season. One that hugs your curves in all the right places and is off the shoulder is an especially great choice for a concert. Deep, rich colors like navy blue, burgundy, and emerald give off the perfect wintery vibe. Complete the look with strappy, heeled sandals and a long coat effortlessly thrown over your shoulders.
Faux Fur Coat
https://www.instagram.com/p/B–mHxNJ-MW/
Speaking of coats, you can't go wrong with any basic coat that's already in your closet, but if you really want to turn heads and make a statement at a winter concert, we highly suggest rocking a faux fur coat. It adds tons of drama to any look and instantly makes you look like a cool girl oozing with style.
Chunky Sweater
https://www.instagram.com/p/Bioju9mnEFg/?tagged=chunkysweater
Don't underestimate the power of a chunky sweater. Not only are they super cozy (they make you feel like you're wrapped in a blanket) but they can easily be dressed up for a concert. Tuck the sweater into a mini skirt paired with over-the-knee boots or rock it with leather leggings for an edgy look.
Over-the-Knee Boots
https://www.instagram.com/p/BjLESg-lyxS/?tagged=overthekneeboots
Strut into a concert venue in a pair of black suede over-the-knee boots and we promise all eyes will be on you. They're sexy, cool, and pair well with a variety of different concert ensembles including short dresses, mini skirts, and jeans.
Suede Boots
https://www.instagram.com/p/BjCneAtFFoV/?tagged=suedeboots
Take your concert outfit from basic to luxe with a pair of suede boots. Style them with dark wash jeans, a classic button-up shirt, and a dapper coat and you're ready to head out to a winter concert.
Double Breasted Coat
https://www.instagram.com/p/BhYYhHvAjvR/?tagged=doublebreastedcoat
Every man needs a good double-breasted coat in his winter wardrobe. They add the perfect winter vibe to any outfit. Go for one in classic black or something a little different like navy blue or grey. From button up shirts and slacks to laid-back jeans and a t-shirt, a coat pretty much makes any outfit look utterly handsome.
Cashmere Beanie
https://www.instagram.com/p/9Spp7MM0TD/?tagged=cashmerebeanie
A cashmere beanie is another wintertime must have. They'll keep your head nice and warm while you're rocking out to your favorite artist and add an edgy, laid-back touch to your look.
Statement Sweater
https://www.instagram.com/p/BhflTCMFu4a/?tagged=statementsweater
Don't be afraid to make a statement at a concert with a cozy, eye-catching sweater in a cool print. Camo, for example, is always on trend. Whatever you pair it with—jeans, slacks, sneakers, boots, coats—a bold sweater will never go unnoticed.
You Might Like
As we prepare for Lollapalooza's virtual 2020 installment, let's look back at the moments that made the festival iconic.
Headed to Voodoo? Here's everything you'll need.
The first weekend of Austin City Limits Music Festival was picture perfect.