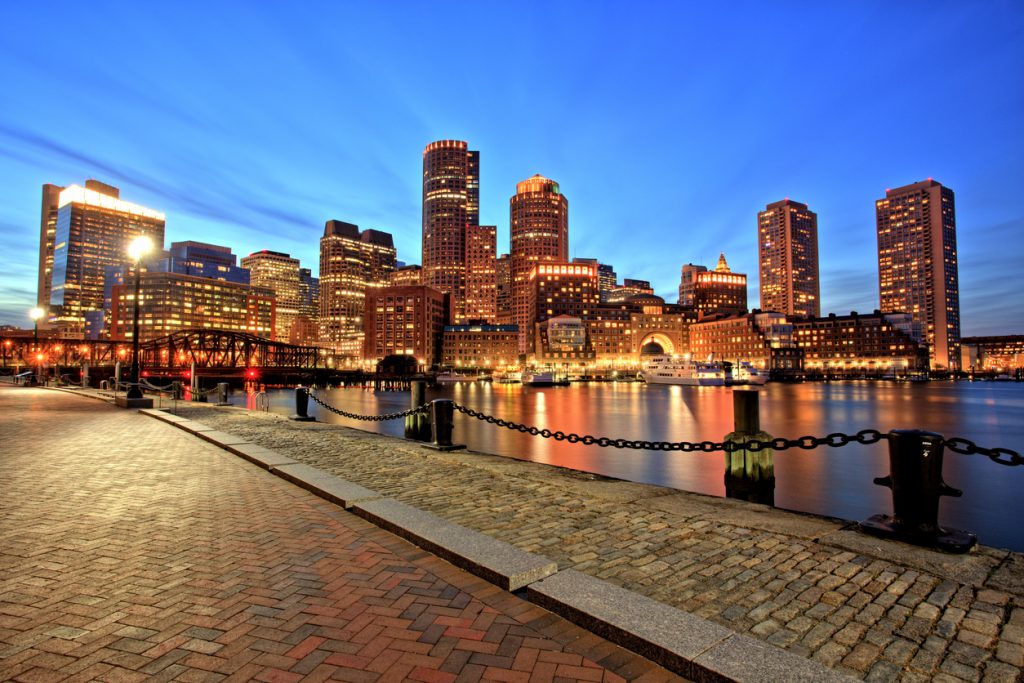 Sports and Music Venues in Boston
A baseball cathedral that's been nestled in the middle of Boston since 1912, Fenway Park is one of Boston's most beloved buildings. The oldest building to host a Major League Baseball team, Fenway has seen quite a few upgrades since it first opened its doors, including seats atop the storied Green Monster left-field wall and an eye-popping 38-by-100-foot scoreboard in right-center field. But it retains its old-style charm whether it's hosting an afternoon Red Sox game or an evening concert by music legends like Pearl Jam or Billy Joel.
Located in Foxborough, about 40 minutes southwest of Boston, the Patriots' home has been a mecca for New England's largest events since it opened its gates in 2002. The 66,000-capacity stadium has two giant HD video boards — including a 41.5-by-164-foot whopper — and a lighthouse honoring New England's seafaring heritage in the north end zone. In the summer, Gillette also hosts concerts. Kenny Chesney is the musical king of Gillette, having passed the million-tickets-sold mark with his 18th and 19th shows there in 2018, and the stadium has also hosted multiple concerts by Taylor Swift, Beyoncé and Jay-Z and Ed Sheeran.
Since 1995, TD Garden has been Boston's home for NBA basketball and NHL hockey, as well as the annual Beanpot intra-Boston college hockey tournament, the NCAA's Hockey East tournament and concerts by music's biggest names. Guarded by a statue of Bruins great Bobby Orr and located on top of the commuter-rail hub North Station, the Garden hosts about 200 public events annually, from Celtics and Bruins games to large-scale concert tours by the likes of Drake and Ariana Grande.
Boston University's home for men's hockey opened in 2005. Named after Harry Agganis, a BU alum who played for the Red Sox until his death in 1955 at age 26 from a pulmonary embolism, the arena anchors BU's John Hancock Student Village, and hosts concerts, speaking engagements and ceremonial events for BU and other universities in the area. With a capacity of 6,150 for ice-based events and 7,200 for concerts and other gatherings, Agganis Arena is a prime spot to catch family-friendly tours like Cirque du Soleil and Sesame Street Live! as well as pop concerts by the likes of Romeo Santos and The 1975.
Home to the men's and women's basketball and men's and women's hockey programs at Boston College in Chestnut Hill, Conte Forum opened in 1988. The arena, which sits on Beacon Street next to the football team's home Alumni Stadium, also contains the ticket office for all Boston College athletic events, as well as practice space for the school's marching band and pep band and 7,000 square feet of workout space for BC's student-athlete population.  
Anchored by the 30,000-capacity Harvard Stadium, which opened all the way back in 1903, the Ivy League athletic mecca that runs from the Charles River into lower Allston includes Lavietes Basketball Pavilion, the Bright-Landry Hockey Center, the Gordon Indoor Track, Jordan Field (for soccer and lacrosse), the O'Donnell Baseball Field, Soldiers Field (for softball) and the McCurdy Outdoor Track, as well as facilities for swimming, diving, pool, and rugby. Since 2017, the Complex's western fields have also hosted the Boston Calling Music Festival, a weekend-long showcase of pop music, comedy and film. 
The 1,800-capacity Case Gym — known to locals as "The Roof" — has been Boston University's home for men's basketball since 1972 and women's hoops since 1975. Its nickname comes from its location: It sits atop Walter Brown Arena, the home base for BU's women's hockey team. Officially named after onetime BU president Harold C. Case, The Roof is located near the former location of the left-field pavilion seats at Braves Field, the home for Boston's long-departed National League team.
Opened in 1910, Matthews Arena is the oldest hockey arena in the world still in use. The original home of the Boston Bruins, the Back Bay arena now hosts the men's and women's hockey programs at Northeastern, as well as the school's men's basketball program. It also is used by high school hockey programs from around the city. Matthews Arena looms large in hockey's history, hosting the first professional hockey game (between the NHA's Montreal Wanderers and Ottawa Senators) in 1911 and the first Bruins game 13 years later. It also incubated hockey programs for Northeastern and other schools around the region, including its current Beanpot rivals Boston College, Boston University and Harvard.
Since 1982, the DCU Center has anchored downtown Worcester, bringing concert tours, athletic events, conferences and professional wrestling showcases to the city. Currently home to the ECHL's Worcester Railers (a minor-league affiliate of the New York Islanders) since 2017 and the National Arena League's Worcester Pirates indoor football team since 2018, the DCU Center has served as home for professional lacrosse, soccer, basketball, football and hockey teams over its history. And it has 14,800 seats to fill when bands like Aerosmith, Dave Matthews Band and Phish play there.
Built in 1972, this old-school arena in Providence is currently home to Providence College's men's basketball team and the American Hockey League's Providence Bruins (a Boston Bruins affiliate). Originally known as the Providence Civic Center, the arena has hosted some of music's giants — Elvis Presley, Frank Sinatra, George Harrison — in concert, as well as a slew of collegiate athletic tournaments and the final performance of the Ringling Bros. Barnum & Bailey Circus.