Fenway Park: History and Facts of an Iconic Boston Venue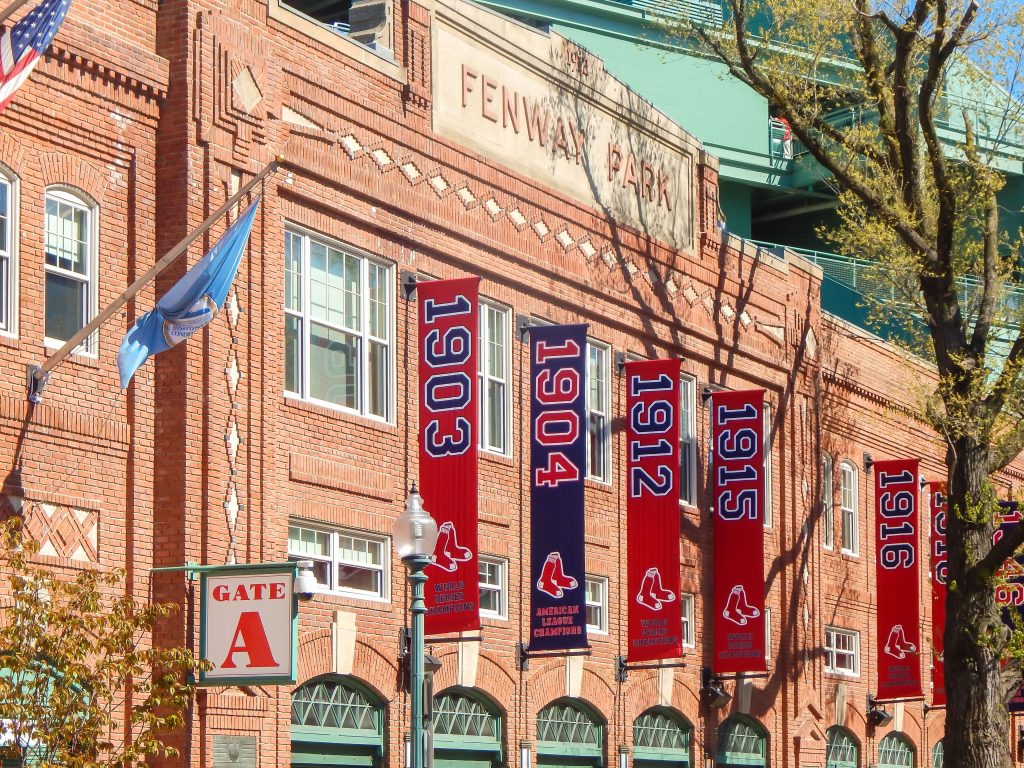 The longtime home of the Boston Red Sox, Fenway Park is a world-famous ballpark located in Boston, Massachusetts, near Kenmore Square. A beloved symbol of Boston, Fenway Park was added to the National Register of Historic Places in 2012 and is currently a pending Boston Landmark. Fenway is widely considered to be one of the most well-known sports venues in the world.
Fenway Park Quick Facts
Fenway Park had its first official game on April 9, 1912. The Red Sox beat Harvard University 2-0. A few days later, the Park hosted its first professional baseball game on April 20, 1912. The Red Sox beat the New York Highlanders 7-6 in 11 innings, and 27,000 fans attended. Likewise, JFK's grandfather, John F. Fitzgerald, threw out the first pitch.
Fenway Park is also rumored to be the birthplace of The Wave. According to the Bleacher Report, the seats behind home plate were so close together that any time someone wanted to stand up and walk out, everyone else in the row had to also stand, leading to a domino effect of fans (wanting to see) standing in unison.
How Old Is Fenway Park?
Built in 1912, Fenway Park was rebuilt in 1934 and is the oldest active ballpark in Major League Baseball. The Park celebrated its centennial celebration in April 2012.
What Is Fenway Park Named After?
In 1911, owner John I. Taylor claimed Fenway Park got its name from being located in Boston's Fenway neighborhood. However, Taylor's family also owned the Fenway Realty Company, so the cross-promotional value has also been cited by historians.
What Is Fenway Park Known For?
The Lone Red Seat
In the Fenway Park bleachers, there is a lone red seat in section 42, row 37, seat 21. That red seat marks the spot where Ted Williams hit a 502-foot home run on June 9, 1946 — the longest home run in Fenway Park history. At the time, Williams apparently noticed a fan, a construction worker named Joe Boucher, dozing off in the bleachers and wanted to teach him a lesson by hitting a ball his way. After Boucher joked that he was a Yankees fan (he was not), a headline in the The Boston Globe the next day read: "Bullseye! Ted Williams Knocks Sense Into Yankees Fan."
The Green Monster
In 1914, Fenway Park erected a 37-foot wall in the left field called The Green Monster. According to legend, the wall was put up to keep people outside of the park from viewing the game, as then-Red Sox owner Tom Yawkey did not want people in nearby restaurants and bars watching games for free.
Today, The Green Monster is home to hundreds of signatures from current and former baseball players from opposing teams. It's become a tradition for opposing players to sign their names on the inside of the wall the first time they come to Fenway Park.
Williamsburg
Invented by sportswriters in 1940, "Williamsburg" is a name for the bullpen area built in front of the right-center field bleachers. It was built for Red Sox left fielder Ted Williams, who was left-handed, to help him and other left-handed hitters hit more home runs, given its closer proximity to the bleacher wall.
Pesky's Pole
There's a pole on the right field foul line named "Pesky's Pole," which is approximately 302 feet from the home plate, the shortest outfield distance in Major League Baseball. The pole was named after John Pesky, a shortstop and coach for the Red Sox, who hit some of his six home runs at Fenway around the pole but not off the pole. Sox broadcaster Mel Parnell originally came up with the name after Pesky won a game in 1948 with a home run just around the pole. In 2006, the Red Sox officially dedicated the right field foul pole as Pesky's Pole with a commemorative plaque.
Duffy's Cliff
Though it was later remodeled, from 1912 to 1933, a 25-foot incline at the left field wall at Fenway Park earned the name "Duffy's Cliff." It was named for left fielder Duffy Lewis, who mastered the art of running up and downhill. Red Sox owner Tom Yawkey eventually arranged to have the ground flattened in 1934.
Historic Sports Highlights at Fenway Park
In addition to baseball, Fenway Park also hosts soccer games and ice hockey. On New Year's Day 2010, the Boston Bruins beat the Philadelphia Flyers 2-1 in overtime.
The famous red seat, which is 502 feet away from home plate, earned its name after Ted Williams made the longest hit ever at Fenway Park on June 9, 1946.
In 1960, Ted Williams hit a home run during his last at-bat, making it the 521st homer of his career.
During Game 6 of the 1975 World Series, catcher Carlton Fisk famously "waved fair" his game-winning home run in the 12th inning.
In 1983, Captain Carl "Yaz" Yastrzemski did a victory lap around the warning track and made a final career hit, a hard single to left. He then lapped the field again in celebration.
In 1999, Fenway hosted the All-Star Game festivities for the first time since 1961.
In 2013, the Red Sox won the World Series against the St. Louis Cardinals at Fenway Park.
Host of the 2023 NHL Winter Classic® between the Boston Bruins® and Pittsburgh Penguins®
Famous Musical Moments at Fenway Park
Fenway has played host to a number of concerts over the years, starting in 1973 with Stevie Wonder and Ray Charles. There wouldn't be another concert until 2003 when Bruce Springsteen and the E Street Band played as part of their Rising tour. Since 2003, there has been at least one show a year, including performances by artists such as: Jimmy Buffett, Billy Joel, The Rolling Stones, Neil Diamond, The Police, Jason Aldean, Dave Matthews Band, Tom Petty & The Heartbreakers, Aerosmith, Phish, Roger Waters, Paul McCartney, James Taylor, Pearl Jam, Foo Fighters, Dead & Company, and New Kids On The Block. In 2017, Lady Gaga performed at Fenway as part of her Joanne World Tour and returned in 2022 for her Chromatica Ball tour. In 2019, The Who brought their first show at the stadium with the Boston Symphony Orchestra, and Guns N' Roses brought their show to Fenway in 2021, where they premiered a new song, "Absurd."
You Might Like
Stadium History | Parking & Admission | Seating & Capacity | Food & Concessions Venue Quick Facts Venue Name Oracle Park Location San Francisco, ...
Stadium History | Parking & Admission | Seating & Capacity | Food & Concessions Venue Quick Facts Venue Name Dodger Stadium Location Los Angeles,...
Step inside Citi Field, home of the New York Mets, and learn more about this New York City staple for sports and entertainment.