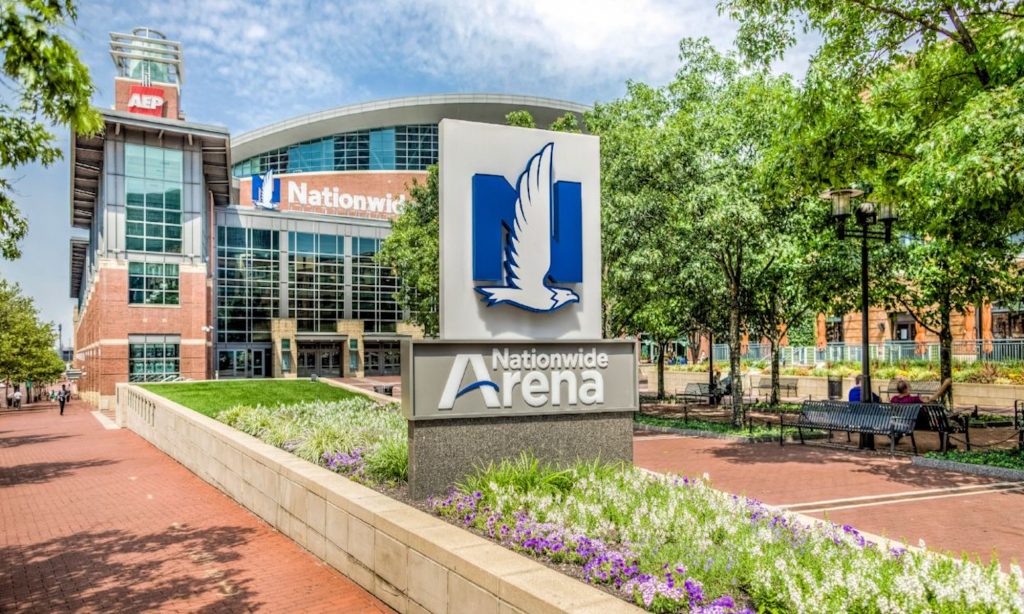 Nationwide Arena in Columbus is a busy entertainment hub that's a mecca for Ohio sports and entertainment lovers. Opened in September 2000, the indoor arena is the home of the NHL's Columbus Blue Jackets, and has also hosted college basketball and hockey games, MMA matches and the World's Toughest Rodeo. Throughout the year, the venue also regularly hosts a variety of concerts from an eclectic array of artists spanning multiple genres, including Fleetwood Mac, Miranda Lambert, Dan + Shay and Journey. 
The Nationwide Arena is located a half-mile from the Ohio Statehouse and mere blocks away from other notable Columbus concert venues (including A&R Music Bar, The Basement and EXPRESS LIVE!) and Huntington Park, the home of Triple-A minor-league baseball team the Columbus Clippers.
Nationwide Arena History
The 684,000-square-foot Nationwide Arena is located in a bustling area of downtown Columbus known as the Arena District, which boasts bars, restaurants, apartments and offices. However, where the venue is now has its own colorful history; it used to be the location of the Ohio State Penitentiary, which operated from 1834 through 1984 and was torn down in 1998.
In 1997, the insurance company Nationwide and other stakeholders agreed to pay for construction of a new arena, which facilitated the NHL awarding an expansion hockey franchise to Columbus. The team was named the Blue Jackets, which is a reference to the color of the coat worn by Union Army soldiers during the Civil War, and joined the NHL starting with the 2000-2001 season.
In addition to pro hockey, the arena has also been the home of the American Football League's Columbus Destroyers between 2004 and 2008 and again in 2019. With its proximity to the Ohio State University, Nationwide Arena has also hosted pre-season men's college basketball games featuring the Buckeyes and select men's college ice hockey games. The arena's current basketball capacity is 19,500, and the space can hold 20,000 fans for concerts. Hockey games can draw up to 18,500 people. The complex also includes the OhioHealth IceHaus, a 110,000-square-foot practice space for the Blue Jackets.
In recent years, upgrades have been made to the arena's 52 luxury suites and in-building internet service, as well as the game experience — in the form of LED lighting, modernized scoreboard graphics and stats, and expanded food offerings.
Nationwide Arena Concerts & Events
Nationwide Arena's first two musical events took place on September 9-10, 2000, in the form of two sold-out concerts from country stars Faith Hill and Tim McGraw, who were on their Soul 2 Soul Tour. In the decades since, the venue has become known as a place to hear music from every genre imaginable, including classic rock (Bruce Springsteen, Rush, Queen featuring Adam Lambert), hard rock and metal (Slayer, Five Finger Death Punch), modern rock (blink-182, twenty one pilots), pop (Shawn Mendes, Ariana Grande), country (Sturgill Simpson, Zac Brown Band) and Christian music (Casting Crowns, Hillsong Worship). 
In addition to being a music mecca, Nationwide Arena is known for being the site of multiple high-profile sporting events. The venue hosted the 2015 NHL All-Star Game and playoff games when the Blue Jackets were in postseason contention. However, the arena has also hosted multiple first- and second-round NCAA Division I Men's Basketball Tournament games, most recently in 2019, as well as the semi-finals and title games of the 2018 NCAA Division I Women's Basketball Tournament. Nationwide Arena was also the location of the 2016 Kellogg's Tour of Gymnastics Champions, and also frequently books MMA fights and WWE pay-per-view matches. The venue is also known as a premier private events space that draws conventions, corporate meetings and other business-related groups.
Nationwide Arena Food & Concessions
No matter what your tastebuds crave, Nationwide Arena has you covered. The concessions areas offer plenty of hearty fare — including a barbecue platter, bratwurst, popcorn, burgers, fries, milkshakes, hot dogs and nachos — and fare from several chain restaurants familiar to Ohioans, including Skyline Chili, Cold Stone, Papa John's Pizza and Tim Hortons. The state's booming craft brew scene is also well represented, as fans can sip on selections from Land Grant, Brewdog, North High and Great Lakes. 
However, there are plenty of healthier options for those so inclined, including salads, fresh fruits and hummus, as well as non-alcoholic drinks such as coffee, hot chocolate and Gatorade. For those with a sweet tooth, there's even a Blue Jackets-tailored collaboration with Perry's Ice Cream called 5th Line Crunch, which mixes decadent peanut butter swirls and chocolate-coated pretzels into a sea salt-and-caramel ice cream.
You Might Like
Historic venues and outdoor glory shine in Southern California.
From big burly beards during a playoff run to the march to the ice, the importance of superstitions and traditions in a run to compete for the Stanley Cup® i...
Whether you're new to hockey or a lifelong fan of the sport, we've put together this guide to help the crowd get caught up on popular hockey slang and lingo.