Step Inside: Fenway Park – Home of the Red Sox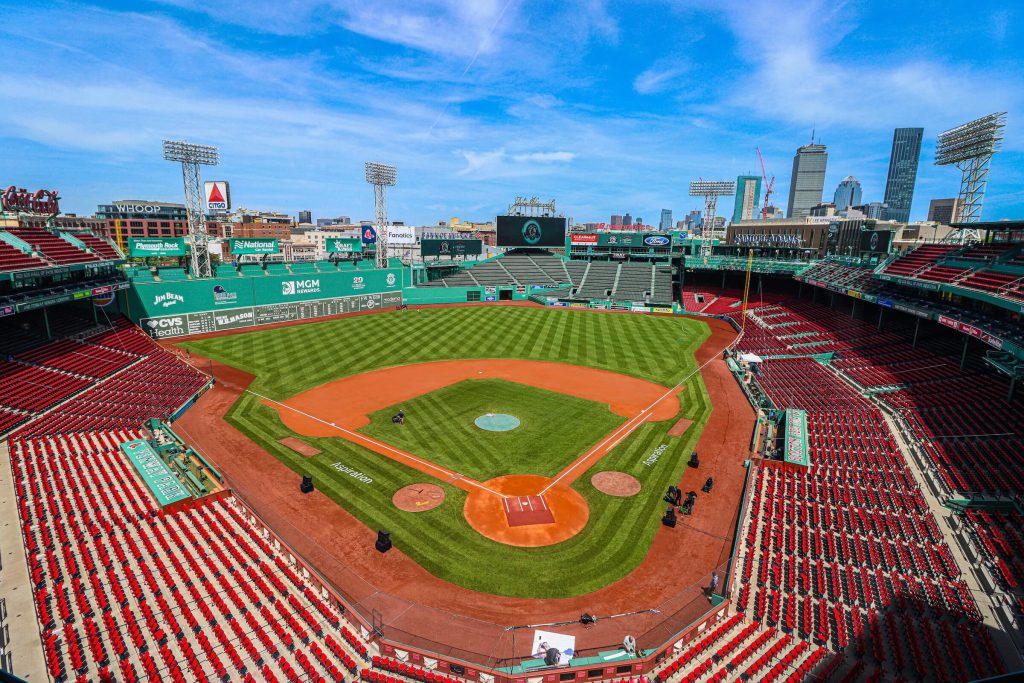 Stadium History | Parking & Admission | Seating & Capacity | Food & Concessions
Fenway Park is located in Boston, Massachusetts, about three miles from downtown. The stadium, the oldest in MLB history, is a world-famous icon of Boston and American baseball. Fenway Park is one of the most revered ballparks for fans all over the county. The ballpark is just a five-minute drive from the Museum of Fine Arts in Boston, Boston University and Northeastern University.
What events are coming up at Fenway Park?
See upcoming events and buy tickets for Fenway Park right here on Ticketmaster.
Fenway Park History
Fenway Park is the oldest active Major League Baseball stadium. It was first built in 1912, then rebuilt in 1934. In 2012, a century after the stadium first was built, the park was added to the National Register of Historic Landmarks.
The stadium has hosted concerts by musicians such as Ray Charles, B.B. King and Paul McCartney. In 2018, Fenway Sports Group created the MGM Music Hall at Fenway, a concert venue with 5,000 seating capacity.
Fenway Park is famous for historical features such as Fenway's red seat and the Green Monster. The red seat, a bleacher chair painted red in a crowd of green bleachers, marks Ted Williams' famous homerun in 1946. The Green Monster has been a part of the stadium since it was built in 1912. Fenway is one of the last ballparks to still have a manual scoreboard. The Green Monster is also famous, or perhaps infamous, for preventing potential home runs from flying out of the park. Later, the seats built on the Green Monster in 2003 would become one of the stadium's most popular areas.

Parking and Admission at Fenway Park
The Red Sox team recommends using public transportation to get to the stadium. Fenway Park is at the center of several transit stops. One of these stops is right across the street from Gate A at the corner of Jersey Street and Brooklyn Avenue.
For patrons who need event parking, there are several options. On weekends and evenings, fans can park at one of Fenway Park's two partner garages. These garages are the Prudential Center Garage or the 100 Clarendon Street Garage. Prudential Center Garage is located just under a mile from the stadium. 100 Clarendon Street Garage is approximately 1.3 miles from the stadium. Fans can receive a discount by scanning a same-day Red Sox ticket when leaving either garage. Patrons can also find alternative parking spots through apps such as SpotHero. Typically, parking at Fenway Park costs $10 to $50, depending on the event and location. To reduce traffic, the stadium also asks patrons to park in a location that is on the side of the stadium they are traveling from.
For patrons with disabilities, there are a limited number of accessible parking spots near the stadium. Patrons may also reserve paid accessible spaces at independent lots near the stadium.
Fenway Park policy allows fans to bring in a bag that is 5″x9″x2″ or smaller. Per Fenway Park rules, prohibited items include alcoholic beverages, weapons or dangerous items, laser pointers, costumes or masks, and noisemakers. Fans can find more at the Fenway Park Information Guide.
Fenway Park Capacity and Seating Options
As the oldest Major League Baseball stadium, Fenway Park is also one of the smallest MLB parks. Fenway Park capacity comes in at 37,755, making it one of only seven MLB stadiums with a capacity under 40,000 seats. Seating at Fenway Park includes bleachers, Loge Box, Field Box, and Green Monster seats, as well as luxury suites and clubs. Fenway Park's interactive seating map allows fans to explore possibilities from a bird's eye view of the stadium.
For the comprehensive Red Sox experience, there are several VIP options at Fenway Park. Luxury suites include options such as The Legends Suite, Dell Technologies Suites, The Marvin Suite, and Pavilion Suites. Other luxury seating options include Bullpen Terrace, Jim Beam Dugout, Goslings Dark 'n Stormy Boardroom, Lansdowne Pavilion, and other packages. Luxury seating comes with benefits such as private entry, catering services, climate-controlled areas, comfortable seating, and other perks.
What are the best seats at Fenway Park?
The best seats at Fenway Park vary depending on the event and personal preferences. Check out Fenway Park seating charts and find your favorite seat today.
Food and Beverage Options at Fenway Park
View this post on Instagram

One of Fenway Park's great perks is its on-site, organic garden. The garden is located on the roof of the Red Sox front offices and harvests about 6,000 pounds of produce annually.
Fans with a hankering for nostalgic dishes can find classic Red Sox concessions at several locations throughout the park. These include baseball famous Fenway Franks, footlong dogs, popcorn, cracker jacks, peanuts, pretzels, and fries. Fans also have easy access to concessions right from the stands, such as pizza, Fenway Franks, popcorn, drinks, and more.
Fenway also provides several other crowd-pleasers, including Savenor's hamburgers, cheeseburgers, sandwiches, chicken tenders, clam chowder, loaded nachos, fried dough, and other dishes.
For beverages, Fenway Park has a guide for both alcoholic and non-alcoholic drinks. Some listings include beers, wine and mixed drinks. Listings also include non-alcoholic beer, Coca-Cola products and coffee from Dunkin'.