Train on 'Play That Song' Summer Tour Setlist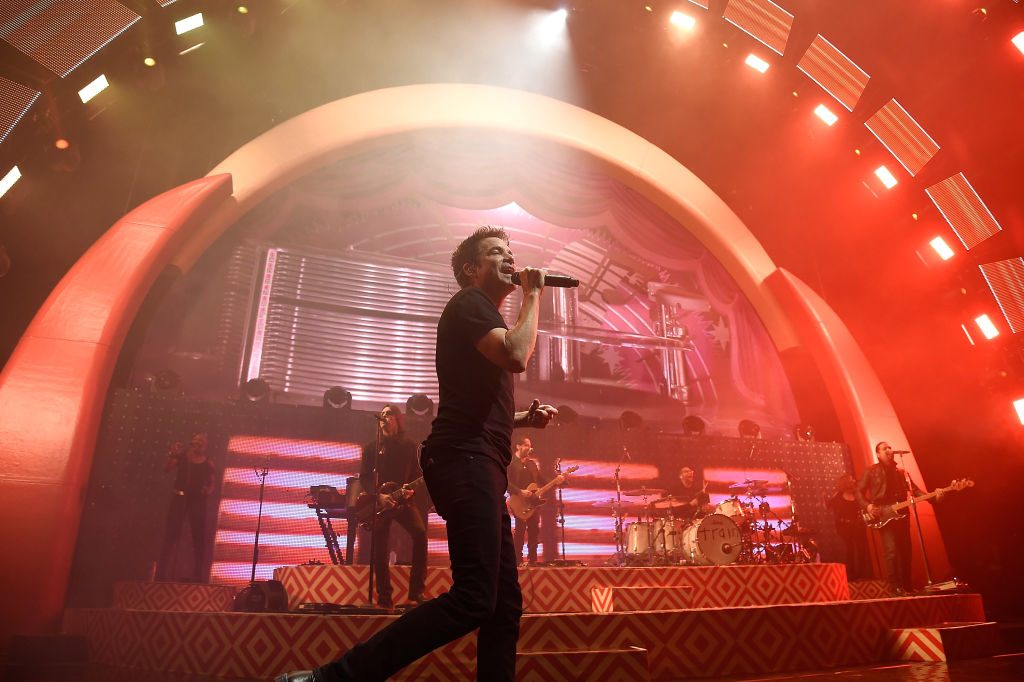 Train opened their 17-song-setlist at Darien Lake Performing Arts Center in Darien Center New York with their 2017 release from 'A Girl A Bottle A Boat' single 'Drink Up'. The band performed 'Bruises' from their 2012 'California 37' album with British singer and tour support Natasha Bedingfield. The band also performed a cover of Paul Simon's 'You Can Call Me Al' with rockers Of a Revolution.
Watch Train and O.A.R. perform Paul Simon's 'You Can Call Me Al' cover on this current tour below:
The Darien Center New York show was concluded with an additional cover of Queen's 'Under Pressure', and Train's 2001 Grammy Award Winning song 'Drops of Jupiter'.
Train's 'Play That Song' North American summer tour is in support of the band's current album 'A Girl, A Bottle, A Boat'. Train formed in 1993 and continue to top charts with their new music. Their single "Play That Song" which released in September from their tenth studio album reached top 10 on Billboard magazine's adult contemporary, adult Top 40 charts, and recently went Platinum.
"I work for every bit of what we get on radio" Train frontman Patrick Monahan confessed in a recent interview. "When one song becomes a hit, they'll play three other songs from the album, because then it works. They're in the business to sell advertising. They want to make sure their listeners are responsive to it, and they sometimes feel like Train will not appeal to young kids. However, for weeks (with "Play That Song"), we were the most requested song on Disney Radio, with 25,000 requests a week."
Watch the official music video for the single below:
The Northern California natives continue their North American dates with O.A.R. and Natasha Bedingfield through July 15th where the 'Play That Song' Tour wraps up in Seattle, Washington at the Gorge Amphitheater.
"It's called the 'Play That Song' tour. Basically, it will be similar to like a jukebox kind of stage, and then we'll play songs throughout the Train eras that represent kind of our music, but mostly the new music from this album because I feel like this album is in a lot of ways a throwback as far as what we tried to do. … So we want to capitalize on the fact that we did that."
For a full list of remaining tour dates and ticket info, visit Train on Ticketmaster.com.
setlist.fm is a free wiki service to collect and share setlists — the list of the songs a band or artist actually played during a concert. Anyone who likes to share their knowledge about setlists is welcome to create an account to add and edit setlists—contribute to our ever-growing collection of nearly 3 million! Follow @setlistfm on Twitter. setlist.fm is a division of Live Nation Entertainment.