Rogue One Takes Flight: Our Top 10 Star Wars Musical Moments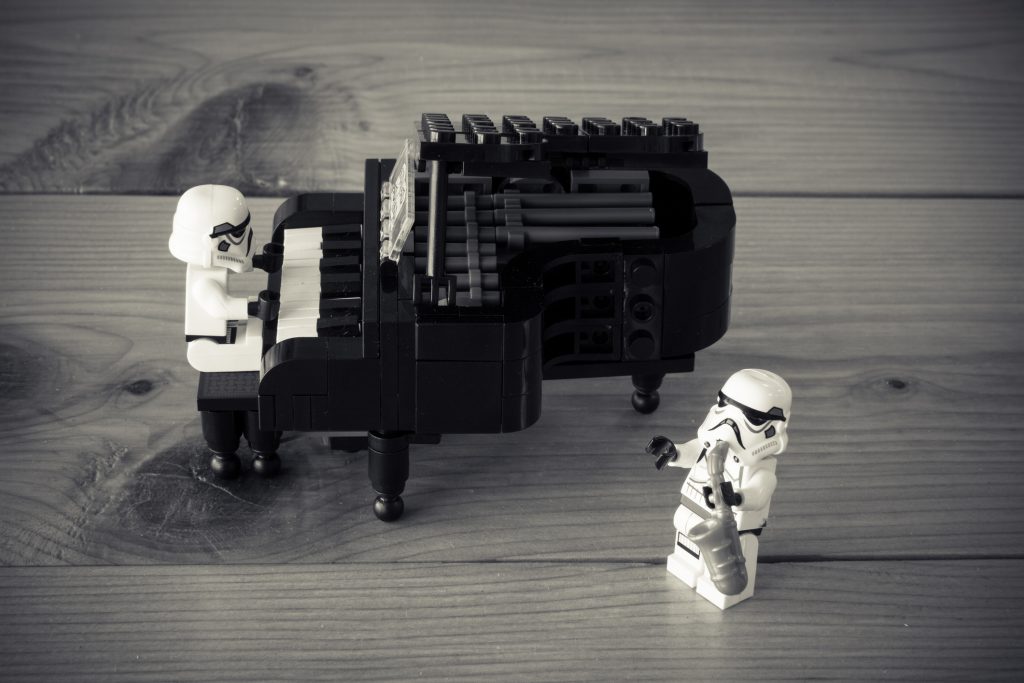 With Rogue One: A Star Wars Story opening on Thursday, Star Wars fans across the country are dusting off their lightsabers in preparation for the first in a series of spin-offs based on the beloved space saga.
And while everyone is pumped for the premiere, it's a bittersweet moment for some fans, as Rogue One is the first Star Wars film to hit theaters without the iconic music of composer John Williams.
The Force is strong in Williams – he scored all seven of the Star Wars Episode films, and his brilliant use of leitmotifs, or recurring musical themes, to conjure up different characters and emotions (fear in "The Imperial March" theme, longing in the "Han Solo and the Princess" theme, life-and-death stakes in "Duel of the Fates" theme) is a big part of why the movies connect with people on such a personal level.
But John Williams fans still have plenty to look forward to. While Williams has opted to leave scoring duties for the Star Wars Story films to franchise newcomers, he'll continue to compose the music for the Star Wars Episode films, with Episode VIII scheduled to hit theaters on December 15, 2017.
Check out our Top 10 Star Wars Musical Moments below, and if you love soundtrack music, don't miss these great tours:
Game of Thrones Live Concert Experience
Stave off winter with an epic symphonic performance of the show's unforgettable music.

Andrea Bocelli
Bocelli covered classic movie tunes on his 2015 album Cinema, and now fans can experience the soundtrack favorites in concert.

Video Games Live
Popular video game soundtracks from the past three decades get an orchestral makeover.

Distant Worlds: Music from Final Fantasy
Gamers won't want to miss this two-hour tour of music from every single game of the Final Fantasy series.
1. "Main Theme/Overture" (all episodes)
Widely credited as being the most recognizable movie theme of all time, the triumphant horn fanfare and sweeping string melodies of the main theme perfectly suit the films' dramatic struggle between light and dark. Check out Williams conducting the Boston Pops Orchestra for a little taste of what to expect at Star Wars in Concert.
---
2. "Binary Sunset (Force Theme)" (all episodes)
An upwardly climbing melody and triumphant flourish give this theme major gravitas. "The Force" theme is used liberally in significant, fateful scenes featuring heroes like Luke Skywalker and Obi-Wan Kenobi.
---
3. "Cantina Scene" (episode IV)
No list would be complete without this beloved musical moment from Star Wars: A New Hope. The inspiration for the toe-tapping tune played in the scene by fictional septet Figrin D'an and the Modal Nodes was the idea of alien creatures playing their interpretation of '30s Benny Goodman swing music. We'd say they pretty much nailed it.
---
4. "The Imperial March (Darth Vader's Theme)" (Episodes I-III, V-VII)
This awesomely ominous theme has become practically synonyms with villains and evil in general, and is so iconic that it's been used in everything from The Simpsons and NFL Football broadcasts to commercials for VW and Campbell's Soup. Here Williams conducts The LA Phil at Walt Disney Concert Hall.
---
5. "Han Solo and the Princess (Love Theme)" (Episodes V-VII)
As things heat up between Han Solo and Princess Leia, a solo French horn introduces the oh-so-tender "Love Theme". It returns repeatedly throughout episodes V-VII during moments of romance, longing, and sacrifice between the two characters.
---
6. "Emperor Theme" (Episodes I-III, VI)
https://www.youtube.com/watch?v=6XJjMwMFF5g
Talk about spooky. This sinister theme represents both the evil Emperor Palatine and the Dark Side in general, conjuring up apocalyptic sentiment with threatening chords and an eerie all-male choir.
---
7. "The Throne Room (Closing Credits)" (all episodes)
This triumphant number from the medal ceremony at the end of Star Wars: A New Hope is similar to the main theme in terms of grandeur, and has been used for the end credits for each subsequent film.
---
8. "Duel of the Fates" (Episodes I-III)
This absolutely massive piece from the prequel trilogy features a full choir singing an ancient Celtic poem translated into Sanskrit, and represents the clash between the Light and Dark Side of the Force. The chest-rattling magnificence of the choir is enough to give anyone goose bumps, making it the perfect soundtrack for an all-or-nothing lightsaber battle.
---
9. "Across the Stars" (Episodes II-III)
Glory and bombast take a back seat in this bittersweet love theme that symbolizes the ill-fated romance of Anakin Skywalker and Padme Amidala. A doomed relationship has never sounded so good.
---
10. "Jabba Flow" and "Dobra Doompa" (Episode VII)
The legendary cantina scene from the first Star Wars movie gets a nod in the latest film (Episode VII: The Force Awakens) when Han, Chewie, and company enter Maz Kanata's bar, which features a familiar sight for Star Wars fans: an alien band (Shag Kava) performing lovably offbeat space jams. The two songs in the scene were actually written and performed by The Force Awakens director J.J. Abrams and Hamilton creator Lin-Manuel Miranda – check out Abrams discussing the collaboration in this clip from Late Night with Jimmy Fallon.
Tags