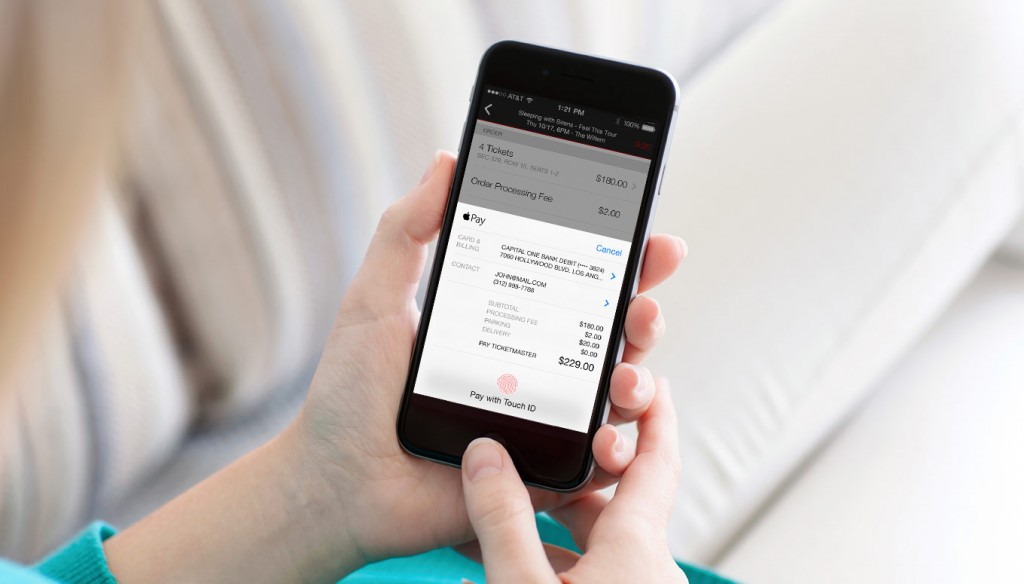 Buying tickets to see an event can be stressful. We strive to make it easy.
Recently, we introduced Apple Pay in the iOS version of the Ticketmaster App. This advancement gives you the power to purchase tickets with a single touch. There's no need to manually fill out lengthy account forms. Just make quick, convenient and secure ticket purchases using Apple Pay with Touch ID.
I love how easy the @Ticketmaster app is! The process was so simple, quick and easy especially when I was able to use my Apple pay! Thanks!

— Jacquie Molina (@Genesis_2693) January 13, 2015
Ever bought tickets with your thumb? I just did!@Ticketmaster launches Apple Pay in newest release. Congrats @LAmikeLA and @rodneybarlow

— Jody Mulkey (@jodymulkey) December 20, 2014
Apple Pay in the Ticketmaster App
Currently, Apple Pay is available in the Ticketmaster App on the iPhone 6 and iPhone 6 Plus, as well as iPad Air 2 and iPad mini 3 (US and Canada only).*
To get started on an eligible Apple device you'll need to add a credit or debit card to Passbook. Once set up, you'll never have to pull out your wallet again to pay; simply use Touch ID to authorize your purchase. Apple Pay is easy to set up and you'll continue to receive all of the rewards and benefits offered by your credit and debit cards. For more information on Apple Pay, visit: http://www.apple.com/apple-pay/
Have a question about Apple Pay in the Ticketmaster App? Visit our FAQs for more information about ticket delivery, pick up at will call or retail outlets, and more:
Stay tuned for more advancements in the world of Ticketmaster mobile and install the Apple version of the Ticketmaster app here.
This post was last updated on Dec 16, 2015
* Apple Pay in the Ticketmaster App is available for select events, tickets, and delivery methods only.
Tags