A Chat with The SpongeBob Musical Star Ethan Slater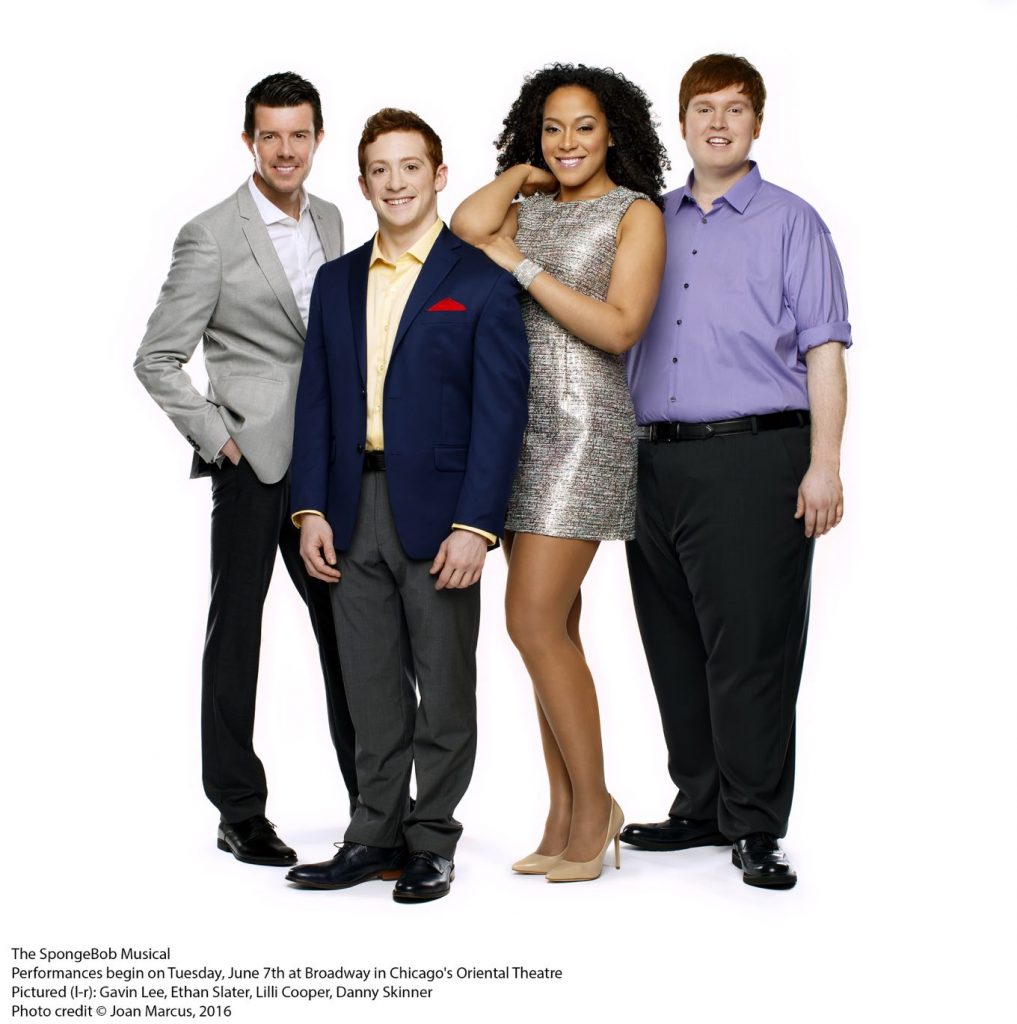 Ethan Slater isn't absorbent or yellow or porous, but he does share the unflagging optimism of the character he portrays in The SpongeBob Musical. The enthusiastic star took the time to tell us how he humanized everyone's favorite anthropomorphic sponge, and how the entire creative team turned a two-dimensional cartoon into an immersive, high-stakes musical adventure. Fans can catch the nautical nonsense during its premiere run at the Oriental Theatre in Chicago, IL. To Ethan and the rest of the Bikini Bottom crew: Break a fin!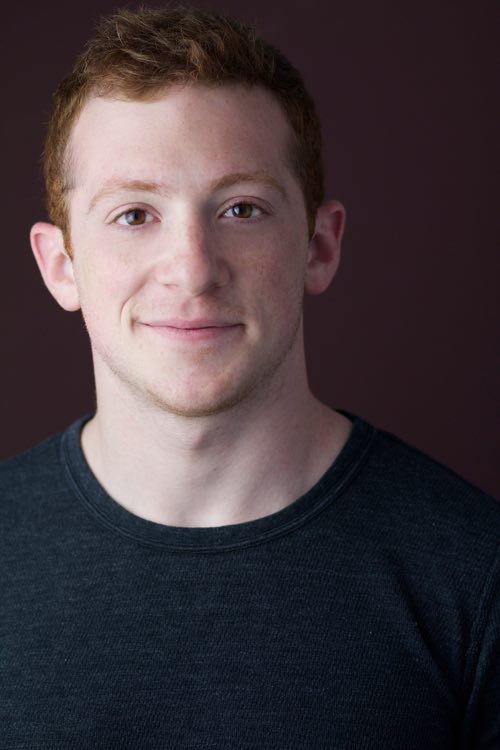 You just graduated from Vassar College a couple years ago. How does it feel to land such a big role so soon after school?
It feels pretty surreal to be honest. I actually started working on the show while I was still at Vassar. I got the role when I was a sophomore at the end of the year. We did the workshop over the summer, and during school breaks and summers since then I have been doing various workshops and readings. It's been an utterly surreal experience. It feels like living a dream, it's pretty incredible.
SpongeBob SquarePants has been on TV for a decade and a half. Did you watch it growing up, and did you ever dream you'd be playing him?
I did watch the show growing up. I didn't have cable so I didn't watch it in my own home, but I watched it at friends' houses after school and at my grandmother's house. So it even has that added bit of nostalgia for me. I associate the show with my earliest friends and my grandmother. That's pretty nice. It came out when I had just turned seven, so it's been with me my entire childhood and young adulthood. I think it's really influenced my sense of humor and my friends' sense of humor, which makes playing SpongeBob pretty amazing and really fun. Although, I will say, never in a million years did I think I would get the chance to portray SpongeBob on stage.
Are there challenges when taking a beloved character from the small screen to the stage?
Oh, absolutely. But the challenges, because of the way [director] Tina [Landau] works, have really presented themselves as once-in-a-lifetime opportunities. To start off with, SpongeBob on TV is square and a sponge, but when I'm on stage there's no foam, there's no square shape. It's just me in a sweater vest. Human Ethan playing SpongeBob. So that's a really cool opportunity to distill what makes SpongeBob SpongeBob and portray him as a human. What that means in the most general sense is distilling down to that human core which already exists in SpongeBob. The optimism and naivety and, you know, smiling in the face of sadness and all the sadness around him – it's really human and relatable. That's what this stage version gets at and that's a pretty special thing, I think.
In addition to that, the TV show's only 11 minutes long and what we have here is an original, two-hour-long show. We're not adapting any storylines, it's an original storyline. So that's another really cool opportunity to figure out how to inhabit this character and be SpongeBob, but have an entirely original arc and a new journey to go through. That's been really fun.
Do you try to make yourself more cartoonish, so to speak, in your performance?
It's definitely a balance. It's a tricky balance sometimes – but it's become easier over the past four years – to have the cartoonish elements, like appearing to stretch across a stage or morph my face, but it can't be a cartoonish performance. I would say it's stripping away the cartoonishness and keeping the physical comedy. One of the awesome things I've been able to do is to watch all the comedians that inspired [SpongeBob SquarePants creator] Stephen Hillenburg like Charlie Chaplin, Buster Keaton, Laurel and Hardy, Abbott and Costello. To watch their physical comedy and use that in my portrayal of SpongeBob has been really fun, not only because I get the opportunity to watch all those things, but also it has reminded me that physical comedy is so important and so helpful. I think that's a big part of it.
On TV it's a two-dimensional character and one of the things that we talk about with Tina every day in rehearsal is to make sure that there are three-dimensional characters on stage. Because there's no reason to put a two-dimensional cartoon on a stage. The reason to bring this to a stage is to have that three-dimensional, fully-fledged character and bring something new in that sense. I think that's how you take it from the small screen and put it on the stage: you find the humanity and the non-cartoon aspects of it.
I heard that the play ups the ante of the animated series – something along the lines of "SpongeBob saves the world". Can you tell us a little about how the stage show pulls that off, without giving too much away?
Well, the stakes are really high in this musical. Mount Humongous – which is a humongous mountain [laughs] – is also a volcano and it's about to erupt and destroy Bikini Bottom. SpongeBob has to figure out how to save the day, but more importantly than that he needs to bring his community together. While this is a story about saving the world from a natural disaster it's sort of more a story about the community of Bikini Bottom and how important it is to love and respect one another. For that reason I think it's really sort of an ensemble show. Yes, SpongeBob sort of saves the day, but it's really about this town and all of the characters on stage. And that's been a special thing about this cast – we are a tight ensemble both on stage and off stage. It's filled with incredibly talented actors and dancers and singers who are immensely imaginative and funny, and we just have a blast all the time.
Have you met any of the creative team behind the TV show, like Tom Kenny, who voices SpongeBob on the cartoon?
I have not had the opportunity to meet them yet, but I am really looking forward to possibly meeting them soon. I'm such a huge fan of theirs. As you can probably expect, leading up to this I have really studied the voice acting of Tom Kenny. Which is to say, I watched a lot of SpongeBob [laughs]. So I'm a huge fan and I really hope to get to meet them soon. But they've been incredibly supportive from afar, that's for sure.
Let's talk a little bit about the rest of the creative team. How have the various directors, choreographers, designers, and others all helped bring SpongeBob to the stage?
I think it all starts with Tina Landau, who I've already spoken about a little bit. She has a vision for the show, and that was to keep the indie soul with which Stephen Hillenburg approached the TV show. And that entails making sure these characters are grounded, and from the very beginning it was very important to her that we were not in arena show costumes. We were not playing at these characters, but that we were finding the emotional core of it. I think that permeates through the rest of the creative team and also the cast, which is what makes this show, I think, sort of surprising and special.
Then you've got [choreographer] Chris Gattelli, and the two of them feel like peas in a pod artistically. The first day we started working with Chris we played a game right off the bat – we just took a pool noodle and a hula hoop and one person made different things out of them. One person would say, "This is my horse," and everyone around would scream, "Yes, it is!" Which speaks to the playful and imaginative aura in the rehearsals, which we kept throughout. So both of them really play into the imagination of all of the actors, and then of course his choreography is amazing and beautiful.
[Musical director] Tom Kitt takes all the songs from all the different artists and keeps the feel of each original artist so that each song feels unique. Whether it's Cyndi Lauper's rock song, or John Legend's soulful ballad, they are uniquely that artist. And he's kept that in his orchestration while also making them feel like a cohesive score. So you hear themes throughout, which I think is really important for a Broadway show, for a musical. But the list of the artists is insane: Aerosmith, Cyndi Lauper, John Legend, the late David Bowie, Lady Antebellum, Panic! at the Disco, Plain White T's, Yolanda Adams, the list just goes on. Each name is as surreal as the last and all the songs that they wrote are so perfect for the show. It blows my mind every time I hear one of the songs, just how well-written they are and how unique they are.
I think Kyle Jarrow really helped tie that in as the book writer. Because each of these artists got a specific song to write, they knew what the song had to do, and how it needed to move along the story or how it needed to exposit about character. These are really musical theater songs that serve the story perfectly thanks to the work done by Tina and Kyle. So really it just feels like an all-star team of creative people doing their best work, and it feels pretty special to be around.
On a slightly tangential note, I feel like I keep saying how special this feels and how unbelievable it feels, and I sometimes feel self-conscious about that because it seems like maybe I am lying when I say that to my friends and family. What's crazy about it is that this entire process, all four years, every day of rehearsal has felt like a total dream come true – both in terms of the artistic expression and what I get to do. And also the unbelievable people, who are so friendly and warm and creative and accomplished, around whom I get to work. It really is special, and I feel very lucky.
I feel like you just answered my next four questions.
[Laughs] I'm a little bit excited so I just keep talking.
You mentioned some of the incredible musicians who have contributed songs to the show. How cool is it that you're tackling material from rock and pop royalty that was written specifically for The SpongeBob Musical?
It is the coolest! One of my best memories of this process so far was the day that we first heard the John Legend song. Tina came into rehearsal and told all of us to close our eyes and sit down, and she played this rough version of him singing. It was so moving. It moved all of us close to the point of tears because it was so perfect for the moment in the show. This duet sung between SpongeBob and Patrick and how important their friendship is to each other, and the song just captured that so beautifully. And the second part of that that really hit us was John Legend singing the song he just wrote that we are going to get to sing. And we're going to be the first people who get to sing it. It's an utterly surreal experience. It's fantastic. You know, people keep asking me what my favorite song is in the show and it's a really difficult question to answer, because it changes depending on which was the most recent song that I heard. Each song is pretty spectacular and it feels like an honor to get to sing them.
The cast has a blend of experience levels. You and Danny Skinner, who plays Patrick, are both first-timers in Chicago and hopefully will be making your Broadway debuts very soon as well. But Lilli Cooper, who plays Sandy, has been in huge Broadway shows like Wicked and Spring Awakening. Is it helpful to have such a broad range of experience levels on stage?
It really is. One of the really amazing things about being surrounded by veterans and new people to the Broadway world is that the atmosphere has just been utterly open. You don't feel any sort of hierarchy because everybody's just there giving it their all. But I feel like I've been able to learn from the people who have done this before just in the day to day how you hold yourself at rehearsal, or off stage and on stage. It's been a really incredible learning experience. For Danny and myself, this is the first time that we're making our Chicago and hopefully Broadway debuts with this. But he and I have been working on this particular show for four years together. It's actually how we became friends. We met in 2012 doing the workshop of SpongeBob, and he was right out of school, I was still in school, and this was such an exciting new thing. We've been able to travel with it together over the past four years and learn so much from everybody that we've been surrounded by.
At this point, there are probably just as many adults who love the TV show as children. Who do you think will get the biggest kick out of the musical – kids or grown-ups, or will it work equally well for both?
I think the show is going to work well for both kids and grown-ups. I really see it as a show that's going to appeal to people in their 20s, 30s, 40s, and 50s. As much as it's a show that you can bring your kids to, it feels to me like a show that you would leave your kids at home and come out for a date night, or go out with your college friends as a reunion. It really is going to appeal to the adult crowd and that's not because the jokes are lewd or inappropriate – they're just layered. And in each joke, kids will find something. They'll enjoy the physical comedy, they'll enjoy the characters that they know and love. But the adults are going to see something else in it entirely. It's going to appeal to everyone.
See upcoming show dates and times for The Spongebob Musical in Chicago.

Tags