The Ultimate Guide to Disney On Ice: 7 Must-Know Tips For Parents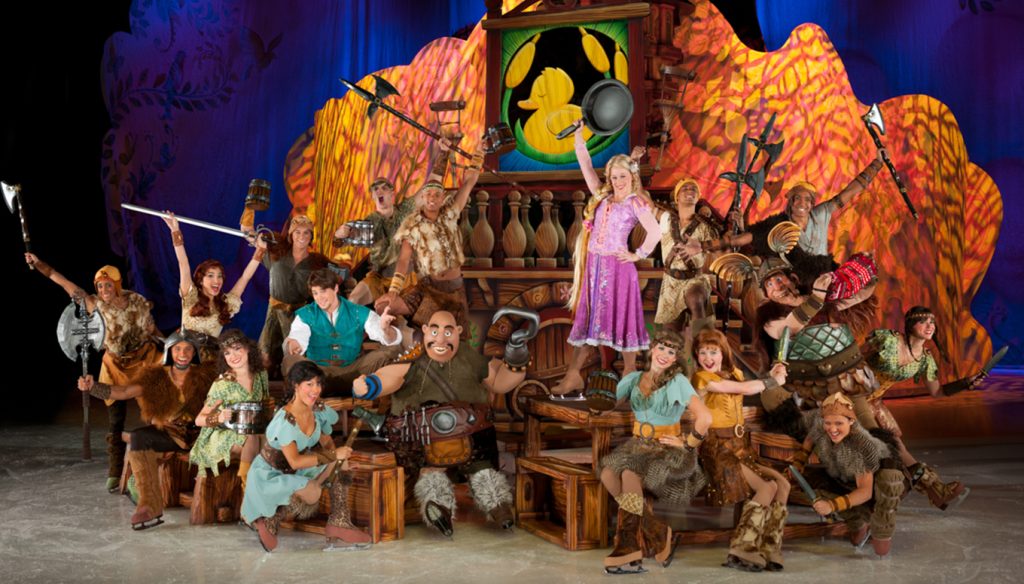 Disney On Ice is a must for kids, no matter where you and your family rank on the Disney Fan-O-Meter. We've got everything you need to know about how to make your Disney On Ice outing a dream come true.
1. Pick The Best Show For Your Family
Never one to do things halfway, Disney On Ice has multiple shows available for your viewing pleasure. Not sure which one to choose? Here's a quick descriptive guide that may help:
Disney On Ice presents Into the Magic — Are your kids still singing "I AM MOANAAAA!" all day everyday? Then this is the show for you. That's right, Disney's newest heroine is IN.THIS.SHOW. I repeat: Moana will be in the house, as well as other beloved Disney Princesses.
Disney On Ice presents Find Your Hero — Calling all fans of Walt's original, legendary characters! Disney icons Mickey and Minnie host this show, joining forces with Anna, Elsa, and other Disney Princess favorites to bring you a show that's truly star-studded.
Disney On Ice presents Frozen & Encanto — Elsa and Mirabel crossover episode? 'Nuff said.
Disney On Ice presents Mickey's Search Party — Mickey Mouse joins forces with Moana, Belle, Elsa and more contemporary fave characters. If your little one loves Moana, Coco, Frozen, or The Little Mermaid, this is the show for you!
2. Bring a Coat, Just in Case
The Disney On Ice website advises that "temperature in the arena is typically 10+ degrees cooler than outside." When I caught Disney On Ice with my fam, I entered the arena prepared for icy-cold air, but the temperature inside was surprisingly comfortable. Really, it depends on your body temperature — if you're always cold then you'll want extra-warm clothes, and if you like to wear shorts in the snow then, well, you'll have no problem. Err on the side of overkill; bring layers to make sure everyone'll stay warm, but can also peel 'em off if needed. And if you really want to go for it, bring blankets or cushions to sit on!
3. Costumes Can Make It More Magical
Kids are welcome to dress up for Disney On Ice, and I saw tons of Disney Princess gowns and Toy Story costumes when my family attended a show. The fun, festive magic of Disney's amusement parks carries over into their Ice shows, so feel free to have fun with your fashion. Just be sure you to add layers so your kids won't be cold in their Elsa gowns. One important note from Disney On Ice: "Costumes worn by guests 14 years of age or older are not permitted." Sorry parents, you'll have to wait for Halloween!
View this post on Instagram
4. Time It Right
On average, Disney On Ice show's run from 90 minutes to two hours long, with a 15-20 minute intermission. The show is captivating, but very small kids may not be able to sit still for all of it. Take breaks as needed, and make good use of that intermission in the middle of the show.
5. Take A Seat
Oh, the dreaded "where to sit?" question. I agonized over it, because I wanted to make sure my kids could see every jump, leap, and twist. The best seats do come at a higher cost, but if the front row is important to you, then it may be worth the price. We ended up in a middle section, and the view was wonderful.
6. There Will Be Toys
Spoiler Alert: There are toys for sale at Disney On Ice, and your kids will want them. Since the arena is dark for the show, light up toys are particularly popular. Know going into the show that there will be toy temptation at every corner, and set a limit for your kids on what you're willing to spend. You can also bring in your own light up toys, to join in the festivities while also saving a buck or two!
7. The "Age" Question
What's the right age for kids to see Disney On Ice? That answer, ultimately, lies with each parent going to the show. Children under two can attend for free, as long as they sit on a parent's lap. Anyone older than two must purchase a ticket. My kids were 2 and 4, and both had a blast. We were surrounded by kids of all ages, and Disney On Ice does an amazing job of making the show fun and accessible for the whole family.
Kate, the Minimaster Mom, lives and works in Southern California with her husband and daughters, ages 6 and 4. They never yell, watch TV, or eat sugar.
This article was originally published in 2017 and has been updated.
Tags