Country Stars And Their Biggest Little Fans On Stage!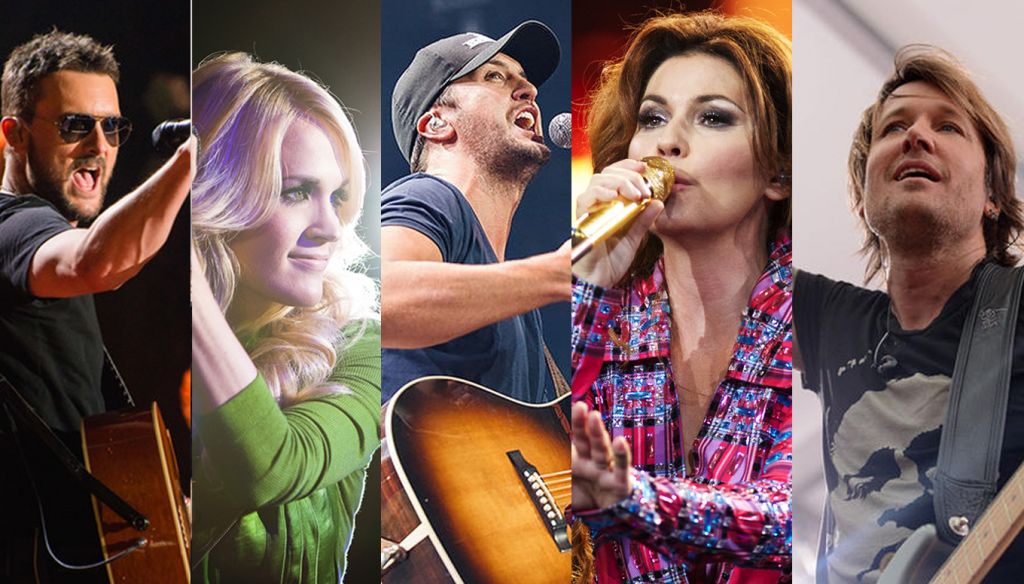 Don't ya just love a little artist-fan interaction on stage? We decided to pull a list together of awesome moments between country superstars and their biggest little fans!
From Eric Church to Shania Twain, these heartwarming moments are not to be missed!
Eric Church
Eric Church kicks things off with a nice game of big boot – little boot. Walking down the main stage platform to interact with the audience, Eric Church appears to have his big cowboy boots in hand, looking to display them to his fans. But just because they're bigger boots, doesn't mean they're cooler boots. The "Springsteen" singer quickly gets upstaged by a young girl holding pink flowers, who gets lifted onto the stage, where Church picks her up, and shows one of her cute little boots to the crowd. And, to boot, he signed it for her! Check out the sweet moment below.

You don't need another reason to catch Eric on tour!
Carrie Underwood
Carrie Underwood is all about the timing on this epic interaction. The "Before He Cheats" singer beat all girls to the punch and got to share a special moment with 12-year-old Chase, well, before he cheats. All jokes aside, Chase seems like a sweet kid. The well-mannered young man joined Underwood on stage, and after she asked him how they would do the kiss, he responded "lip to lip." So, Underwood told him to close his eyes, and the rest is history. Good luck topping that first kiss story!

Make your own history on Carrie next concerts.
Luke Bryan
Luke Bryan is back at it! This has to be one of the best times that Bryan brought a young fan on stage. During a performance of "Kill The Lights," the superstyar brought 5-year-old Bella on stage to sit and sing with him. Bryan and Bella started trading lines, and after Bella nailed her first two, Bryan literally had to cut the music. The country star was dumbfounded, emphasizing that she was only 5 years old, saying "So pretty much, you know my music better than my 5-year-old, alright?" Watch them crush the rest of the song and see Bella steal the show!

You don't need another reason to catch Luke on tour!
Shania Twain
Shania Twain didn't want to miss out on the fun of getting upstaged by her biggest-little fan either! In 2012, Twain brought 6-year-old Alexis into the spotlight and asked her what she wanted to sing. The crowd went nuts as Alexis said she wanted to duet on Twain's hit "Honey I'm Home." And just like that, Alexis had the whole crowd clapping and singing along while she took the lead on vocals with Twain's iconic hot pink mic. Twain then gave Alexis a hug, and asked her mom to snap a photo, documenting a concert experience most people can only dream of.

See Shania live on her Now Tour kicking off in 2018, get tickets now!
Keith Urban
Keith Urban brings this list to a close with an amazing impromptu fan-fueled moment! Out of nowhere, the "Somewhere In My Car" singer picked Hailey Benedict and her sister Makenna out of the crowd in Edmonton, Alabama to join him on stage. Well, turns out Hailey is big into songwriting herself. Naturally, Urban switched gears and called for a guitar to be brought out right then and there. You could tell by the reactions on the faces of the sisters that it was an unbelievable encounter. Urban got her all setup, and even moved the capo on the guitar neck for her, prompting him to say, "I'm guitar teching for you already." The crowd burst into cheers, and Hailey dove in. The former American Idol judge knows talent when he sees it, because her song blew the audience away! See the special performance for yourself below.

Don't miss Keith's Mega Country tour 2018!
Share your on-stage moments with your favorite country stars and their biggest little fans in our Fan Reviews! You don't always go to country concerts, but when you do, you see adorable stuff like this.
Tags