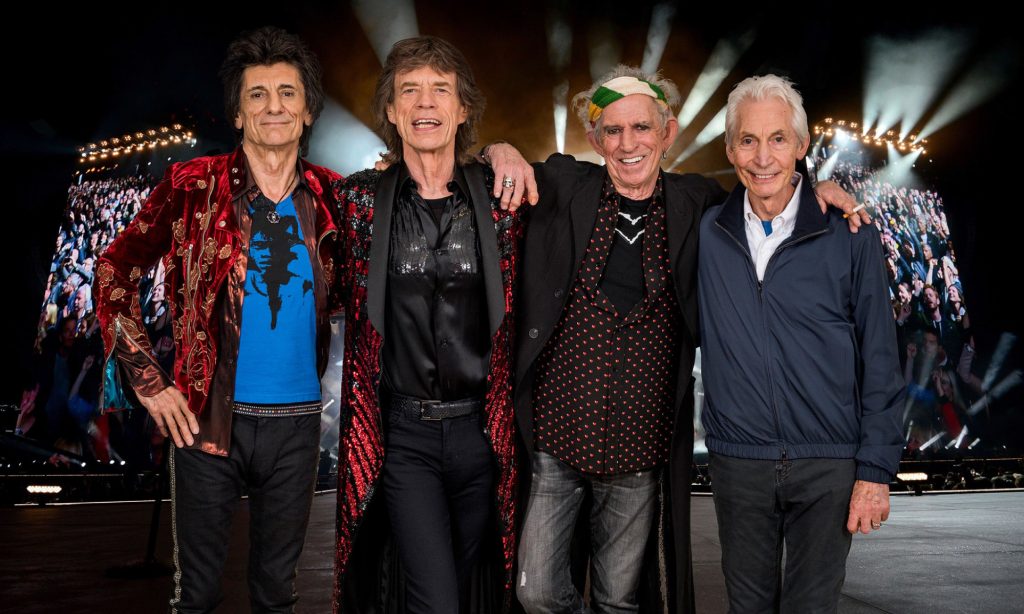 As Kansas City folks braved frigid temperatures to celebrate the Chiefs' first Super Bowl win in half a century, NBA fans were locked to their screens to see which players had been traded before the deadline came to a close yesterday. Also this week, music lovers received word of a few big upcoming tours, from rock legends The Rolling Stones and Grateful Dead spinoff Dead & Co., as well as a living legend in his own right, EGOT (Emmy, Grammy, Oscar and Tony winner) John Legend.
1. Rolling Stones Announce No Filter Tour
The world's greatest (and longest-lasting!) rock 'n' roll band is heading back out on the road this spring for their No Filter tour. Jagger, Richards, Wood and Watts will descend upon 15 cities across North America, starting in San Diego on May 8 and winding down in Atlanta on July 9. Expect the Stones to play plenty of their most massive hits. Tickets go on sale next Friday, February 14 — this could be an excellent Valentine's Day gift for your rock 'n' roll sweetheart.
2. 2020 NBA Trades Complete
All 2020 trade deals within the NBA have now been finalized. Quite a few major shifts occurred over the last few days, including All-Star Andre Iguodala's move from the Memphis Grizzlies to the Miami Heat, and the Golden State Warriors swap of D'Angelo Russell for Andrew Wiggins with the Minnesota Timberwolves. The Warriors sent Jacob Evans and Omari Spellman to Minnesota as well. In the final minutes before the deadline, there was also a three-team trade between the LA Clippers, New York Knicks and Washington Wizards — Marcus Morris and Isaiah Thomas will head to the Clippers, Jerome Robinson will join the Wizards, and Moe Harkless and a 2020 first-round pick will be making their way to the Knicks.
3. Dead & Company Hit the Road This Summer
Members of the Grateful Dead — including Mickey Hart, Bob Weir and Bill Kreutzmann — have invited John Mayer, Oteil Burbridge and Jeff Chimenti back for another Dead & Company tour this summer. They'll be hitting up major stadiums and amphitheaters around the U.S., starting at Boulder, Colorado's Folsom Field on July 10 and 11, before wrapping it all up at Boston's Fenway Park on August 7 and 8. Tickets go on sale next Friday, February 14.
4. Kansas City Celebrates Super Bowl With Epic Parade
Kansas City (the one in Missouri!) set the streets ablaze in red for a massive Super Bowl parade to celebrate the Chiefs' victory over the 49ers last Sunday at Super Bowl LIV in Miami. The team came back from behind in an action-packed fourth quarter to take the win with a final score of 31-20. Fans braved below-freezing temps and bitter wind chills to congratulate the Chiefs, who took home their first Super Bowl title since 1970. Standing in the cold is nothing compared to waiting half a century to snatch that Lombardi Trophy again.
5. John Legend Reveals Bigger Love Tour
John Legend — the EGOT and reigning "Sexiest Man Alive" — is ready to heat up your summer with his Bigger Love tour. On the heels of winning his 11th Grammy Award for "Higher" with DJ Khaled and Nipsey Hussle, the singer/songwriter has announced his next trek around the U.S., which will begin August 12 in Dallas and close out September 25 in San Diego. Tickets go on sale next Friday, February 14 — yes, another great V-Day surprise for that big love in your life.
You Might Like
Plus: The Smashing Pumpkins return, Netflix Is a Joke Fest and more.
Plus: Maren Morris announces tour, the NFL combine and Kraftwerk turn 50.
Plus: NCAA Men's Basketball rankings, a new album from Grimes and The National hit the road