The 25+ Best Festival Lineups Featuring Rock, Metal & Punk Music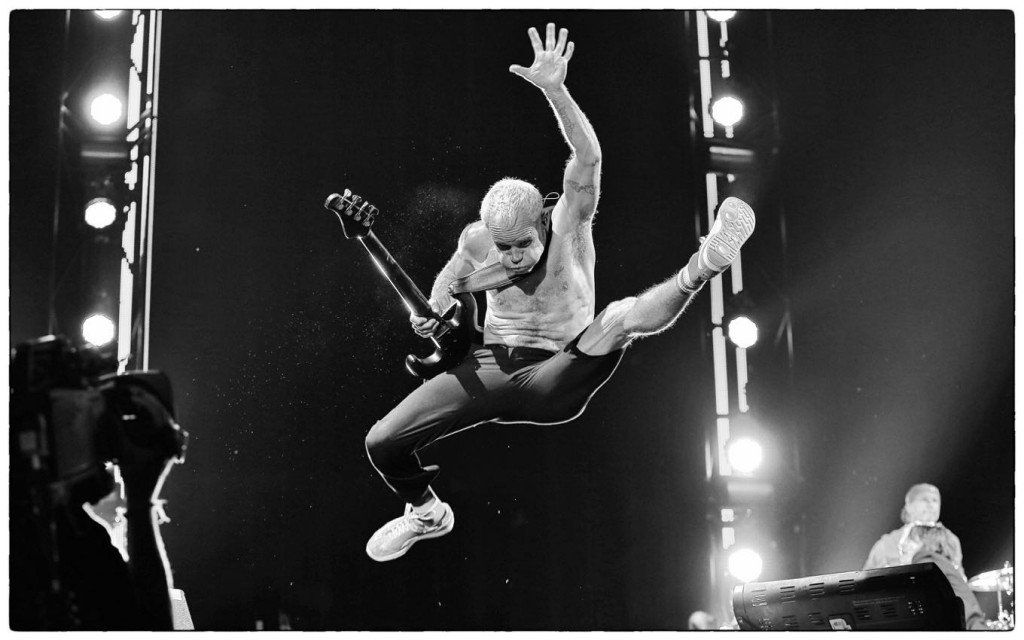 The gods of rock have smiled down on us this year, delivering a ton of epic music festival lineups featuring everything from old time rock 'n' roll and classic punk to fuzzed-out alt-rock and heavy metal thunder.
The 25 fests we've curated below crank it up to eleven when it comes to rocking out. While some of the fests haven't announced lineups yet, keep them on your radar for now because judging by past music, their 2016 festival lineups will continue to be unforgettable.
See festivals by general music genre or scroll down for the full list.
Rock Music | Metal Music | Alternative Music | Punk Music
Festivals with Rock Music
Rockfest 80s – 4/2 in Sunrise, FL
If you're out for anthemic hooks, shredding riffs, and big hair, look no further than Rockfest 80s. Glam metal mainstays like Bret Michaels, Warrant, Nelson, and RATT will bring their flamboyant style to south Florida for a killer party and a rocking good time.
Beale St* – 4/29-5/1 in Memphis, TN
Beale Street has always been the Home of the Blues, but rockers will take over the famous street for one weekend this April as respected acts like Neil Young, Beck, Paul Simon, and Weezer give crowds everything they've got.
Wanee Festival – 4/15-4/16 in Live Oak, FL
Any fan of the sweet sounds of southern rock will find lots to love about Wanee Festival, which goes down this spring in Live Oak, FL. Attendees will see legends like Gregg Allman, Widespread Panic, and Gov't Mule — who you can bet will really burn one down.
Carolina Rebellion* – 5/6-5/8 in Charlotte, NC
Classic rockers like ZZ Top, Lynyrd Skynyrd, and Alice Cooper will let it all hang out at this year's Carolina Rebellion festival, where fans can tap into southern hospitality, hard rock rebellion, and heavy metal attitude all at once.
98.9 The Rock's Rockfest – 5/14 in Kansas City, MO
98.9 The Rock is planning the biggest one-day music festival in the country—and it's gonna be insane. We can't wait to rock out at Rockfest with hard-hitters like Disturbed, Seether, and Seven Dust all on the same day.
Rock Fest – 6/14-6/16 in Cadott, WI
Everything you need to know about Rock Fest is right there in its name. Heavy hitters like Hollywood Vampires, Alice in Chains, and Marilyn Manson will descend on the small town of Cadott, Wisconsin this summer, and we're ready to feel the rush.
Summerfest – 6/29-7/3 and 7/5-7/10 in Milwaukee, WI
If you just can't make up your mind, don't bother—Summerfest has it all. There's 11 whole days of rocking to look forward to, and we can't wait to see this year's full lineup. With legends as diverse as Def Leppard, REO Speedwagon, and Sting already signed on, the festival is sure to rock Milwaukee to the core this summer.
Lollapalooza – 7/28-7/31 in Chicago, IL
Lollapalooza is always as exciting and quirky as its name, and this year is no exception. Legends like Radiohead, RHCP and Jane's Addiction will share the stage with new guard hitmakers like Silversun Pickups, the Arcs, Haim, and Houndmouth, and fans heading to this Chicago fest should expect the unexpected with this year's eclectic lineup.
The Peach Music Festival – 8/11-8/14 in Scranton, PA
You can't get any more classic than a festival founded by The Allman Brothers Band. No surprise, then, that Gregg Allman will be headlining, and fans can also jam out with Trey Anastasio Band and The String Cheese Incident.
---
Festivals with Metal Music
Fort Rock Festival – 4/30-5/1 in Ft. Myers, FL
Metal monsters like Rob Zombie, Megadeth, Anthrax, and Ghost will be bringing their dark sounds to the Sunshine State at the end of April. If you think you can handle the intensity, make your way to Ft. Myers and get ready to rock.
Northern Invasion – 5/14-5/15 in Somerset, WI
Alternative metal has found a home at Somerset, Wisconsin's Northern Invasion. Disturbed, Korn, Rob Zombie, and Chevelle will all be cranking out savage riffs at this year's festival, making this a HEAVY weekend you can't afford to miss.
Rock on the Range – 5/20-5/22 in Columbus, OH
Rock on the Range will draw huge headliners to the Mapfre Stadium this May, including Disturbed, Rob Zombie, and Megadeth (whose frontman Dave Mustaine recently chatted with us about their new album and national tour).
Rocklahoma* – 5/27-5/29 in Pryor, OK
Rocklahoma turns 10 this year with a killer lineup—bands like Scorpions, 3 Doors Down, and Collective Soul are on hand to help them celebrate the milestone with a bang.
Amnesia Rockfest – 6/23-6/26 in Montebello, QC
Amnesia Rockfest hasn't announced its 2016 lineup yet, but we're betting it's gonna be good. Last year's festival featured legends like Linkin Park, System of a Down, and Slayer, and we're sure this year will be just as epic.
Chicago Open Air – 7/15-7/17 in Bridgeview, IL
Chicago Open Air has some big names headed to the Second City for its inaugural festival: Rammstein, Korn, and Marilyn Manson, just to name a few. Here's hoping this event catches on, because we're already headbanging just thinking about this sick lineup.
Heavy Montreal – 8/6-8/7 in Montreal, QC
Even though the festival changed its name from Heavy MTL, Heavy Montreal still has plenty of the good stuff. This Quebecois headbangers' ball features headliners Five Finger Death Punch and Disturbed, while Kill Switch Engage, Black Label Society, and Mastodon will also bring the fury.
---
Festivals with Alternative Music
WJRR Earthday Birthday – 4/23 in Orlando, FL
Orlando's WJRR radio station knows how to celebrate our planet: bring the best alternative and hard rock bands together for the Earthday Birthday. This year, crowd favorites like Bush, Breaking Benjamin, and 311 are sure to throw a swinging bash.
Shaky Knees – 5/13-5/15 in Atlanta, GA
In just three short years, Atlanta's Shaky Knees festival has already developed a reputation as one of the best alternative fests in the United States. This year's headliners are My Morning Jacket, Jane's Addiction, and Florence + the Machine, and hard rockers can also get down with bands like Deftones and At the Drive-In.
Governor's Ball* – 6/3-6/5 in Randall's Island, NYC
The fifth annual Governor's Ball will take over Randall's Island for one weekend this summer with a great lineup of alt-rockers like Beck, The Strokes, The Killers, and Death Cab for Cutie. With such a great lineup, good luck getting any rest when the festival takes over the City That Never Sleeps this summer.
Outside Lands – 8/5-8/7 in San Francisco, CA
Grab your squad and head up to the beautiful Bay Area this August for an unforgettable music festival experience in Golden Gate Park. From the nostalgic rock vibes of Duran Duran, Lionel Richie, and Third Eye Blind to the ethereal sounds of Radiohead, Sufjan Stevens, and Air, this year's lineup satisfies all our inner rocker music needs.

Bonnaroo – 6/9-6/12 in Manchester, TN
No wonder they call it Bonnaroo, which is Creole for "a real good time"—with a stellar lineup, a comedy tent, a silent disco, and a Ferris wheel, it's impossible not to have a blast at this Tennessee festival (especially as a VIP). In addition to iconic rockers Pearl Jam and Dead & Company and heavy hitting alt faves Ween and Clutch, moshpit mavens can also enjoy the pummeling tones of Lamb of God at this year's fest.
Austin City Limits – 9/30-10/2 and 10/7-10/9 in Austin, TX
Austin does it again! Texas' unofficial capital of weirdness is known for showcasing great music, and Austin City Limits is no exception. We don't know who's playing yet, but if last year's lineup (Foo Fighters, The Strokes, Alabama Shakes, and more) is any indication, then passes will be a hot commodity once again in 2016.
---
Festivals with Punk Music
Punk Rock Bowling & Music Festival – 5/26-5/30 in Las Vegas, NV; 6/10-6/12 in Asbury Park, NJ
If you like your punk rock raw and full of attitude, then you can't afford to miss Punk Rock Bowling & Music Festival. Both the east coast and west coast incarnations feature a two-day bowling tournament, pool parties, and punk legends—just check the individual lineups to see if you'll be throwing down with Flogging Molly, Flag, Descendants, Buzzcocks, or all three.
Vans Warped Tour – 6/22-8/13 in multiple locations
This touring showcase of skater counterculture and underground hardcore is every punk's dream come true. This year's Vans Warped Tour lineup was just released and it features an entire tour of rock artists and bands, including Sum 41, Falling in Reverse, New Found Glory, and so many more.
Riot Fest* – 9/2-9/4 in Denver, CO; 9/16-9/18 in Chicago, IL; Dates TBD (end of Sept.) in Toronto, Canada
Riot Fest recently broke out of its Chicago surroundings, meaning fans in Denver and Toronto will also get to witness the festival's unique blend of punk, rock, alternative, and hip hop. Check back for the lineup announcement—with past headliners like Social Distortion, Jane's Addiction, and System of a Down, you know it's worth your time.
---
Fans have also suggested that Rockville Festival on April 30 & May 1 in Jacksonville, FL is a must-see for rock fans. For all the latest buzz on fests, hop on over to our handy Festival Guide. And keep checking back with us for new lineup announcements featuring great rock music and more. Rock on! (Sorry, we couldn't resist.)

*Resale prices may exceed face value.
Tags
You Might Like
As we prepare for Lollapalooza's virtual 2020 installment, let's look back at the moments that made the festival iconic.
Headed to Voodoo? Here's everything you'll need.
The first weekend of Austin City Limits Music Festival was picture perfect.