"This Is What Megadeth Is": An Interview with Dave Mustaine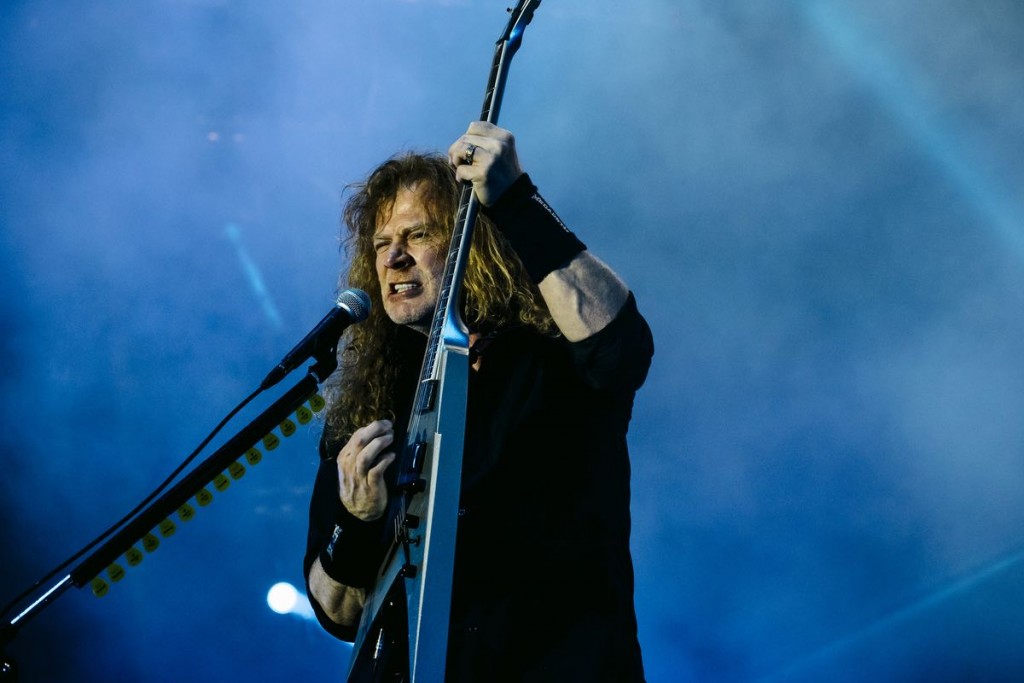 Megadeth is back in a huge way, launching a multimedia assault that includes the new album Dystopia, a virtual reality headset, and (most importantly) over 20 shows across North America. We caught up with legendary frontman Dave Mustaine to talk about the new release, his favorite tour stops, taking his daughter to see Maroon 5, and more.
You've just dropped Dystopia, your fifteenth studio album. For fans who've yet to listen to it, what can they look forward to?
DAVE MUSTAINE: There's so many cheesy ways to say this, like "return to form" or "glory days revisited". I think the simplest way is to just say, "This is what Megadeth is". There have been several periods during our careers when we have made records that were what Megadeth isn't. I think a lot of that had to do with the music industry changing so much from 1992 until recently. Remember, back in 1992, Hysteria by Def Leppard and Nirvana were out—so that's where metal went. You either had to be alternative or you were done.
When you've got a brand new album full of great tracks like Dystopia, how do you approach weaving new music into your setlists?
DM: It's kind of a song-by-song basis. The fans will tell you what they like. The songs will kind of tell you, too, if they're good live tracks when you're listening back to them. Certain songs have a certain energy level that works really great live. Whenever I think of a way to pace a set I think… I know this is gonna sound kind of weird, but Cheap Trick at Budokan was such a great live record. The way Cheap Trick did that, starting with "Hello There, Ladies and Gentlemen"—that's the way you start a record! We thought starting with "The Threat Is Real" was the right way to do that and it certainly started the record off right and people responded to it, so we're adding it to the set.
Speaking of, what can fans expect when they see you on your new tour?
DM: Not a lot of people have seen us play with Chris [Adler] and Kiko [Loureiro] except for what they witness on the internet. And I can tell you, we've always had really, really great talented players in the band. I've been really fortunate with that. But right now the energy level and the fun kind of harkens back to what it was like during the Rust in Peace era, where it was just unbridled metal guitar ferociousness out on stage. Just letting it rip and having a rhythm section that can really push things to keep it energetic. You know, it's so important to have a good drummer and a good bass player, and I think right now the combination of David Ellefson and Chris Adler is just unbeatable.
You've toured the country many times. What are some of your favorite cities in the US to play?
DM: It changes from period to period, because there was a period, for example, back in the '80s when Salt Lake City was the city to go to because everybody was really promiscuous. They used to call it "Salt Lick City"—you can fill in the blanks there yourself. There were also periods where LA and New York and SF were super, super metal cities. Music's cyclical. One city may be really great for a couple years and then it goes into another kind of music demographic, especially if there's a local dude there that has a music style that puts that city on the map. We haven't played several cities for a long time because they've gravitated more towards hip hop and then house. Now they're coming back around to hard rock and heavy metal again, which I love. There are certain cities like Phoenix that're metal, they've always been metal, and they'll always be metal. Same thing with places like Albuquerque, you can always count on a huge turnout for metal in Albuquerque.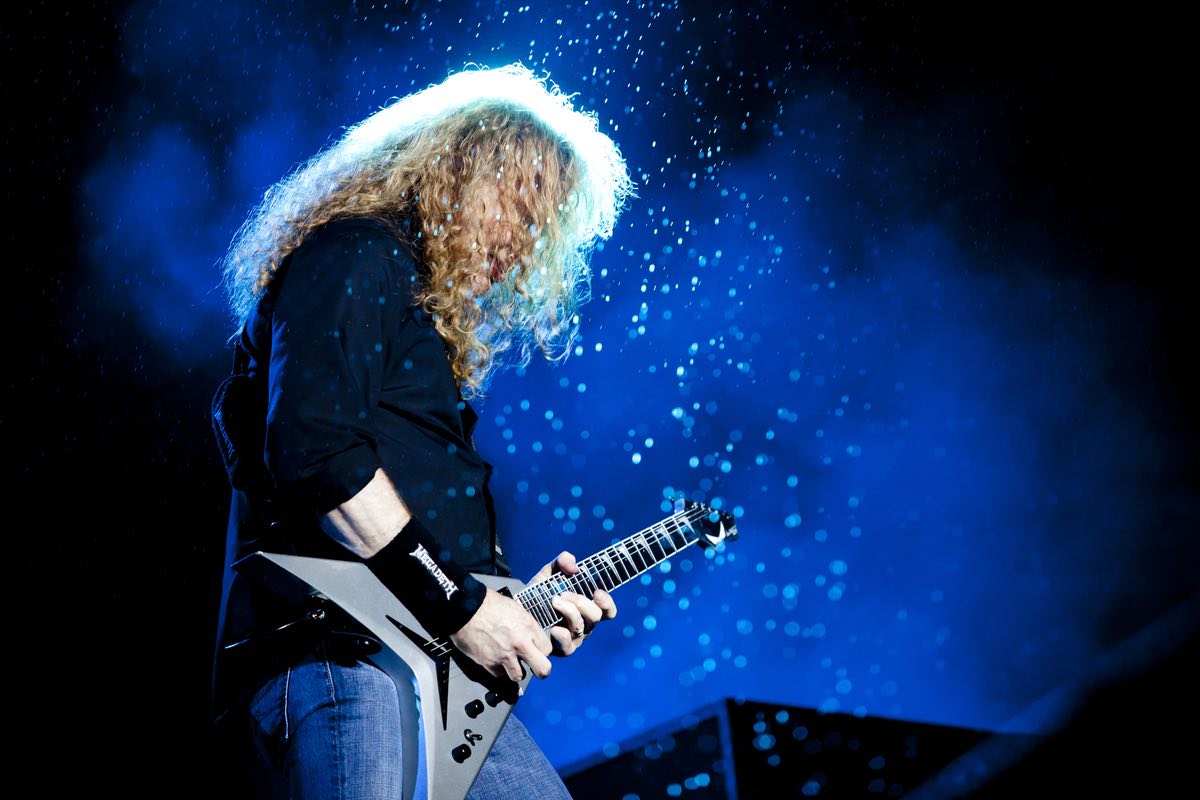 Are there any cities that you guys haven't played in a while that you're excited to check out again?
DM: I would really like to get into the South a little more thoroughly. I've always gotten myself into serious trouble in New Orleans. I wake up and it's the next day and I'm trying to make sure that I don't have any red marks on my wrists from handcuffs—it's that whole French Quarter party atmosphere. Something about it draws me in and I get myself in trouble. So… I don't think I'll be going back there for a while. But other places like Alabama, Mississippi, Georgia, I'd love to get back there – we haven't played there in quite a while.
Are there any unique fan interactions that stand out? Or, what's the strangest gift you've ever received from a fan?
DM: I was in San Francisco a couple years ago and some members of a Native-American tribe had come to our concert and they presented me with an American bald eagle feather—which is a species that's protected. They have the right to use them, so had I not gotten it from them and was in possession of an American eagle tail feather —you're done. They told me how much they respected my outlook and my appreciation for people's rights, burnt some sage in the room, did some clearing, and performed some really cool Native songs and prayers over me. I loved it, because I got my first black belt by training with Benny "The Jet" Urquidez, who's half Native-American, half Mexican. I've always been fascinated with the Native-American culture ever since I've met him.
Have your pre-show/post-show rituals changed over the years?
DM: I think the rituals before were like timing the buzz. I think now we just try to make sure that we're ready to get in the game and play. Your outlook changes. When you're young and you play music and that's your thing, it kind of a byproduct of who you are, what you do, where you go. Now it's become such a part of me that I just want to do great everywhere I go. And I think everybody has to get that stuff out of their system. When you first get in a band, you know, "sex, drugs, rock 'n' roll"—I mean, my god, who would've thought Keith Richard would have ever snorted his dad's ashes? Or Ozzy would snort ants? Or whatever the truth is to those stories, I don't know. But I can tell you I kind of stopped before it went to that extreme. And I think that when you really, really, really love what you do, you start to get a little bit more concerned about your performances. Do I sound good? Do I play good? Do I look good? Do I feel good? Am I leaving behind a path of destruction or am I making friends?
What was it like to start making music with David Ellefson again back in 2010? What does it mean to have such a longtime collaborator back after so many lineup changes?
DM: David and I have been friends for a long time, even during the lawsuit. I had made it clear that I loved him, and I loved his family. I said that the truth would come out and that it was very unfortunate. The lawsuit was dismissed, I forgave him, and we got back in business again. It's been fun ever since. There's a couple websites out there that don't like me and they're trying to twist some of my words around about David Ellefson being in the band or not being in the band, or being a founding member or not being a founding member. And that shit don't matter, because it's a gossip website. The truth is, me and Dave are partners, we make good music together, he's in Megadeth, we're going on tour— hopefully people will know when they see him on stage and not think he's somebody else [laughs].
On the same token, what do you think of the newer musicians— drummer Chris Adler and guitarist Kiko Loureiro? What do they bring to Megadeth's sound both on record and on stage?
DM: Just a freshness that's nice to have. Not taking anything away from the previous guys, because they were all good. I would never have gone into battle with somebody that could not take care of themselves. A lot of times you say stuff after you part ways with people just to justify the parting, whether they quit or were fired. I've told this story before, the first time I went to a high school dance I walked up to this girl and I asked her to dance and she said, "No". I walked away and I thought, "F- you… you don't know what you're missing". And I know how that feels when you walk away, so I get it. For a lot of people, when they have interactions that don't go their way, it's really easy for them to say, "Oh, he's mean" or "he's this" or "he's that". And honestly, I've never gotten into a working relationship with a musician that wasn't great. So having Kiko and Chris in the band, it's just more of being surrounded by really great alumni guys. It'd be great if Chris was able to do all the shows with us. Kiko's a full member of the band, and we're kind of approaching this whole drum thing gig by gig. If he plays, great; if not, he has recommended a protégé of his that's a really remarkable guy named Tony Laureano, who's one of the top-10 extreme metal drummers. He's played in Nile, Dimmu Borgir, and so on. We're excited to get out there, and hopefully Chris will be with us at the shows you see – and if not, you can trust that it's going to be a good show anyway.
You've had some impressive openers. Just to name a few: Pantera, Lamb of God, White Zombie, Alice in Chains, Korn… the list goes on. How do you discover and select your opening artists?
DM: I think if you really like music you'll be able to hear stuff. There's a band that I really like called Mustasch [from Sweden] but they just don't want to come over here. I don't know if they don't like heavy metal, if they don't tour, if they don't like Megadeth, or if they don't like me or whatever. But that's a band that I really like and would love to play with. I hear something in their music that's exciting. It makes me feel alive when I hear it, just like a lot of bands that I listen to. In the past we've had bands that were on our dates that were put on there because management thought it was a good idea. Like during that whole nu metal phase we had a bunch of bands out with us and I thought it was the worst decision ever, because the bands weren't fully developed. They may have one or two great songs, but it's hard to be on the road. You have to make sure that all the players know what it's like to live on a bus, be away from home, and that they can eat the garbage you're forced to eat when you're on the road all the time, the disrupted sleep. You really have to want to do this. It can't just be a yearning, it has to be a burning.
What should audiences expect from this tour's openers—Children of Bodom, Suicidal Tendencies, and Havok?
DM: Let's go from the bottom up: Havok is a great young band, very entertaining. Performances by the musicians are all really great and I see good things for them. Children of Bodom also have a great guitar player, but play a different kind of music that's a little more progressive. I really respect Alexi as a guitarist and I think it's a band worth watching. It may not be everybody's cup of tea, but I recognize how talented they are, and it's neat to see something that you wouldn't usually see. And then Suicidal Tendencies—Mike Muir is a very talented frontman and his shows have always been explosive, unpredictable, and entertaining to say the least. So I think that the show leading up to us is a really dynamic lineup of very different bands.
What's the last live show that really blew you away as a music fan?
DM: Being a dad and having kids, you're going to go see some concerts that you're not necessarily going to go to on your own. Like [my daughter] Electra is a fan of Maroon 5. So we went to see them and I thought it was a really well done production and the show was good. I was actually surprised – not that I didn't believe it because I knew he was talented – at how talented Adam [Levine] was. Another one is Eric Church. I'm not really familiar with country music, so seeing him was almost like seeing a Def Leppard show with a country singer. All the production and lights and stuff, it was really cool. I haven't really seen a metal or rock show lately that's blown me away, so I'm gonna have to leave it there.
Do you think any of the other dads at the Maroon 5 concert were surprised to see Dave Mustaine?
DM: I don't know, I was trying to not let anybody see me [laughs].
Any parting words for fans who are excited about hearing your new album and seeing you on the new tour?
DM: There are a lot of really neat things that have come out with the promotion of this new record. We have had a lot of support from the label and from other people. Next Galaxy did a virtual reality shoot with five songs for us. We had Blair Underwood direct it and a company called CEEK shot it. We have a package for the album that comes with a virtual reality headset you can assemble. It's a cardboard thing you fold up and then you can slip your cellphone inside of it and immediately you've got a headset. It's the first time we've done anything like this. I'm sure that in the coming years, as with anything, it's going to get better and better. But again, we were at the forefront. We were one of the first bands to ever have a website. October 31, 1994 we launched Megadeth Arizona. Nobody had a website before that, that was in the music business. We dig being ahead of the curve. With our social media people can follow us or any of the individual band members' Twitter accounts to see what we're doing. This tour we're trying to do a lot of clinics and appearances outside of concerts, so that we can get back to that whole grassroots thing. I think getting a little promotion is great, but there's nothing better than standing in front of somebody and them being able to tell you what they think and you being able to thank them.
---
View more details about Megadeth's upcoming shows here.
Tags