Olympic Wrestler J'den Cox on Deferred Ambition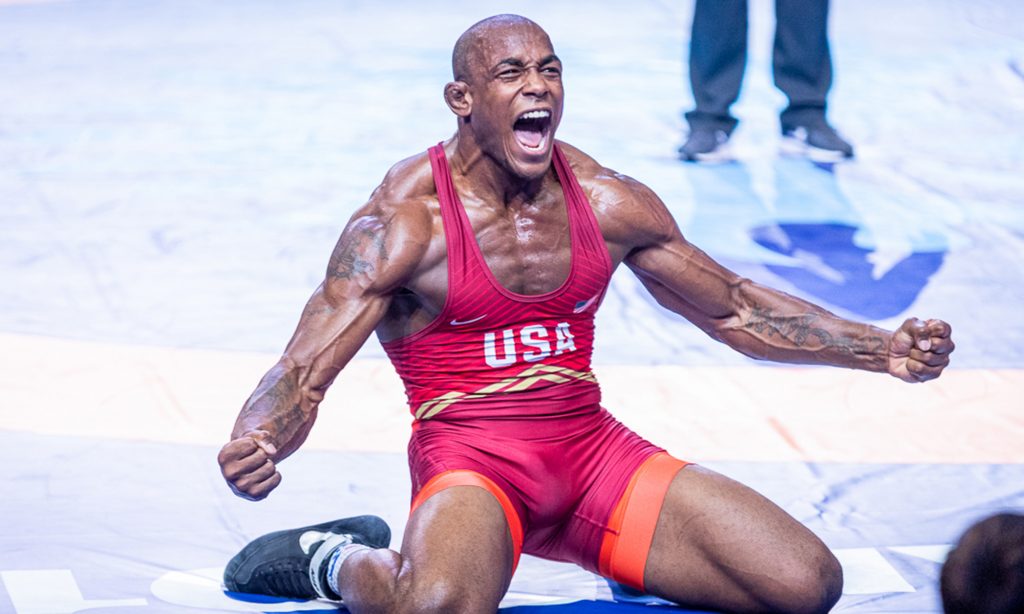 Wrestler J'den Cox is the first athlete in University of Missouri athletics history to capture three NCAA championships — accolades he paired with four All-American titles, three World Championship titles (in the 92 kg weight class) and a bronze medal at the 2016 Rio Olympics (86 kg). 
The 25-year-old was gearing up to change his weight class from 92 kg and compete against reigning 97 kg titan Kyle Snyder — a two-time world champion and Olympic gold medalist at that weight — at April's Olympic Trials for a spot on the U.S. Olympic team. But then the pandemic happened, the 2020 Tokyo Games were postponed until next year and Cox's plans were forced to take a beat. 
Cox is living and training in Colorado Springs, Colorado, and he's finally able to work out again at the Olympic Training Center in a regimen that includes two-a-days four days a week. The timeline has changed, but the goal remains the same. We caught up with one of the most dominant American wrestlers in recent memory to talk about his mindset while he keeps his sights set on 2021.
Ticketmaster: Why did you decide to change your weight and challenge Kyle Snyder at 96 kg rather than stay at 92 kg or even drop back down to 86 kg?
J'den Cox: It's definitely a legacy move. More importantly, it's a test for me. If I'm going to sit here and say that my mentality is to push myself to be the best I can possibly be, I think it would almost be hypocritical of me to not face the best … in the world. I believe some of the best wrestlers in the world are at 97 kg. The top guys in this weight have proven themselves time and time again.
It's not every day you get to really test yourself — to get to put your best against the best and see where it comes out at. Then, I think, no matter what happens in the outcome of all this, it will definitely give me a target as far as what I need to do and where I need to go as an athlete, as a person, and it will build me. I look forward to it. I think this is maybe hard for some people to understand, but the intention is not to prove anything to anybody but to myself. The day that I stop wrestling, the day that I call it quits and step away, will be the day that I don't have anything left to prove to myself. That's what it's really about for me. 
What was your reaction when you heard the Olympics were postponed? 
I don't know if I was upset. I think it was more hurt. It's not even sadness or anything; hurt is the only word that makes sense. At the same time, having to be understanding and seeing and hearing what people are going through and what this pandemic has put people through really helps to put things in perspective as to what is important. Obviously, I wanna compete and do the things that I love to do most. But at the same time, if that puts people in danger — it doesn't necessarily take the pain and the hurt away, but it helps you to make the decisions for others. As an athlete and an individual, we have to learn to adapt and have to learn to make adjustments, so then the next step is, what do we do from here? What goes on next? 
Have you been viewing your goals in a different way?
I stopped thinking about having it be trying to beat somebody or win something, and my goal has stayed the same in the past year because of how much growth I saw in having my mind set [on being] the best I can possibly be. When you take the focus off a prize or a person and just focus it on you, I think the growth is so much more. Not just in ability but even mentally toward training and always questioning yourself. Like, am I giving everything I have? I think that's part of the selfishness of sport, and it's a good thing.
How do you move forward?
Hopefully what's next is we get to have an Olympic Trials and figure out this team and go from there. I'm looking to try and get a match or so before that, so we'll see where that goes. Ultimately, for me, I've always liked to train. I've always pushed myself to train. I think that I get a lot better in training more than competing, and so I think it's feeling confident in my training, feeling confident in the things I'm doing and preparing myself for when I need to go to battle and when I'm ready to compete again.
Photo by Mark Lundy, obtained on Flickr
Tags
You Might Like
Social media has kept these sports stars connected with their legions of admirers.
There are some definite upsides to watching a show from a venue that's all yours.
Professional athletes and athletic organizations seize the opportunity to salute our nation's troops.