It Takes A Nation: The Fandom Of The Oakland Raiders #RaiderNation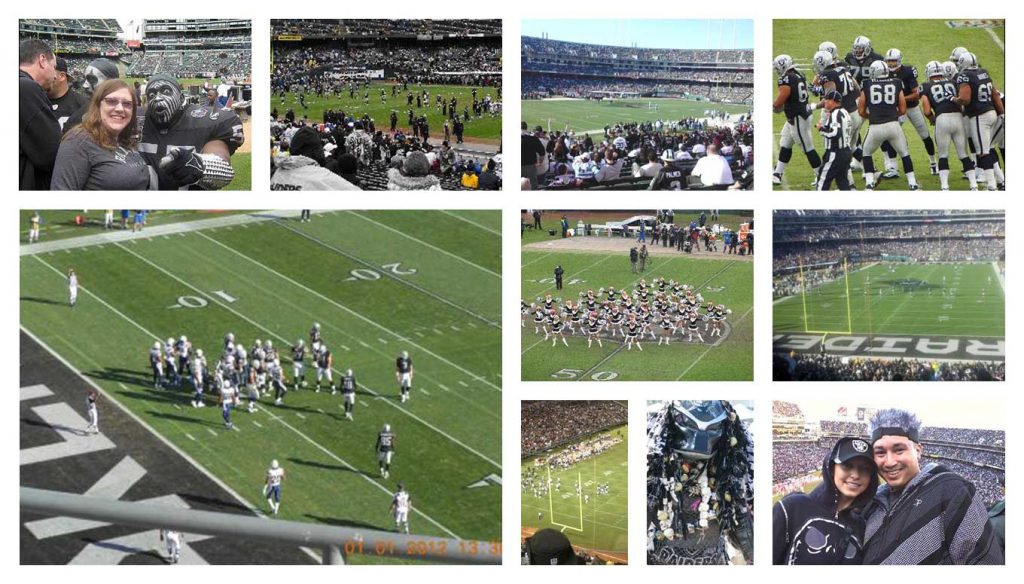 Plenty of football teams have their own enthusiastic legions of fans. But few have the kind of committed fan base of the Oakland Raiders. Since the 1990s, when the team returned to Oakland from its stint in Los Angeles, fans have organized themselves under the banner of the Raiders Nation. With plenty of over-the-top costumes and enough passion to fill a dozen Oakland Coliseums, the Raiders Nation is the pinnacle of football fandom.
But as author Jim Miller wrote in his book "Better to Reign in Hell," it's more than just a love of football bringing the Nation together. It's a wide swathe of folks from across California, from diverse backgrounds, coming together to build a community. And as you'll see below, it's one impressive gathering at that.
The Nation's app
It's hard to be an effective nation of fans if you can't communicate. That's why the Raiders app is so vital to the most verbose fans. The app itself features all your standard functions – real-time stats, fantasy draft, scores, game schedules, etc. – plus a few bonuses. For one, fans can interact with one another through polls, offering their perspective on the team's best players or that day's game. Plus, depending on a fan's likes and dislikes, the app can learn and tailor itself to each fan, with offerings for merchandise and ticket offers. It's good to be in the Nation.
Big-time citizens
The Raiders Nation is one built on ceaseless dedication to the boys in silver and black. Given the fan base's size, it's only logical that a few celebrities have taken up citizenship in the Nation. The Raiders' most famous followers include:
Snoop Dogg & Ice Cube
Tom Hanks
Rock legend Carlos Santana
MC Hammer
Jessica Alba
Celebrity chef Guy Fieri
Larry King
Making it official
To be a genuine member of the Raiders Nation, you can't just show up to a game in your favorite player's jersey. Fans take their allegiance seriously and even formed a fan club with chapters all across the U.S. and beyond. Membership in the "Black Hole Club" has a few primo benefits, including an official t-shirt, a swing towel, a personalized certificate, and a membership card that comes with discounts galore. There are already chapters in Memphis, Dallas, Las Vegas, Richmond, New York, Philadelphia, and Houston. There's even two international chapters, Mexico City and Sweden. The website and fan clubs are a great way to swap stories, share photos, talk strategy, and revel in all things Raiders. Folks may even share costume ideas for the next big game.
Commitment and costumes
Located at the southern end of the Oakland Coliseum, the "Black Hole" houses the most intense and dedicated members of the Raiders Nation. A columnist for the Houston Chronicle once described the Hole as a combination of "a Halloween party, the 'Star Wars' bar, and 'The Addams Family' house." It's certainly all that and much more, a section brimming with genuine football pandemonium and more than its fair share of characters.
Over the years, fans have gotten to be quite creative with some of their costume ideas. Some go for plenty of silver and black face paint, while others have opted to recreate the Raiders look. Many wear lavish Raiders uniforms, and one fan Gorilla Rilla has opted for a full-on gorilla costume. Couples and family members alike all join in on the fun. But underneath all that makeup and costume embellishments are real fans. People with a true love of the game, and appreciation for the history of the sport, who want to build something in their city. You can't argue with the results either, which go beyond the Raiders' three Super Bowl wins (XI, XV, and XVIII). The success comes when other teams, in football and elsewhere, look to Raiders Nation as the pinnacle of commitment.
Get in the game
Check out the Oakland Raiders team schedule and view Ticketmaster NFL and the NFL Ticket Exchange for Oakland Raiders tickets.