Music and Happiness: 5 Ways Live Music Helps Bring Families Closer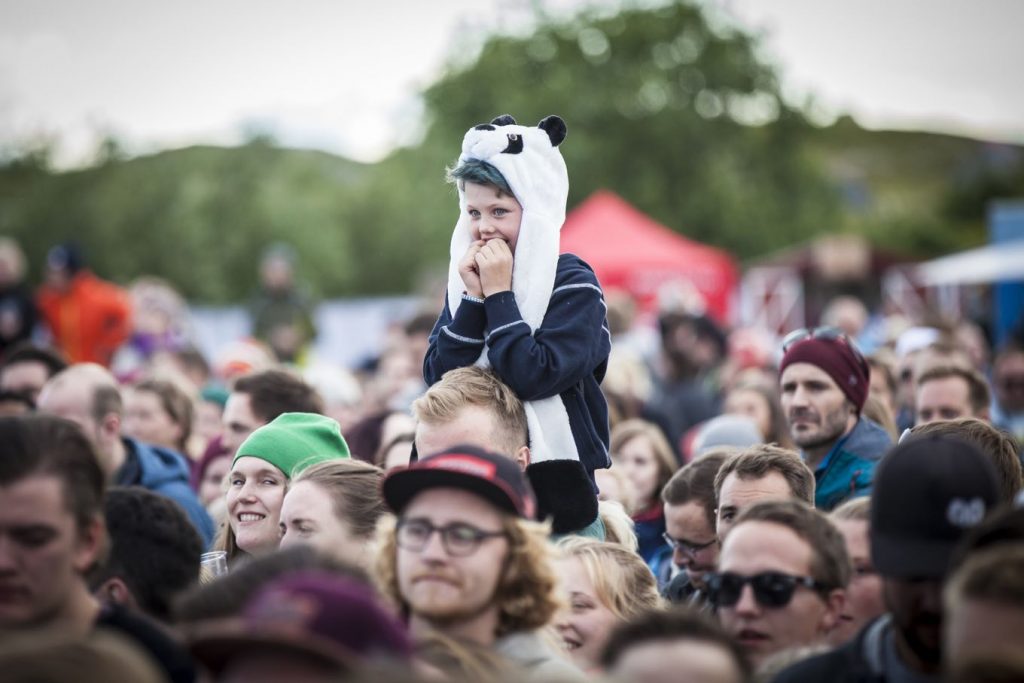 It's common sense that live music brings people together and boosts happiness levels. But a growing number of studies are backing up that age-old wisdom with cold hard science.
Families are particularly lucky when it comes to the relationship between music and happiness – concerts, musicals, and live events bridge the generational divide and create long-lasting connections. These experiences provide an unbeatable family bonding experience for fans of all ages.
One Australian study recently found that people who engage with music through dancing and attending live events like concerts experience a higher level of subjective well-being than people who don't.
But that's just the tip of the iceberg. A number of other studies have reported a connection between music and happiness.
It's possible you've even experienced the phenomenon for yourself at a live event or concert like many other fans.
And you're not alone.
We looked through over 3 million Ticketmaster fan reviews and noticed some common words people use to describe their experiences at 5-star ⭐⭐⭐⭐⭐ rated family events, which are pictured in the word cloud below. What's the most used word, you ask? It's "Amazing".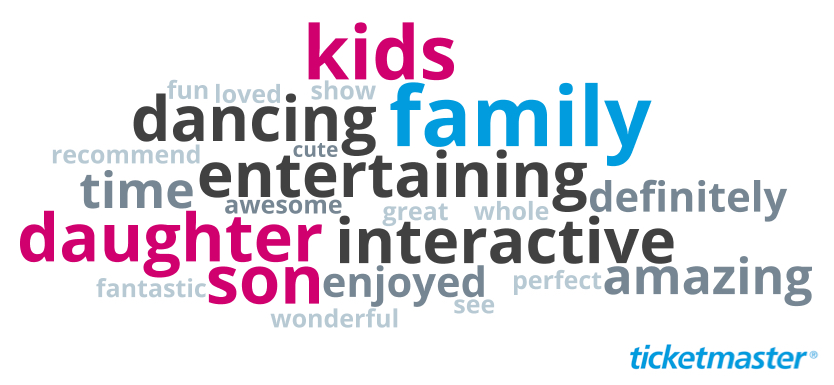 Drawing from these studies and Ticketmaster event reviews from families, we've identified five ways music and happiness correlate for kin. Check out the list, and get out to share some live music – and boost your family's happiness – today.
#1: Experiences like concerts and live events make better family gifts than material possessions.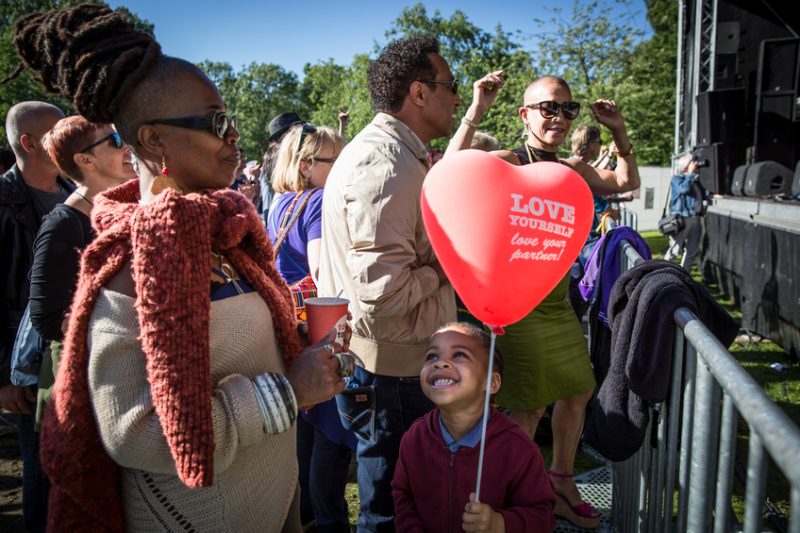 A landmark 2003 study by psychologists at Cornell University and University of Colorado at Boulder found that spending money on experiences tends to make people happier than spending money on possessions.
For example, buying items like clothes or electronics can produce a short-term buzz, but people reported more positive feelings and better memories about springing for things like seeing a concert or a Broadway play1.
In a related study, researchers found that the mood-elevating effects of experiences are amplified when the experience is shared with others2 – so heading to a show with friends or family is your best bet for maximizing happiness.
The takeaway?
Treat your loved ones to the gift of a live event – the joy it brings will outlast most material possessions.
Ticketmaster Fan Reviews

"Weird Al's energy was so high for the entire 2 hours of the show. He changed costumes so many times, went from one song to another without skipping a beat…I was just amazed at the energy level. This was a gift for my son's 14th birthday, but the entire family enjoyed it. Great for all ages. A wonderful family experience!" (Weird Al review by MamooTheGr8)

"Music was AMAZING! Pyrotechnics, lasers, etc. were great. My son called it the best early Christmas gift ever (besides the birth of his little sister in December, 13 years ago!). We took the whole family and everyone enjoyed it immensely. They are asking for a repeat next year, even though it means fewer wrapped gifts under the tree on Christmas morning. That in and of itself is pretty amazing! We would recommend this to anyone who enjoys real music." (Trans Siberian Orchestra review by VickyK)
#2: Engaging with music together builds stronger family connections.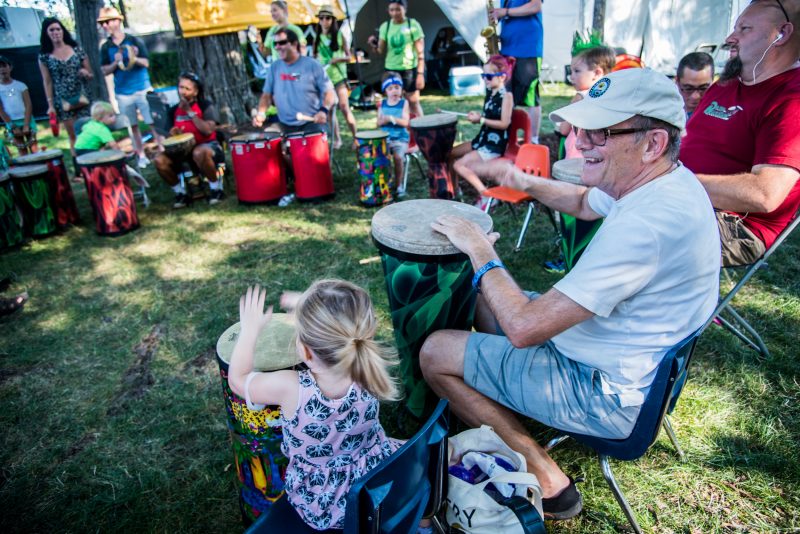 A 2014 article from Frontiers in Psychology found that social cohesion is higher in families where kids listen to music with their parents.
Dancing together to a favorite record or rocking out family-style at a live event acts as a sort of "social glue" for families, strengthening bonds and building stronger connections3.
It's not always easy for kids and parents to find common ground, but music provides a powerful – and fun – way for families to feel connected.
Ticketmaster Fan Reviews

"Took my mom and dad to see Jersey Boys they were so happy and sang along to all the oldies but goodies. It was an amazing bonding experience for the whole family. Great show & awesome venue." (Jersey Boys review by JazzyJesse)

"I promised my mom when I was just a little girl that I would take her to see Dolly. I never thought it would happen but finally it did. We got really good pictures and could see her really well. Hearing Dolly at her concert live was more like going to a good friend's backyard get together and just singing, laughing and having a blast. She made us feel like she was approachable and like she was a good down home friend. And her talk of faith and family values really connected with me and my mom and helped us bond even more." (Dolly Parton review by Anonymous)
#3: Singing and dancing with the fam at live events makes for higher happiness levels.
Singing and dancing along to your favorite jams in the privacy of your car or shower is great, but science has shown that sharing those experiences with others at a concert or live event is where the real happiness is.
According to an Australian study, it's all about social connectedness. Dancing and singing with friends, family, and even strangers at a concert or live event appeals to our fundamental human desire for social and emotional relationships4.
So go ahead, sing and dance your heart out together on your next family outing – your psyches will thank you.
Ticketmaster Fan Reviews

"Coldplay is magical! I saw them at one of their Chicago shows, and even in the pouring rain, had the best night ever! Chris Martin has an angelic voice and he sounded fantastic. The audience was filled with young to old, and lots of families. I'm middle-aged and I enjoyed seeing how my 15 and 29 year old daughters enjoyed the show so much. We were so happy the whole show. There was such a positive energy in the stadium. The light show with the colored wristbands was so fun and really connected the band and audience and got everyone pumped. We were on our feet dancing and singing the entire show." (Coldplay review by Askyfullofstars)

"I have a 3-year-old and a 6-month-old and both really enjoyed the show. I loved how they had everyone dancing in various intervals in the show – the "dance party" for the kids and the parents was very enjoyable! I had a great time dancing with my kids and the characters that came around and danced and hugged the kids. My three year old was so happy! I can't wait to make this a family tradition because it was amazing." (Sesame Street Live: Let's Dance! review by Kimberlyllllll)

"This is my third time seeing Billy Joel in concert and he never disappoints. I went with my family (parents, sister, brother-in-law and three kids 8, 9, and 13). My 8-year-old was up and dancing the entire time. He played for over two hours and played all his greatest hits!" (Billy Joel review by Jenn91105)
#4: Listening to music with your loved ones reduces stress.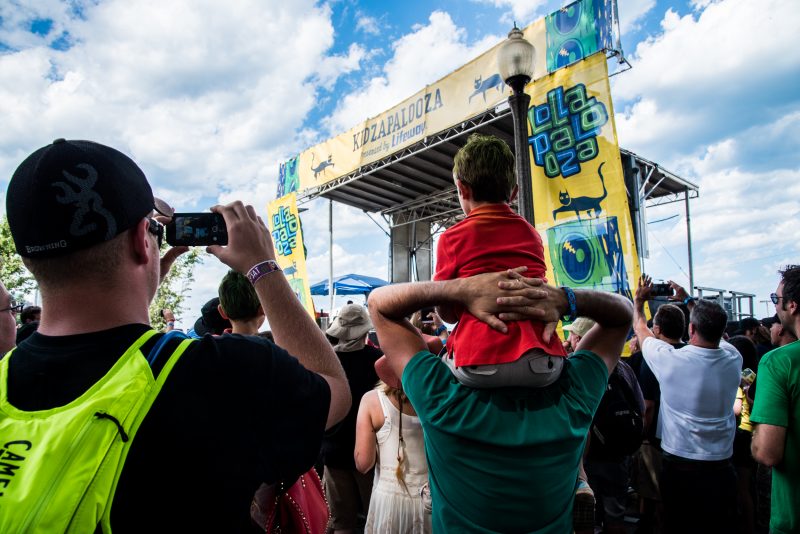 Reducing negative emotions like stress is an endeavor the whole family can get behind. Thankfully, it can be as easy as enjoying some of your favorite tunes together at a concert or live event.
A study by the International Society of Psychoneuroendocrinology (try to say that 3x fast!) analyzed the saliva samples of people listening to music alone and in the presence of others. They found that the stress-reducing effect of music was enhanced in people listening to music in groups7.
Next time you're feeling that famliy stress, blow off some steam together with a group outing to a concert or musical.
Ticketmaster Fan Reviews

"This was my first Amy/Vince Christmas show. Took family – we thoroughly enjoyed the show. It was a nice beginning to Christmas. Their daughter's rendition of "O Holy Night" was a showstopper. The show was relaxed and they were enjoying performing as much as the audience was enjoying their performance. We will go every year as long as they are doing the show. Show is a must for every family." (Amy Grant review by Beach 8559)

"We had the VIP package, and let me tell you that it was worth every penny. We took group photos with the Idols and then had about an hour of mingle time with them. The atmosphere was relaxing and pleasant. No problem getting pictures and obtaining autographs. The show was amazing, all of the Idols put their heart into their performances. This is a great show for the entire family." (American Idol Tour review by BDSBob)
#5: Experiencing music together creates memories that will last a lifetime.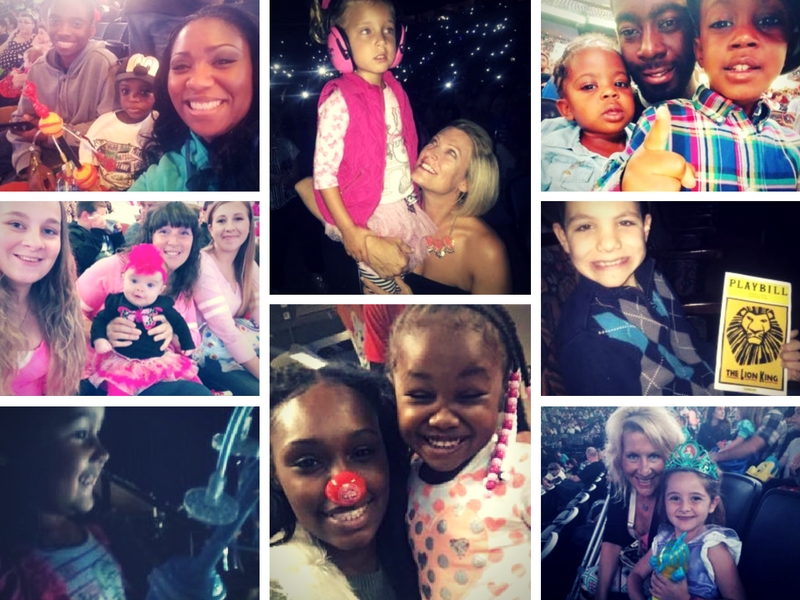 We've all experienced the power of hearing a song from our past that floods us with throwback memories, and scientists are now beginning to understand the complex mechanisms that connect music and memory.
An Australian study from 2013 found that listening to popular music from the past helped severely brain-injured patients recall memories, and researchers at UC Davis reported that music can trigger memories in people with Alzheimer's disease5.
The reason?
Music lights up the same areas of the brain that are activated during the formation and retrieval of autobiographical memories. And this applies to everyone, not just Alzheimer patients – a Finnish study from 2011 reported that music outperformed verbal prompts in evoking memories across all age groups6.
So the next time you head to a show with the family, you'll be making music-related memories that will last a lifetime.
Ticketmaster Fan Reviews

"Best concert I have ever attended. Took my entire family to the concert and we all had a blast. Lifetime of memories and I highly recommend attending his concert. Even if you aren't a country music fan you will enjoy the energy his concerts generate. I can't wait to go again!" (Garth Brooks review by Parky2014)

"There are not enough adjectives in the English language to accurately describe the experience of finally seeing Garth Brooks live. I've been a fan of his since I was a child, and until the tour was announced a few months ago I sadly assumed this bucket list event was out of reach. Sunday night the 14th will be an enduring memory that I will share with my family all my life, and I feel blessed to have had the opportunity. Thank you Garth, thank you Allstate Arena, and thank you Ticketmaster for helping to make this event possible!" (Garth Brooks review by norisgary)

"Our family – three children (8, 11, 14) and their parents – love Above and Beyond. So seeing them live was a lifetime memory for all of us. The vocalists were awesome, as was the orchestra. The trio, as always, were brilliant. It's two hours you'll never forget. If you like EDM, go see this tour. It reminds you how great EDM is, even when it's not 132 BPM! And if you want your kids to experience something truly unique, take them too – they'll love it." (Above and Beyond review by Smilers)
1 http://psych.colorado.edu/~vanboven/research/publications/vb_gilo_2003.pdf
2 http://psp.sagepub.com/content/early/2015/07/18/0146167215594591
3 http://greatergood.berkeley.edu/article/item/four_ways_music_strengthens_social_bonds
4 http://www.cnn.com/2016/08/17/health/music-concerts-dancing-study-trnd/
5 https://www.psychologytoday.com/blog/the-athletes-way/201312/why-do-the-songs-your-past-evoke-such-vivid-memories
6 https://www.psychologytoday.com/blog/the-athletes-way/201312/why-do-the-songs-your-past-evoke-such-vivid-memories
7 http://www.altpress.com/news/entry/listening_to_music_with_others_reduces_stress_study_says
Tags