Kid City: 10 Kid-Friendly Ways To Do Vegas Right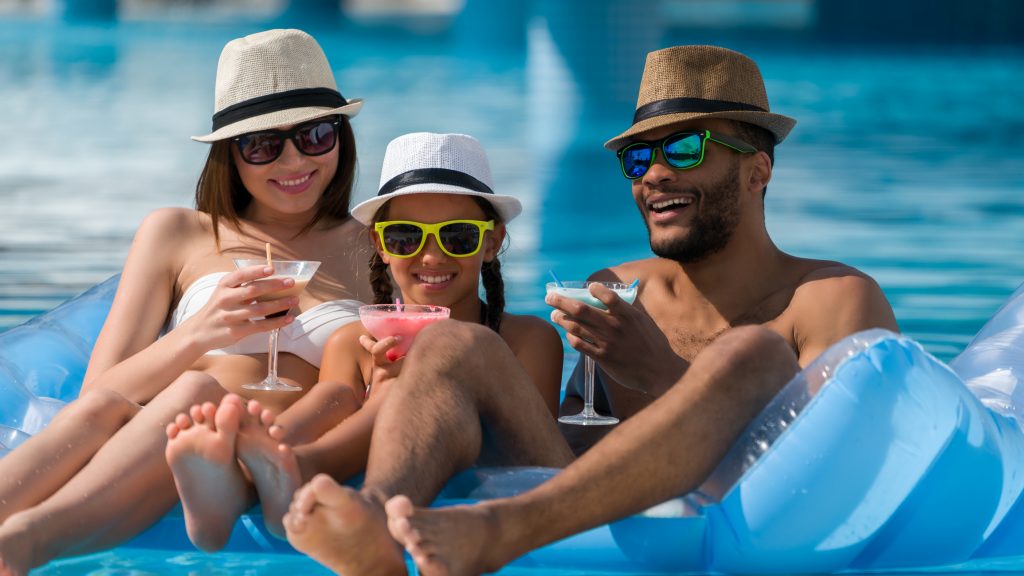 Las Vegas was founded as an R-rated playground for grown-ups, but in recent years it's put money on beefing up its kid-friendly activities, and the move has been a win.
These days, Vegas is more Kid City than Sin City, and the desert oasis is actually a perfect spot for a fun, activity-packed family getaway.
You can even make it about music — festivals like the Route 91 Harvest and iHeartRadio's Daytime Village make it easy to get down while in town. (Just be sure to check the calendar before you hit the road with kids in tow, so you avoid some of the more adult-oriented events, like the AVN Awards or the Electric Daisy Carnival.)
Here are some of our picks to make your family time in Vegas a total jackpot.
Crash At A Kid-Friendly Hotel
There's a surprising amount of awesome hotels on and off the Strip that are perfectly suited for families.
Vdara is located right between the Aria and Bellagio Hotels, and is non-smoking and non-gaming, so you'll never get stuck pushing your stroller through a smoky casino.
Plus it's all suites, and each one comes with a microwave, fridge, and two-burner stove. Yes, you read that right— a stove! Some even have washer and dryers in the room. Elara is also casino-free, and offers kitchenettes, or full kitchens in larger rooms.
The Signature by MGM Grand also offers a quieter hotel experience, while still giving guests access to the MGM Grand's pools (all five of them!) and lazy river.
Make It Magical….Literally
Your kids might have caught Mat Franco winning big on America's Got Talent, and now the whole family can enjoy him in person at The Linq Hotel's theater.
His show, Magic Reinvented, is totally family appropriate, and if your kids (or you) are huge fans you can add on a VIP meet and greet experience to your tickets.
You Better Cirque
These days, Cirque Du Soleil is synonymous with Las Vegas.
There are so many Cirque shows to choose from that you could devote an entire Vegas jaunt just to seeing all of them. But some are definitely adults-only fare, so it's important to pick one that'll work for your whole clan.
The Beatles: LOVE at the Mirage, and Michael Jackson: ONE at Mandalay Bay are wildly entertaining, and awesome ways to introduce your children to some of the best music ever made.
Mystère, at Treasure Island, is an acrobatic-packed show that kids will love. Still, these shows may be hard for fidgety kids under the age of 7 or 8 to sit through, because, ya know, they're kids.
You know your children best, so be sure to check out the start time and length of the show before buying tickets.
Get Wet
Vegas's pools may be legendary for their parties, but some are famous for being perfect for families too.
Mandalay Bay's got a wave pool, lazy river and sandy beach to play on, The MGM has 5 pools and a lazy river, and The Golden Nugget has The Tank — a pool with a shark tank at its center, complete with a clear water slide that shoots riders right through the center of it.
It's perfect for families who like their water fun with a little bite.
Photo Credit: Jon Barnes
Walk The Strip (And Beyond)
In Las Vegas sometimes all you need to do is head outside and look up to be entertained (for free!).
The colorful sights on The Strip kept my kids entertained way longer than an episode of Paw Patrol. And The Bellagio's Fountains are breathtaking and easy to catch, with shows every 30 minutes during the day, and every 15 minutes after 8PM.
Over at the Venetian, visitors can catch a gondola ride or experience Streetmosphere, where actors, musicians, and singers perform throughout the day around the Grand Canal Shoppes.
And of course take a detour off the Strip to Fremont Street — its free, eye-popping light shows are not to be missed.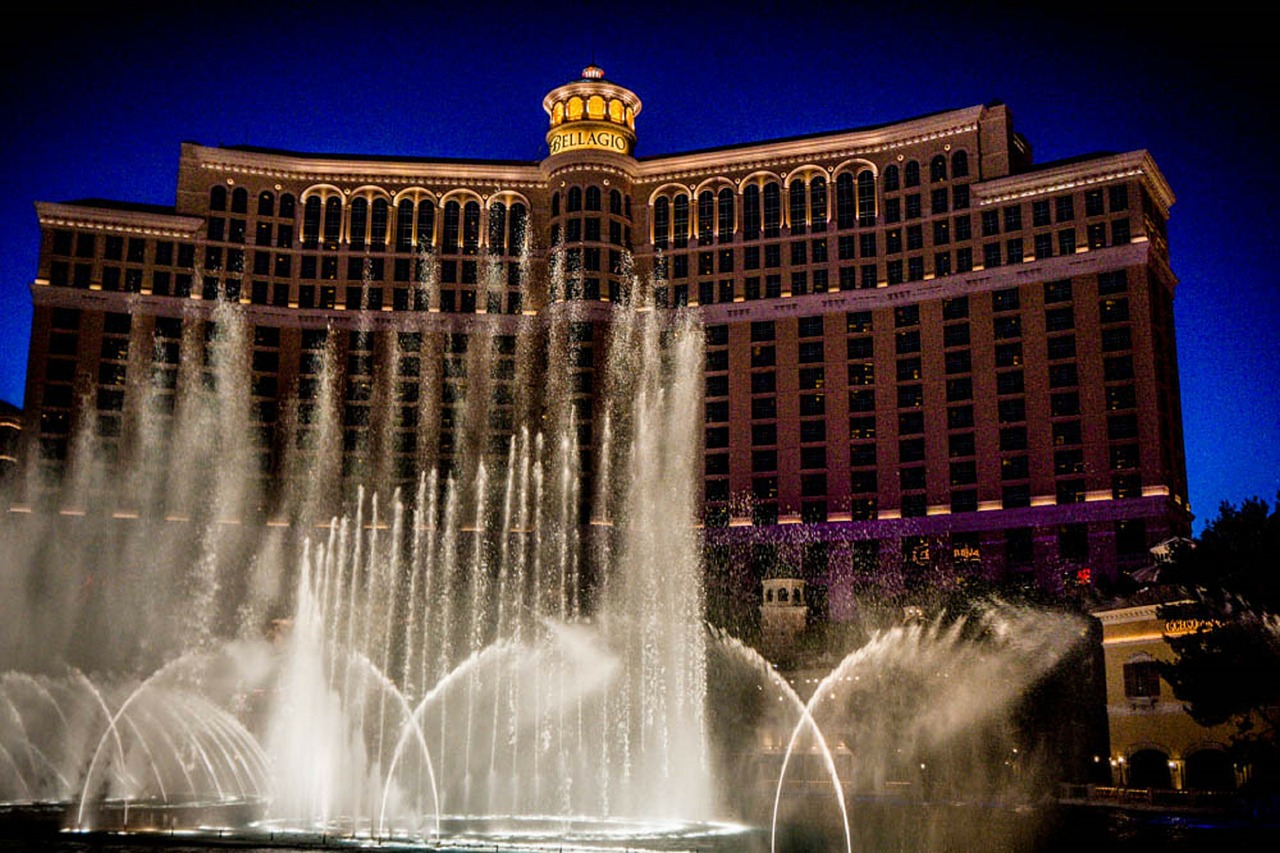 Go For The Thrills
Las Vegas's amusement park vibe is well-earned. The High Roller Wheel at The Linq is an enormous ferris wheel that glides riders 550 feet above The Strip.
And the cost for kids is easy on the wallet: ages 4-12 cost under $10 during the day, and littles ones under 3 ride for free.
New York, New York is home to the Big Apple Rollercoaster, and the Stratosphere offers some terrifyingly thrilling experiences, like the Big Shot, X-Scream, and Insanity, as well as Sky Jump, where you don a jumpsuit and leap off the 108th floor (attached to a wire).
If that's a little too extreme for your family's tastes, check out Circus Circus's Adventuredome, which is like a carnival — rides, games and all — right in the center of the city.
Make It Educational
Yes, you can learn something new in Las Vegas—besides how to play blackjack.
And the best part: these exhibits are fun, too. The Luxor's got the incredible Titanic Artifacts Exhibition, with over 250 items from the wreck site available for view.
You can also catch The Bodies exhibit there, or head on over to Bally's, home to Real Bodies. Wherever you go, you'll learn and see something new.
Live Like A King
Excalibur's Tournament of Kings' motto is "Eat. Drink. Be Rowdy." In other words: it's as kid-friendly as they come.
Knights duel in the arena in this pyrotechnic-packed show while you and your family feast on food fit for a king.
But there's a twist — the only utensils available are your own two hands, making this very similar to dinners with a toddler. Parents and kids will feel at home instantly!
Explore The Animal Kingdom
Pay a visit to Mandalay Bay's Shark Reef Aquarium, which is home to an amazing variety of sea creatures.
Families can pay extra for the Stingray feed experience, which comes with a private VIP Tour before the Aquarium opens to the public.
The Mirage has Siegfried and Roy's Secret Garden and Dolphin Habitat, where the Adventure Pass lets you connect up close with bottlenose dolphins, white tigers, white lions, and leopards. (Kids under 3 are free!)
For an added price, kids ages 8 and older can actually paint with the dolphins and go home with a new piece of art in hand. (There's also dolphin yoga, for parents bored with their regular gym workouts.)
And then there's the Springs Preserve, which showcases the area's natural beauty, with 110 acres of gardens and wildlife.
It's Britney, Kids!
Britney Spears' show may not be best for the littlest kids in your group, but older kids — and their parents — who are fans of her music will freak over her Piece of Me show at Planet Hollywood.
It's the best of Britney, in an intimate, 4,500 seat theater. Need more motivation to go? The singer's wrapping up her run at the end of 2017.
Even if you've already seen the show, you could always hit it up (baby) one more time.
Kate, the Minimaster Mom, lives and works in Southern California with her husband and daughters, ages 6 and 4. They never yell, watch TV, or eat sugar.
Tags