Welcome To The Show Me State: The Fandom Of The Kansas City Chiefs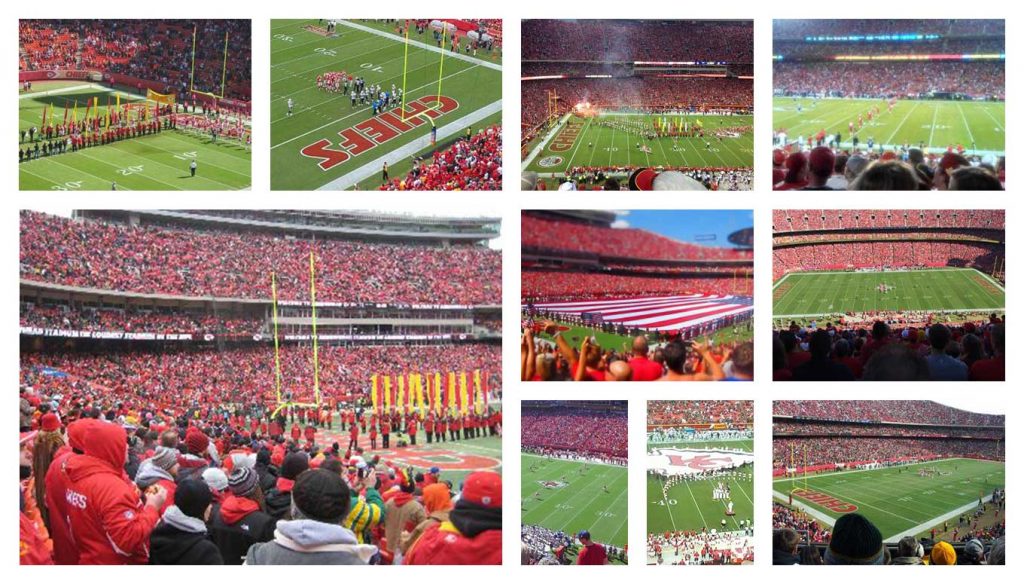 Kansas City has a lot going for it. That includes world-famous barbecue, gorgeous architecture from well known designers, and a plethora of educational museums. In addition, it's got quite the sports culture, led in many ways by the Kansas City Chiefs.
Since first hitting the field as a Kansas-based team in 1963, the Chiefs earned a Super Bowl title (IV), a handful of league championships, and several division titles, in addition to a slew of playoff appearances. And just as residents of the Show Me State pridefully represent Kansas City's barbecue contributions, so too do they endlessly wave the Chiefs flag.
Chiefs. Forever.
Joel Smith, a resident of Kansas City, is a diehard fan of the Chiefs. But more than wearing all the right gear and having a perfect Instagram – lovenmychiefs – Smith decided to take his dedication one step further by getting a player's name tattooed on his arm. After tracking the Chiefs tight end down following a training session in August 2016, Smith got the players' John Hancock on his left forearm. Then, just a few hours later, Smith took to Instagram to share his new tattoo, forever capturing the name and number, 87, for all the world to see. When reached for comment by The Kansas City Star, the player in question explained, "Needless to say, me and that man have a bond that can never be broken."
Apps and art
Chiefs fans actually have two mobile apps to rely on: the team's official app and "Red Zone Extra," courtesy of the Kansas City Star. Both platforms offer team bios, photo galleries, conference and league standings, fantasy football information, and player stats. The team's official app, though, has a few bonus features fans can't find elsewhere.
The official Chiefs app offers an interactive amenities map of Arrowhead Stadium and the Chiefs Kingdom rewards program, where fans can earn points for prizes like autographs, jerseys, and pre-game sideline experiences. Perhaps one of the more unique components of the app is access to the Chiefs Art Program. Here, fans can get a glimpse into the teams' official art collection, which features works from artists like Norman Akers, Bryan Haynes, and Anne Lindberg that celebrate every facet of life in Kansas City.
Big Chiefs
Outside of the young and eager fans of Generation Jaguar, the team also has a number of A-list fans, including:
Actor Rob Riggle
Actor Eric Stonestreet
Actor Paul Rudd
Singer/actress Miranda Cosgrove
Actor Jason Sudeikis
Tool drummer Danny Carey
Actor Ed O'Neill
Comedian Eddie Griffin
Singer David Cook
Rapper Tech N9ne
Actor John Amos
Bringing the noise
The Chiefs have called Arrowhead Stadium home since 1972. With a capacity of 76,416 people, it's one of largest stadiums in football. In 2010, team management updated this iconic stadium with $375 million in renovations. That included outdoor seating, additions to luxury suites, a tribute to various players and coaches, and the Chiefs Hall of Fame.
It's these changes that helped make Arrowhead the loudest stadium in football. Literally. In September 2014, during a game with the New England Patriots, fans set the Guinness World Record for the loudest stadium, reaching an outstanding 142.2 decibels. For comparison, an aircraft carrier deck clocks in at about 140 dbA. Other teams recognize the noise, too, and in 2011 the Baltimore Ravens used massive speakers to get players acclimated to Arrowhead and other noisy stadiums.
If you were a Chiefs fan – with plenty of reasons to cheer on this most amazing squad – you'd probably make a lot of noise, too.
Get in the game
Check out the Kansas City Chiefs team schedule and view Ticketmaster NFL and the NFL Ticket Exchange for Kansas City Chiefs tickets.
You Might Like
The Lakers are set for a league-high 43 nationally televised games this season.
The Nashville Predators are growing into their role as a major fixture in the Nashville area and beyond, giving Tennesseans a hockey team of their own to che...
The Florida Panthers hold a unique distinction in hockey, a sport that long relied on cold weather: the team is the southernmost squad in the pro hockey worl...