Step Inside: GEHA Field at Arrowhead Stadium – Home of the Chiefs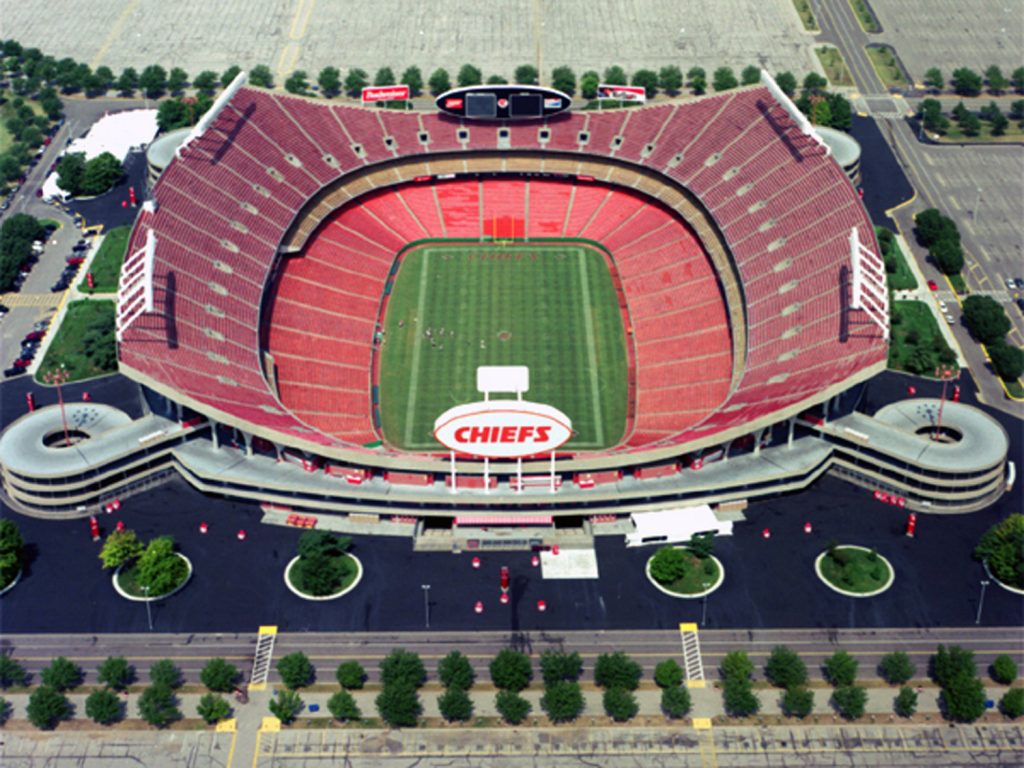 Stadium History | Parking & Admission | Seating & Capacity | Food & Concessions
GEHA Field at Arrowhead Stadium is the home of the NFL's Kansas City Chiefs. Located in Kansas City, Missouri, the 76,416-seat facility is part of the Truman Sports Complex and neighbors Kauffman Stadium, the home of MLB's Kansas City Royals.
Completed in 1972, Arrowhead Stadium's design prioritized unobstructed sightlines across the venue, while its distinctive curved construction allowed for intensely amplified crowd noise that has sustained through several renovations and expansions as recently as in 2020. Despite its standing as the third-oldest stadium in the NFL, GEHA Field at Arrowhead Stadium continues to offer an unrivaled fan experience, with the venue holding the world record for loudest stadium cheer at 142.2 decibels, recorded during a Monday Night Football matchup between the Chiefs and New England Patriots on September 29, 2014.
For sound that's just a little more melodic, GEHA Field at Arrowhead Stadium has also served as one of Missouri's premier musical venues. Back in the 1970s, artists like The Rolling Stones, Elton John and The Beach Boys graced its stage. More recently, GEHA Field at Arrowhead Stadium has welcomed some of the world's top performers, including Taylor Swift, Ed Sheeran and Kenny Chesney.
GEHA Field at Arrowhead Stadium is located at 1 Arrowhead Drive in Kansas City, Missouri near the mesh point of Interstate 70 and 435, and is set to undergo another round of renovations before hosting several matches for the 2026 FIFA World Cup.
What events are coming up at Arrowhead Stadium?
See upcoming events and buy tickets for Arrowhead Stadium right here on Ticketmaster.
Arrowhead Stadium History
GEHA Field at Arrowhead Stadium has had a long and influential history in professional football.
The Dallas Texans, an AFL franchise, relocated and rebranded as the Kansas City Chiefs in 1963. The Chiefs played their games at Municipal Stadium, a shared venue with the then-Kansas City Athletics of the MLB. But with a rule as part of the AFL-NFL merger in 1966, home stadiums had to seat at least 50,000 fans.
So in 1967, Jackson County in Missouri offered a location, and voters approved a $102 million plan to build the Truman Sports Complex, and with it Arrowhead Stadium. Construction began a year later, and Arrowhead Stadium opened on August 12, 1972. The first game at Arrowhead Stadium was a preseason Chiefs win over the St. Louis Cardinals, 24-14. On November 5, 1972, the Chiefs hosted the Oakland Raiders to claim their first victory in Arrowhead Stadium, 27-14. That game also holds the record for largest crowd at the stadium, with a total of 82,094 fans in attendance. Over the next two decades, the Chiefs — and the Sea of Red that follows them — would dominate the stadium, and in 1996 they opened up their home to Major League Soccer team the Kansas City Wizards, who played at Arrowhead through 2007.
As one of the first stadiums constructed after the AFL-NFL merger, Arrowhead was a leader in stadium design. It introduced the use of arrows on the yard markers at the goal line (which eventually became a requirement throughout the NFL) and was the first to be a part of the two-stadium Truman Sports Complex, which also includes Kauffman Stadium, home of the Kansas City Royals.
GEHA (pronounced G.E.H.A) acquired the naming rights to the stadium in March of 2021 and has a contractual length of 10 years.
Arrowhead Stadium is known for the substantial home-field advantage it gives the Chiefs. A 2013 game between the Chiefs and Raiders resulted in a Guinness World Record for loudest stadium, with a sustained noise level of 137.5 decibels. The Seahawks broke that record less than three months later, but fans of the Chiefs would not be denied, reclaiming the title on a Monday Night Football contest against the New England Patriots, climbing all the way to 142.2 decibels.
In 2010, a newly renovated and expanded Arrowhead Stadium was unveiled, featuring an improved seating arrangement and stunning new suites, plus impressive attractions like the 28,000-square-foot Hall of Honor and the Chiefs Sports Lab, an interactive exhibit promoting healthy living for kids of all ages. More upgrades followed in 2019, including a state-of-the-art scoreboard that can withstand even the brightest afternoon sun, and shiny new seats in the upper deck that come furnished with a game-watching necessity: cupholders. And don't miss the dedicated drum deck just under the scoreboard for the Chiefs' special pre-game drum ceremony.
Parking and Admission at Arrowhead Stadium
To park at the Truman Sports Complex and GEHA Field at Arrowhead Stadium, the Chiefs have a three-step plan. Step one is to purchase your parking passes in advance. It's a requirement to purchase passes in advance, and cash will not be accepted at parking toll booths. Step two is to arrive early to avoid traffic and ensure you don't miss any of the action. Arriving early also allows for tailgating before the game. Step three is to develop a game plan for your trip to Arrowhead Stadium. 
Parking lots open four and a half hours before kickoff, unless otherwise communicated by Chiefs personnel. Additionally, only one vehicle is allowed per parking space. Finally, guests may not stay in parking lots or loiter around the stadium during games or concerts. 
The Truman Sports Complex has seven gates. Gates 1-4 are accessible from Interstate 70, and gates five, six and seven are accessible from I-435. 
Arrowhead Stadium Bag Policy
The stadium has a clear bag policy, and bags other than a one-gallon clear zip seal bag or small clutches that are less than 4.5″ x 6.5″ will not be allowed. Exceptions can be made for necessary medical items after inspection. 
Arrowhead Stadium Capacity and Seating Options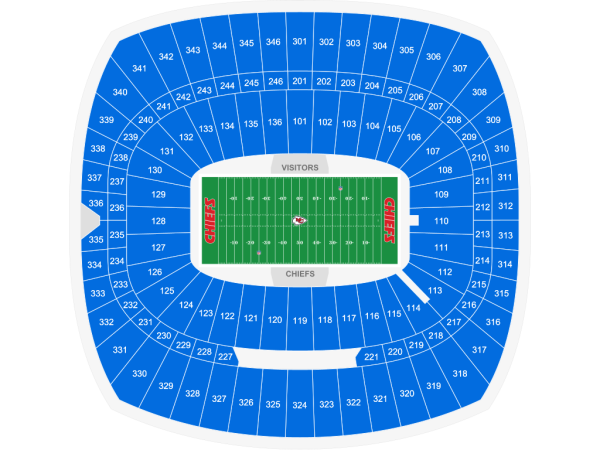 In 2023, Arrowhead Stadium had a listed capacity of 76,416, making it the fourth-largest stadiums in the NFL. Arrowhead has two tiers of seating: the lower bowl and the upper bowl. The lower bowl consists of sections 101 to 136 and the upper bowl has sections 201 to 236, with each section split into subsections A and B. The upper bowl also houses box suites and club seating.
What are the best seats at Arrowhead Stadium?
The best seats at Arrowhead Stadium vary depending on the event and personal preferences. Check out GEHA Field at Arrowhead Stadium seating charts and find your favorite seat today.
Food and Beverage Options at Arrowhead Stadium
Food and beverage options are available at concessions scattered throughout the stadium for Chiefs home games and concerts. As Kansas City is known for its barbeque, there's no surprise it's a signature dish at Chiefs games. Fans can get loaded barbeque fries or nachos, famous Kansas City burnt ends and sausage with cheese sauce. Head to the Hall of Honor's BBQ Alley for a multitude of mouthwatering meats from local Kansas City brands, including Plowboys Barbeque (home to the American Royal Championship Brisket Sandwich) and Smoke Brewing Company (be sure to get their Loaded BBQ Fries).
Elsewhere, Mac Shack has every type of mac & cheese you can imagine, including bacon-jalapeño and a "BBQ Burnt End" version, while Chickie's & Pete's serves up their famous crabfries, The Coop offers guilt-free cauliflower wings and Peace Love & Waffles reimagines waffles as a BBQ essential. You'll have plenty of opportunity to wash all those goodies down with a Stone Cold Jones Soda, a refreshing beverage created by KC Soda Co. and Chiefs defensive tackle Chris Jones.
Other options in Arrowhead Stadium include Doritos Empanadas, KCDilla Quesadillas, burgers, chicken tenders and more. 
Alcohol is for sale in the form of beer, wine and cocktails. Only two beverages can be purchased at a time with a single I.D. Outside alcohol is not allowed inside the stadium. In select suites and club seating, all-inclusive drinks come with the purchase of a ticket. 
Prepare your ears and your stomachs: Kansas City's GEHA Field at Arrowhead Stadium not only attracts the NFL's noisiest fans, but offers some of the juiciest, finger-licking-est barbecue this side of the Mississippi. Home to the Kansas City Chiefs since 1972, Arrowhead has hosted numerous nail-biting games — both for the NFL and NCAA's Big 12 Conference — and has also opened its doors to top music performers from U2 to Taylor Swift. It's even landed in the Guinness Book of World Records for being the loudest open-air stadium in the world. It can pack in a rowdy crowd of over 76,000, making it the sixth-largest NFL stadium. Visit GEHA Field at Arrowhead Stadium for any Chiefs home game and you'll quickly understand why fans lovingly call it the Sea of Red.
You Might Like
Step inside Acrisure Stadium, home of the Pittsburgh Steelers, and learn more about this PGH staple for sports and entertainment.
Step inside Gillette Stadium, home of the New England Patriots & Revolution, and learn more about this Massachusetts staple for sports and entertainment.
Explore the fierce spirit of the Monsters of the Midway as they rally behind their team. From iconic players to memorable moments, discover the enduring prid...