Step Inside: Gillette Stadium – Home of the New England Patriots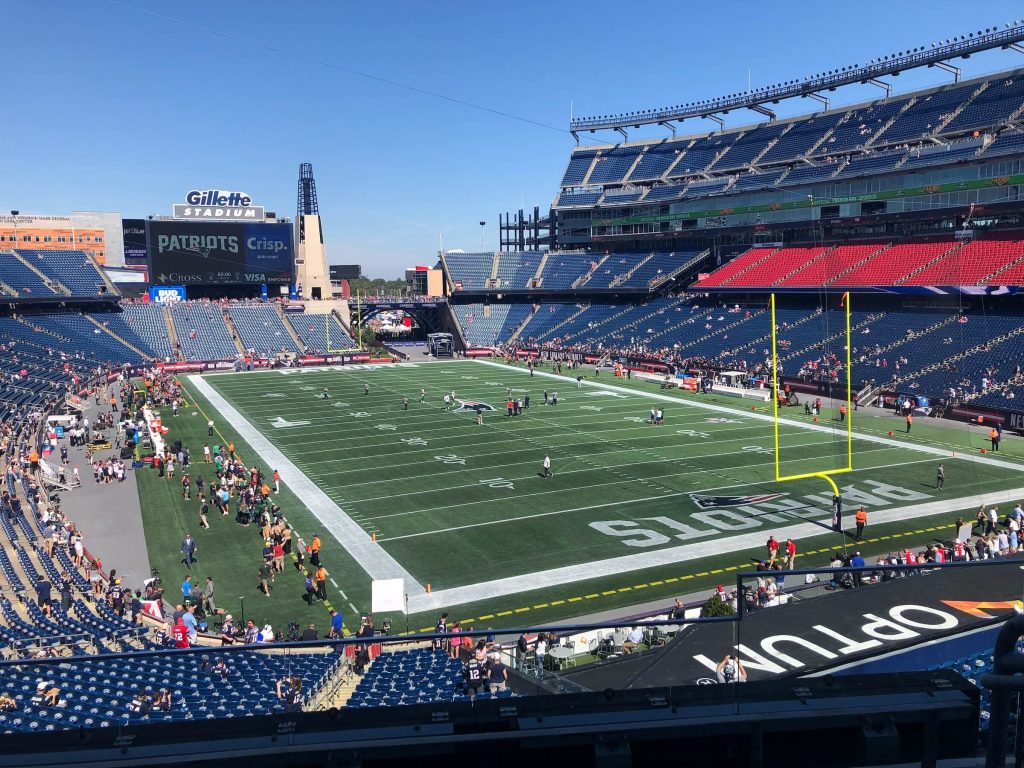 Stadium History | Parking & Admission | Seating & Capacity | Food & Concessions
Venue Quick Facts
Venue Name
Gillette Stadium
Location
Foxborough, MA
Address
1 Patriot Pl, Foxborough, MA 02035
Phone #

(508) 543-8200

Capacity
65,878
Opened
May 11, 2002
Architect
Robert Kraft, John Savage Bolles
Website
https://www.gillettestadium.com/
Gillette Stadium, home to the New England Patriots, is located in Foxborough, Massachusetts, approximately 22 miles southwest of downtown Boston and 18 miles northeast of Providence, Rhode Island.
In addition to being the home stadium of the Patriots NFL team, it's also home to major league soccer's New England Revolution. One of the things Gillette Stadium is known for is its 22-story lighthouse that serves as a beacon for visitors from all over the Northeast.
The address of the stadium is 1 Patriot Place, Foxborough, Massachusetts.
What events are coming up at Gillette Stadium?
See upcoming events and buy tickets for Gillette Stadium right here on Ticketmaster.
Gillette Stadium History
Replacing the adjacent Foxborough Stadium, Gillette Stadium opened in May 2002 after two years of construction. The first official event was an MLS soccer game in which New England Revolution defeated Dallas Burn 2-0. Originally known as CMGI Field, the stadium's name changed when the naming rights were acquired when the new stadium opened by razor and personal care product company Gillette, which will hold the distinction until 2031.
A favorite feature of the stadium is a 22-story lighthouse that's open to fans with an observation deck at the top to take in 360-degree views of the Boston and Providence skylines. It also has the distinction of being the tallest lighthouse in the United States. The lighthouse was part of Kraft family's $250 million investment in upgrades to the home stadium of the team they own. Improvements also include a reimagined Enel Plaza with a grand staircase leading onto the concourse, the largest outdoor curved-radius videoboard at a sports venue in the country and more.
With a capacity of 65,878, Gillette Stadium also served as home to higher-attendance UMass games and has hosted concerts from remarkable musical talents including The Rolling Stones, Metallica, Green Day, Taylor Swift, Beyoncé and Jay-Z, Ed Sheeran and many others. The stadium is set to host several FIFA World Cup matches in 2026.
Every Patriot home game has sold out since the team moved from Foxborough to Gillette Stadium.
Parking and Admission at Gillette Stadium
Gillette Stadium has two main parking options. Stadium-side prepaid parking is $50 and is the only way to park on the stadium side of Route 1. If you choose this option, a parking spot in one of the stadium-side lots is guaranteed. That said, parking passes are limited and subject to availability.
Gillette Stadium also offers general parking on the opposite side of Route 1, which is included in the price of your ticket. A parking pass is not required for general parking.
The stadium is also accessible by rail via the Providence/Stoughton and Franklin lines at the Foxborough MBTA station, but only during Patriots games and select concerts.
As is the case at most NFL stadiums, only clear bags that comply with the stadium's policy will be allowed in. Clear plastic, vinyl or PVC bags no larger than 12″ x 6″ x 12″ are permitted. You can also bring in small clutch bags no larger than 4.5″ x 6.5″ and a one-gallon freezer bag.
All other types of bags, coolers, GoPro cameras, outside food and beverages and umbrellas are not allowed in the stadium.
Gillette Stadium Capacity & Seating Options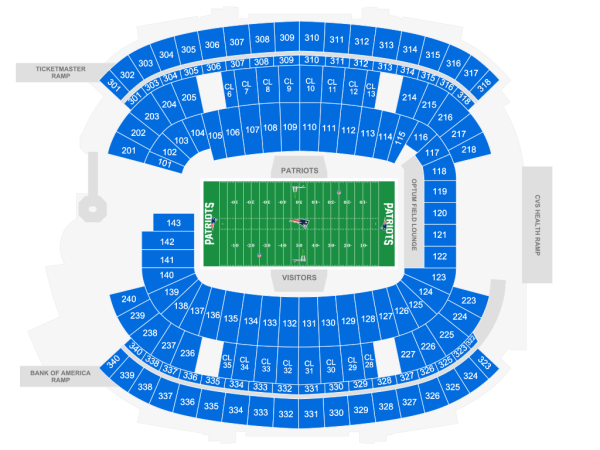 With a capacity of 65,878, Gillette Stadium has hundreds of seating sections including a family area, general seating and Club areas. In addition to the Club areas, the stadium's Dell Technologies Suite Levels feature 92 luxury suites that are among the largest in the NFL, ranging from 800 to 2,700 square feet. The suites are fully furnished and feature in-suite catering and beverage service, private restrooms and a dedicated suite attendant.
Gillette Stadium also features the Putnam Club, which runs the length of the stadium on both sidelines and offers members access to 120,000 square feet of indoor space and premium outdoor seats located between midfield and the 20-yard line.
Visitor gathering areas inside the stadium including DraftKings Fantasy Sports Zone, the Commons on the Main Concourse, the Encore Boston Harbor Terrace and the JetBlue Landings on the Upper Concourse offer communal spaces where fans can mingle and relax before, during and after games.
What are the best seats at Gillette Stadium?
The best seats at Gillette Stadium vary depending on the event and personal preferences. Check out Gillette Stadium seating charts and find your favorite seat today.
Food & Beverage Options at Gillette Stadium
View this post on Instagram

There are plenty of enticing food and beverage options throughout the stadium. Fan favorites include hamburgers, vegan burgers, fries and grilled chicken sandwiches from Tailgate Grill. Stadium Pizza offers personal pizzas, hotdogs, veggie dogs, draft beer and more, as well as gluten-free bun options for those who are gluten-sensitive.
In addition to burgers and fried chicken, you'll find fresh local green salads and Parmesan truffle fries at the Local Street Kitchen. If you're in a hurry, stop by one of the many Grab&Go locations throughout the stadium for assorted snacks, draft beer, hard seltzer and cider.