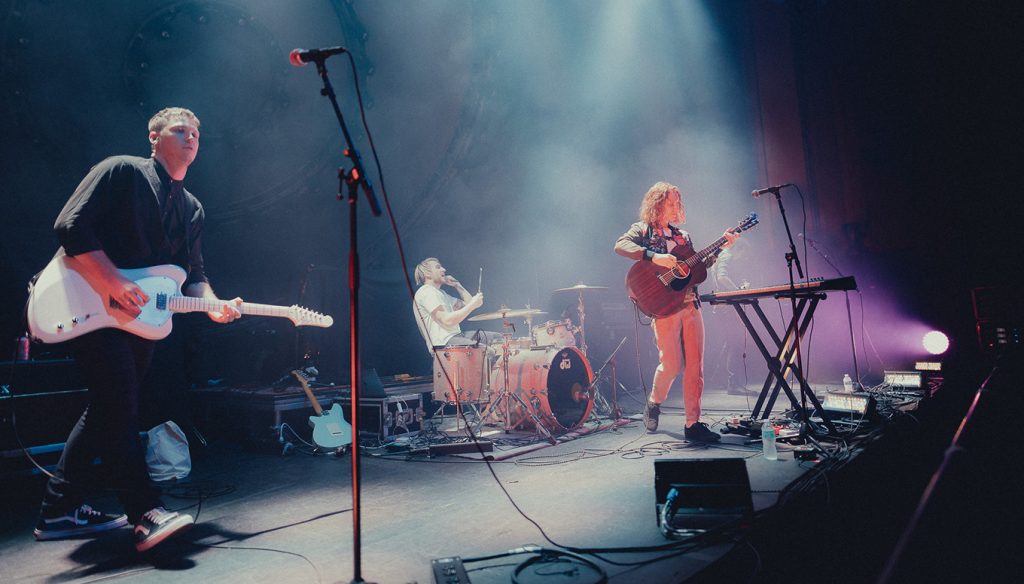 Since forming a few years back, melodic indie rockers flor have built up a dedicated following with their impassioned music and live shows. "We just got really, really lucky that we got the fanbase we do," guitarist McKinley Kitts says in an exclusive new Tickemaster Insider interview. "It's unreal," adds lead singer Zach Grace, "we get to proclaim these ideas that other people can connect with and find solace in."
The band, which also included drummer Kyle Hill and bassist Dylan Bauld, grew up together in the small town of Hood River, Oregon, before moving to Los Angeles. Despite their dreams of rock stardom, they took their time perfecting their craft. "There was never a rush to put the music out," says Kitts. "We wrote "Hold On" in like 15 minutes while I was in the shower." Grace confirms the experience, saying, "He went to take a shower and while he was out I had written the song. He was like, 'Oh, I guess this is us now.'"
Grace credits the writing of "Hold On" for unleashing a creative deluge. "Before we discovered what flor was, I had no idea what to write," he says, but afterwards, "all of the sudden I'm writing six songs every day and I love all of them and it makes sense and it's new and fresh because we've changed up how we do it."
flor's debut album, come out, you're hiding, was recently re-released in a deluxe package featuring three new songs, including the single "rely," which was also made into a music video. The band is currently on tour with Handsome Ghost and selling out club dates across the country. Their summer's looking busy as well with appearances scheduled at the Firefly, Bottle Rock and Bonnaroo festivals.
Wherever they go from here, flor has big plans. "Not to sound cliché, the sky's kind of the limit," says drummer Hill, before adding humbly, "I was just want to keep doing this with my best friends."
You Might Like
Watch an intimate performance with the rising singer-songwriter.
Our partners at Ones to Watch invited Greyson Chance to perform live. It's a must-watch.
Our partners at Ones to Watch invited Carlie Hanson to perform live. Watch it here.