A Shining Star: Houston Texans And Their Many Fans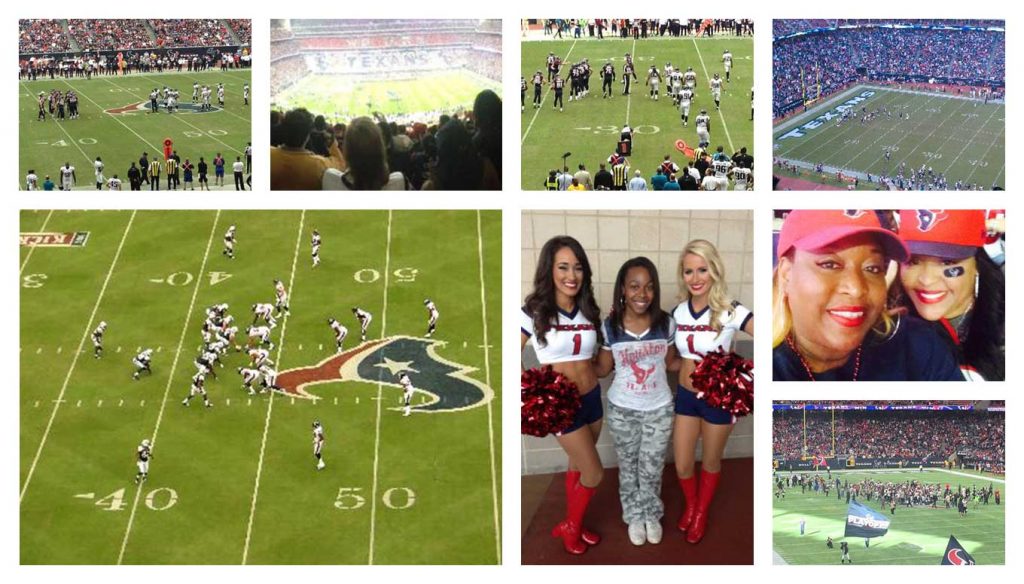 The Houston Texans are a young team, first hitting the field in 2002 after the Oilers departed for Nashville, Tennessee in 1996. Despite their youth, the Texans are a bright and bold example that age isn't always important in the game of football. In the team's tenure, they've already secure a handful of division championships, including in 2012 and 2015.
What's more exciting than the division titles is that in a little over a decade, the Texans have attracted a truly passionate core of fans, those who believe football is a way of life in Houston. And with everything the team's offered to fans in a short time, it's no wonder so many folks happily rep the deep steel blue and battle red.
Conquering stadiums left and right
For the teams entire tenure, they've called NRG Stadium (previously Reliant Stadium) home. Although for one brief, moment, the team all but owned the Dallas Cowboys' AT&T Stadium, theoretically.
On Sunday, Oct. 5, 2014, the Texans were technically the away team in a game against Dallas. Not that you'd be able to tell from the stands: With several thousand Texans fans making the drive from Houston to Dallas, the sea of blue in the stadium definitely leaned more toward the Texans' richer hue. In fact, the Texans fans were so loud that at several times during the game, Cowboys players had to make use of silent snap counts.
One Cowboys player even went as far as to say that Dallas was actually the road team for that game. How is that for a deeply passionate fanbase?
The never-ending tailgate party 
Tailgating is a tried and true part of football. But there is perhaps no other team committed to this celebration more than the Texans. Before each game, fans gather outside NRG Stadium to enjoy some live music, random contests, exhibitions by Texans cheerleaders and dancers, and much more. But who says the party has to happen just on game day?
Every August, the team holds an event called Back to Tailgating just before the new season kicks off. This Texas-sized get-together happens away from NRG Stadium, like at Academy Sports + Outdoors, and features all those amenities plus games, free food and an appearance from TORO the mascot. Because when is there ever not a perfect time for a few hours of tailgatin'?
Fans of many different feathers
Houston in general has a ton of nicknames, from the official moniker of Space City to H-Town and the Capital of the Sunbelt. That just goes to show how diverse the town is, both in general interests and what it's known for. The Texans' fanbase is similarly versatile, representative of Houston's real culture. Just how diverse? Check out two of Texans' most famous and enthusiastic fans:
Former President George H.W. Bush
Rapper Bun B (of UGK)
Access galore
Whether on the go or lounging at home, Texans fans have untold access to the team through handy apps.
The Texans Desktop Site features a wide array of amenities, including:
Year-round video programming
Postgame recaps
Coach and player profiles
In-depth scouting
Breaking news
Cheerleaders spotlights
The Texans app, meanwhile, features much of the same, plus a few extra perks, like:
The offseason show "Texans All Access"
Texans cheerleader Q&A's
Team news
A fantasy football tracker
Podcasts
Stadium concession maps
Integrated Twitter feeds
Plus, fans can upload pictures that may appear on NRG Stadium's video board during home games.
The app is only a small part of the connection fans have with the Texans. With each winning season, the Texans and their many, many fans build a true football dynasty.
Get in the game
Check out the Houston Texans team schedule and view Ticketmaster NFL and the NFL Ticket Exchange for Houston Texans tickets.
Tags
You Might Like
The Lakers are set for a league-high 43 nationally televised games this season.
The Nashville Predators are growing into their role as a major fixture in the Nashville area and beyond, giving Tennesseans a hockey team of their own to che...
The Florida Panthers hold a unique distinction in hockey, a sport that long relied on cold weather: the team is the southernmost squad in the pro hockey worl...