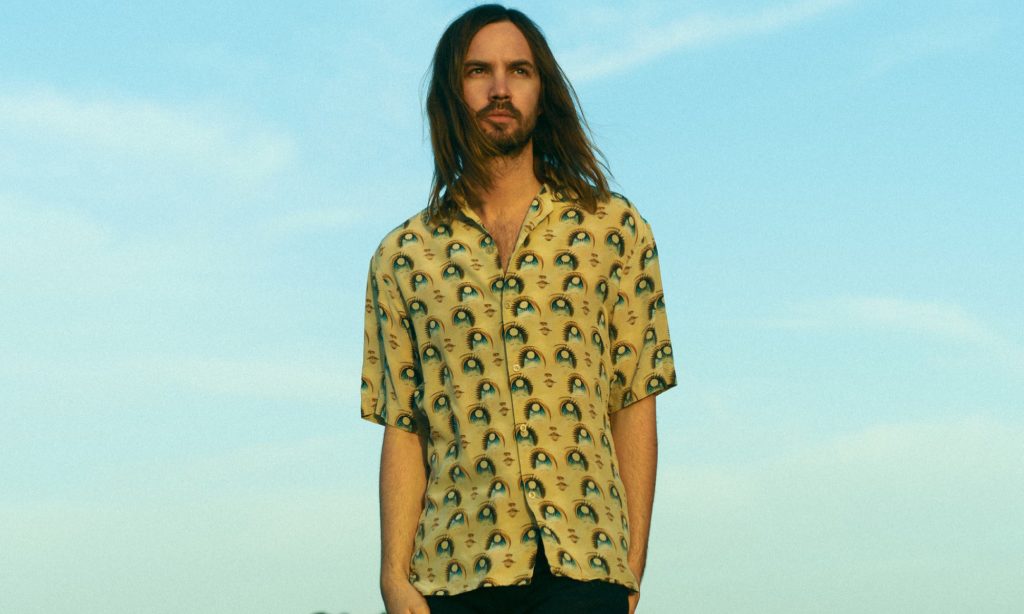 As winter starts to rear its ugly head, we've already got our own heads focused on sunny music, summer concerts and outdoor baseball games. Harry Styles' new album, Fine Line, satisfies that first item with its breezy, psychedelia-tinged tunes, while Against Me! and Tame Impala have us filling in our concert calendar with new tours announced for the spring and summer. In sports, the Yankees prepare for their next season with a new addition: former Astros pitcher Gerrit Cole, who will be joining their roster in 2020. Meanwhile, looking into the nearer future, Minnesota Vikings fans will be happy to hear that wide receiver Adam Thielen is expected to rejoin the lineup for their game against the Los Angeles Chargers this Sunday.
1. Tame Impala Announce 2020 Summer Tour
Tame Impala are prepping for a busy 2020, starting with the release of their fourth studio album, The Slow Rush, set to drop February 14. You can already hear three of its singles: "Borderline," "It Might Be Time" and "Posthumous Forgiveness." Following the release, they'll be heading to San Diego, Los Angeles and San Francisco for a few dates in March, and then back stateside for most of the summer, starting May 29 in Chicago with Perfume Genius opening. Tickets go on sale today.
2. Gerrit Cole Heads to the Yankees
Star pitcher Gerrit Cole is heading to New York next year after two seasons with the Houston Astros. The free agent agreed to a nine-year, $324 million contract with the Yankees. In 2019, he was the runner-up behind teammate Justin Verlander for the American League Cy Young Award, and he ended the regular season with an impressive 20-5 record and 2.50 ERA. He also broke an Astros record with 326 strikeouts. Cole was actually drafted by the Yankees straight out of high school, but ended up playing college baseball for UCLA instead. Now, he'll finally be on his childhood favorite team. 
3. Harry Styles Drops New Album, Fine Line
English rocker Harry Styles has officially shed his boy-band roots on new sophomore album Fine Line. The former One Direction singer slips a little funk and psychedelia into his breezy pop-rock grooves, like on singles "Watermelon Sugar" and "Adore You." He's giving us plenty of time to soak in the effervescent melodies before he brings them to North America with his summertime Love on Tour, which kicks off June 26 in Philadelphia.
4. Vikings' Adam Thielen Returns to the Field
A debilitating hamstring injury left Adam Thielen on the bench for the past four games. Now, the Vikings wide receiver is planning to return to the field this Sunday when Minnesota heads to Los Angeles to take on the Chargers. Going into the game, Thielen leads the team with six touchdown receptions. It'll be a welcome return for the Vikings, who currently rank second in the NFC North with a 9-4 record.
5. Against Me! Head Out on Tour in 2020
As they close out their current tour this month, Against Me! have plotted their next trek around the U.S. in 2020. The Florida punk band will be on the road for a brief run starting March 11 in Holyoke, Massachusetts, before wrapping up April 4 at the Atlantic City Beer & Music Festival in New Jersey. They're also teasing a possibility of new music for 2020 — but you'll have to stay tuned for that. Tickets for the 2020 tour go on sale today.
Tags
You Might Like
Plus: The Smashing Pumpkins return, Netflix Is a Joke Fest and more.
Plus: Maren Morris announces tour, the NFL combine and Kraftwerk turn 50.
Plus: NCAA Men's Basketball rankings, a new album from Grimes and The National hit the road