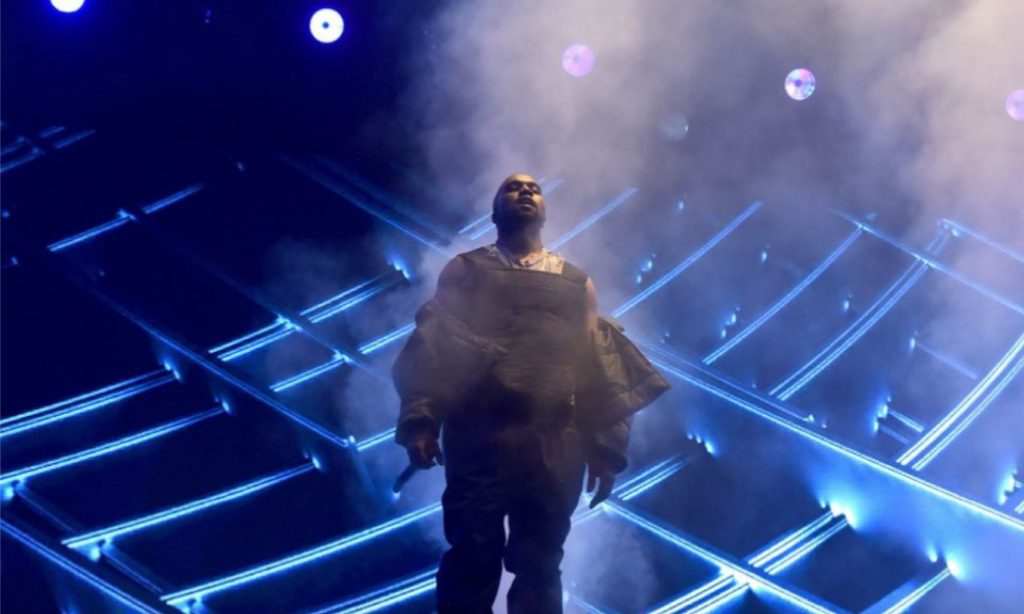 This week, Kanye finally returned with new music (!!). Jesus Is King is now available to stream. In other news, Brit rock greats Coldplay announce their upcoming eighth studio album, Everyday Life, and drop two new songs. Meanwhile, Brooklyn Nets guard Kyrie Irving debuted with a record-breaking 50 points, while quarterback Drew Brees prepares to return to the field after thumb surgery. And last, but most certainly not least, Snoop Dogg has announced tour dates in 2020. Dive into the week's 5 biggest stories below.
1. Kanye West Releases Jesus Is King
After a months-long series of fakeouts, missed release dates, tracklist changes, screenings of the album's accompanying IMAX film in several cities and tweets from Kim Kardashian and Yeezus himself, Kanye West's new record, Jesus Is King, is finally available to stream right now. The album is a gospel influenced outing that reflects Kanye's newfound religious inspiration. Above, you can listen to snippets of the 11-track record, which features Clipse, Kenny G, Ty Dolla $ign and more.
2. Kyrie Irving Drops Record 50 Points in Nets Debut
Kyrie Irving proved himself a Brooklyn Nets asset during the team's regular season opener, when the guard knocked out 50 points and broke three records in the process. At point 32, he set a record for points scored in a Nets player's debut; at point 40 he broke the Nets franchise record in a season opener; at point 48 he scored more points than any NBA player ever in a team debut. Still, even after that killer performance, the Nets ended up losing to the Minnesota Timberwolves 127-126 in overtime. 
3. Coldplay Release Two New Songs
Coldplay had big announcements this week, including the unveiling of their upcoming new double album, Everyday Life, which will be divided into two sections: Sunrise and Sunset. Just a few days later, the Brit rockers dropped two songs from the collection, "Orphans" and "Arabesque," the latter featuring vocals from Stromae and instrumentation from Femi Kuti and his band. The full album is scheduled to release on November 22. Before then, you can catch the band on Saturday Night Live next Saturday, November 2.
4. Drew Brees Plans to Return This Sunday
Drew Brees was asked about his bench marks after the surgery. He picked up an NFL ball and showed the media what he's been working on over the last few weeks. @wdsu pic.twitter.com/OS6W9xnddx

— Sharief Ishaq (@ShariefWDSU) October 23, 2019
New Orleans Saints quarterback Drew Brees is hoping to return this Sunday against the Arizona Cardinals — just five weeks after having surgery on his right thumb. He has been medically cleared to play and looking to take over from backup Teddy Bridgewater, who has done well in his own right, going 5-0 in Brees' place. The final decision will likely be made on game day, so stay tuned.
5. Snoop Dogg Extends Tour into 2020
🚨Tour dates ON SALE NOW for December n January 🚨

Featuring support from @regulator @rjmrla and @TRAEABN ! Get ur tickets now before they sell out !! https://t.co/KwkBewyFEY pic.twitter.com/vO5QaOeZm1

— Snoop Dogg (@SnoopDogg) October 23, 2019
Snoop Dogg has just announced more dates to support his latest album, I Wanna Thank Me. The rap superstar already has the rest of 2019 filled up with performances from California to Florida, before he takes a break for the holidays and returns to the road January 17 for a string of dates throughout the East Coast and Midwest. Tickets for his 2020 shows go on sale today.
You Might Like
Plus: The Smashing Pumpkins return, Netflix Is a Joke Fest and more.
Plus: Maren Morris announces tour, the NFL combine and Kraftwerk turn 50.
Plus: NCAA Men's Basketball rankings, a new album from Grimes and The National hit the road