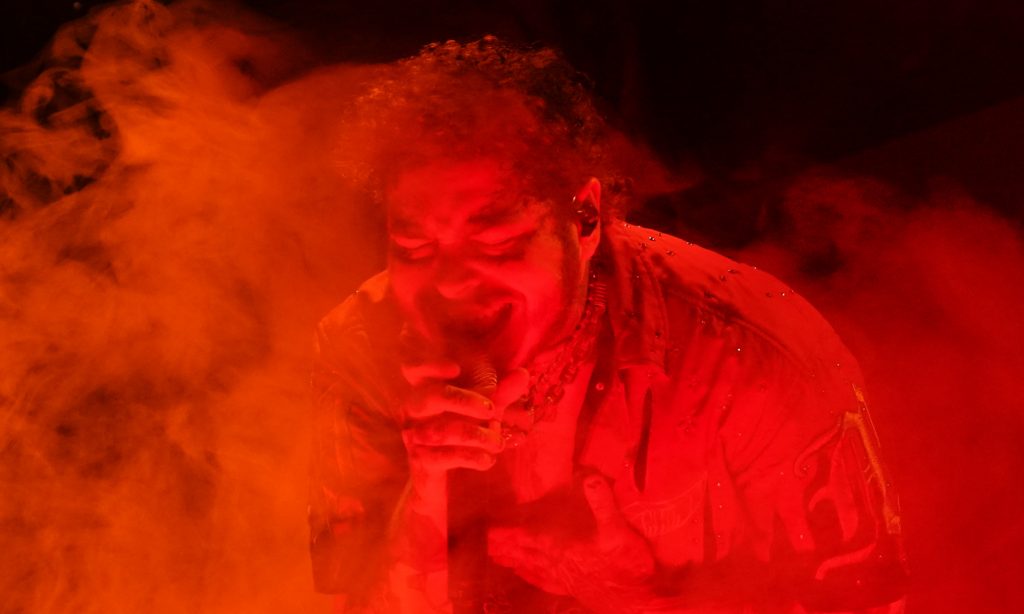 This week, Beck unveils his brand-new album, Hyperspace, coproduced by Pharrell Williams, while Post Malone wraps up his Runaway Tour only to announce a second leg in 2020. Oprah also surprised us with an announcement for her upcoming arena tour, which will feature special guests including Lady Gaga, Michelle Obama and Tina Fey. In sports, things are starting to heat up on the NBA court as 10-time All-Star player Carmelo Anthony finally signs with the Portland Trail Blazers and plays his first game in over a year. And all eyes will be on this Sunday's primetime NFL game between the NFC's top two teams: the San Francisco 49ers and the Green Bay Packers.
1. Post Malone Announces 2020 Tour Dates
Unstoppable "rockstar" Post Malone has just wrapped up the first leg of his Runaway Tour. Now, he's announced a second jaunt around North America in 2020 to support his latest album, Hollywood's Bleeding. Swae Lee and Tyla Yaweh will return as openers. The tour commences on February 4 in Omaha, Nebraska, and hits up major cities around the U.S. before closing out on March 21 in Salt Lake City. Tickets go on sale today. Also, be sure to catch Malone performing alongside "Take What You Want" collaborator Ozzy Osbourne this Sunday at the American Music Awards, airing live on ABC at 8 p.m. ET.
2. Carmelo Anthony Joins the Portland Trail Blazers
It had been over a year since power forward Carmelo Anthony played his last NBA game, but the free agent finally made it back onto the court as a Portland Trail Blazer on Tuesday night. He signed a one-year, non-guaranteed deal with the team. In his debut, he finished with 10 points and 4 rebounds. Still, the team couldn't outdo the New Orleans Pelicans, ending in a 115-104 loss.
3. Beck Releases New Album, Hyperspace
The once self-proclaimed "Loser" has certainly stood the test of time, and Beck's brand-new album, Hyperspace, continues to prove his alt-rock hero status. The album — his 14th! — was coproduced with Pharrell Williams, and features atmospheric electro-pop singles "Uneventful Days" and "Dark Places," as well as a few guest appearances from Sky Ferreira and Coldplay's Chris Martin. Hear the whole release now.
4. Oprah Announces Special Guests for Her Vision Tour
Oprah already has her eyes on a big 2020 with a special arena tour set to kick off right after New Year's. Oprah's 2020 Vision: Your Life in Focus tour will hit up nine different cities around the U.S. Along with interactive sessions to celebrate health, wellness and overall well-being, each date features a special guest who will join Oprah on stage. The tour starts on January 4 in Fort Lauderdale, Florida, with Lady Gaga. Later dates will include Tina Fey, Amy Schumer, Dwayne Johnson, Michelle Obama, Tracee Ellis Ross, Kate Hudson, Jennifer Lopez and Gayle King. Tickets are available now.
5. 49ers Face the Packers on Sunday Night Football
A massive NFC showdown is upon us. We know you've got an opinion.

Sunday Night's Winner, presented by @lowes

— SNF on NBC (@SNFonNBC) November 21, 2019
Be sure to tune in to Sunday Night Football this weekend for an exciting matchup between the NFC's top two teams. The Green Bay Packers (8-2) will be heading to San Francisco to take on the 49ers (9-1), who broke their winning streak with a loss to the Seattle Seahawks during last week's Monday Night Football game. Both teams are hoping to nab a first-round bye in the playoffs, and both have a challenging schedule ahead of them. Whoever wins will have a leg up as the regular season starts to wind down.
You Might Like
Plus: The Smashing Pumpkins return, Netflix Is a Joke Fest and more.
Plus: Maren Morris announces tour, the NFL combine and Kraftwerk turn 50.
Plus: NCAA Men's Basketball rankings, a new album from Grimes and The National hit the road