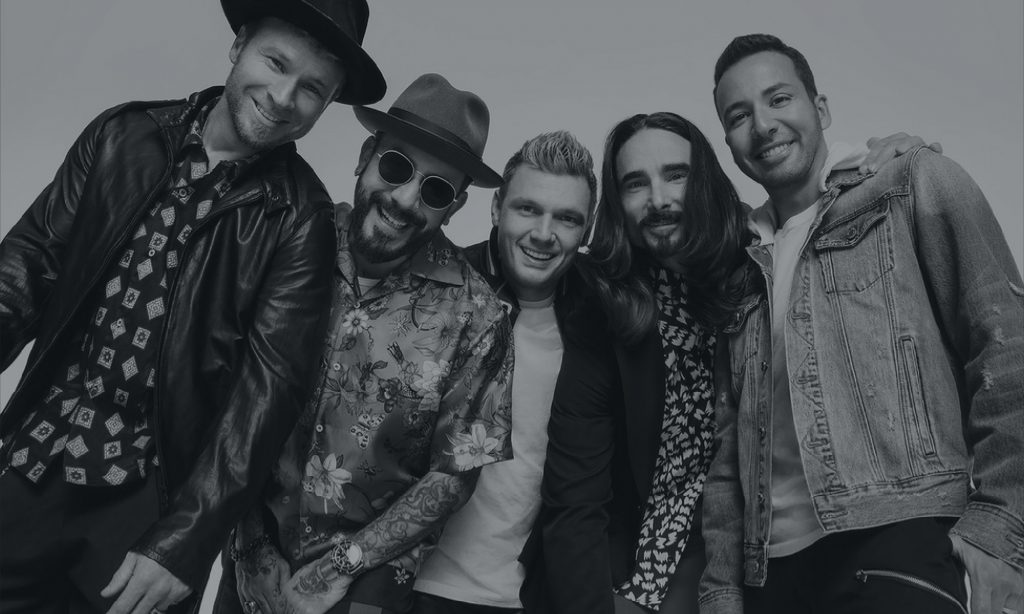 Happy 2019! As the last year of the '10s officially begins (can you believe it?), our minds are focused on the biggest events this year already has in store. We know there will be plenty of nostalgia, with both exciting reunions and momentous farewells. But we're also looking forward to seeing who will grace the most prestigious stages, from Broadway to Lollapalooza. Here is a small preview of what to expect in 2019.
---
1. The Return of the Boy Bands
It's time to scream and shake, like in the old days, when New Kids on the Block and Backstreet Boys make their way back to an arena near you. Boston's finest — Jordan, Jon, Joey, Donnie, and Danny — released single "80s Baby" back in October alongside their 2019 MixTape Tour partners Salt-N-Pepa, Naughty by Nature, Debbie Gibson, and Tiffany. That tour kicks off on May 2 in Cincinnati, Ohio. Meanwhile, NKOTB's slightly younger companions from Orlando, BSB, are preparing for their own monumental year, with the January 25 release of new album 'DNA,' and the launch of their DNA World Tour, which hits the States in the summer. You can get your tickets for both tours starting now.
---
2. Reunited and It Feels So Good
Another year, another round of sweet reunions. First up is Wu-Tang Clan, who are coming back together to celebrate the 25th anniversary of their groundbreaking debut album, 'Enter the Wu-Tang (36 Chambers).' They'll be playing just two shows in Philadelphia and two in New York this January. In other '90s icon news, Hootie & the Blowfish will also be commemorating the 25th anniversary of their own breakthrough debut album, 'Cracked Rear View,' with their 44-city Group Therapy Tour. 
---
3. It's So Hard to Say Goodbye
As we happily welcome any and all comebacks, we also weep for all the imminent goodbyes. And there are plenty this year, particularly for rock and metal fans — Kiss bids farewell after 45 years with their End of the Road Tour, Slayer continues their Final World Tour, and Ozzy Osbourne finishes up a second "semi-farewell" run with his No More Tours 2 outing. But perhaps most epic of them all is Elton John's three-year Farewell Yellow Brick Road Tour, which covers the superstar's 50-year career. So far, he has dates planned through 2019 and even into 2020.
---
New York City has no shortage of incredible titles gracing Broadway's stages, but only once a year comes the Buy One Get One chance to squeeze in a whole bunch at once! Ticketmaster is a proud ticketer of Broadway Week, where fans can grab 2-for-1 tickets to classics like Wicked; new shows like Summer: The Donna Summer Musical; Disney staples Aladdin, Frozen, and The Lion King; and sensational screen-to-stage adaptations like Waitress and Kinky Boots. Even more shows go on sale January 9th, and will be available at discounts for this special annual stretch that runs from January 21st – February 10th.
---
5. Festival Season Heats Up
Sure, winter may have just kicked fully into gear, but early birds are already making spring and summer festival plans. As some festivals like Governors Ball and Bonnaroo begin to drop lineup clues on social media, many more annual affairs in the outfield of the U.S. will be announcing like wild as 2019 also heats up. Fans should keep their eyes peeled for the artists hitting these two legendary weekends, in addition to Lollapalooza and EDC Las Vegas this early in the year.
---
Follow Ticketmaster on Facebook, Instagram, and Twitter for even more on news, culture, and the most exciting live events happening near you.
You Might Like
Plus: The Smashing Pumpkins return, Netflix Is a Joke Fest and more.
Plus: Maren Morris announces tour, the NFL combine and Kraftwerk turn 50.
Plus: NCAA Men's Basketball rankings, a new album from Grimes and The National hit the road