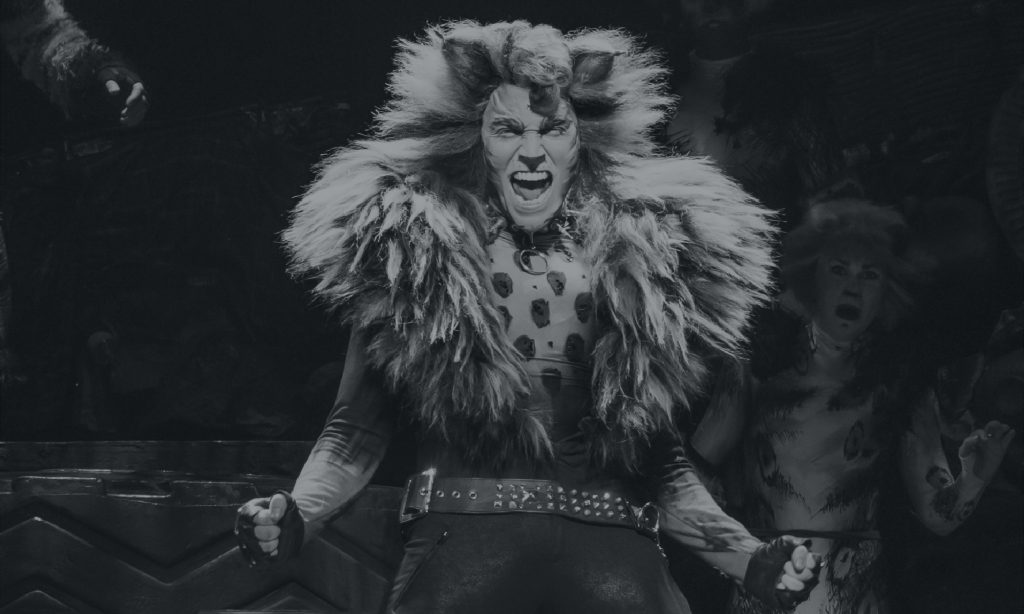 As 2019 kicks into full gear, exciting events are already starting to pile up. First off, one of Broadway's most beloved musicals is hitting the road on its first official tour — and the big screen. In return, one of the big screen's most beloved romantic dramas is getting prepped and primed for the stage. For music fans, it's officially time to start planning out your festival schedule, as lineups for major events are beginning to unveil. Elsewhere, A-list stars celebrate a rock king, while a pop queen takes home a big award.
---
1. CATS on Stage and on Screen
One of the longest-running shows in Broadway history keeps breaking new ground. Anticipation continues to build for the upcoming live-action film adaptation of CATS, which will feature a stellar cast of sirs, dames, and superstars including James Corden, Dame Judi Dench, Idris Elba, Sir Ian McKellen, Taylor Swift, and Jennifer Hudson. But since that won't be in cinemas until December 20, 2019, there's still an opportunity to whet your appetite with the first-ever North American tour of the Broadway revival of CATS. The tour kicks off in Providence, Rhode Island, on January 22, and will wind its way through 24 different cities in its first season. Get your tickets now.
---
2. Festival Season Surprises
It may still be winter out there, but big news from some of the year's biggest music festivals has us daydreaming of long, sunny days filled with nonstop sweet sounds. We're especially thrilled with the lineup announcement for Governors Ball, which takes place Friday, May 31, to Sunday, June 2, at Randall's Island Park in NYC. Leading the lineup are Tyler, The Creator, Lil' Wayne, Florence + The Machine, Major Lazer, The 1975, The Strokes, Nas, and SZA.
And just a few weeks later, we'll be ready for Tennessee's Bonnaroo Music and Arts Festival, taking place Thursday, June 13, to Sunday, June 16. A curated set of players from The Grand Ole Opry, Childish Gambino, Post Malone, Odesza, The Lumineers, and three sets of Phish top a stacked affair for fans' beloved weekend on the Farm.
---
3. Ingrid Michaelson Taking The Notebook to Broadway
Singer-songwriter Ingrid Michaelson (yes, the woman behind such great hits as "The Way I Am" and "Girls Chase Boys") is taking her talents to the Great White Way — once again. Michaelson actually got her first taste of Broadway playing the role of Sonya Rostova in the musical Natasha, Pierre & The Great Comet of 1812 in 2017. Now, she's working on composing the score for a musical adaptation of Nicholas Sparks' tearjerker The Notebook. Stay tuned for more information as the production starts to come together.
---
4. An All-Star Elvis '68 Tribute
January 8 marked the day Elvis Presley would have turned 84. To celebrate, NBC announced its Elvis All-Star Tribute, an upcoming special honoring the King, which airs on February 17. Hosted by Blake Shelton, the show will be taking it back to Elvis' '68 Comeback Special with performances by artists like Shawn Mendes, Ed Sheeran, Post Malone, Adam Lambert, Dierks Bentley, Carrie Underwood, and more. There will also be appearances by Priscilla and Lisa Marie Presley, as well as the original '68 special director Steve Binder. Be sure to mark this one on your calendar.
---
5. Gaga & Ronson Take Home a Golden Globe
Lady Gaga may have just kicked off her Las Vegas residency at MGM's Park Theater, but she still has plenty of obligations in Hollywood — namely, winning awards. Last weekend, she took home a Golden Globe for best original song for "Shallow," from A Star is Born, alongside songwriters Mark Ronson, Andrew Wyatt (of Miike Snow), and Anthony Rossomando. It's her first big win of the season; now, everyone's waiting to see if she can snatch an Oscar next.
---
Follow Ticketmaster on Facebook, Instagram, and Twitter for even more on news, culture, and the most exciting live events happening near you.
You Might Like
Plus: The Smashing Pumpkins return, Netflix Is a Joke Fest and more.
Plus: Maren Morris announces tour, the NFL combine and Kraftwerk turn 50.
Plus: NCAA Men's Basketball rankings, a new album from Grimes and The National hit the road