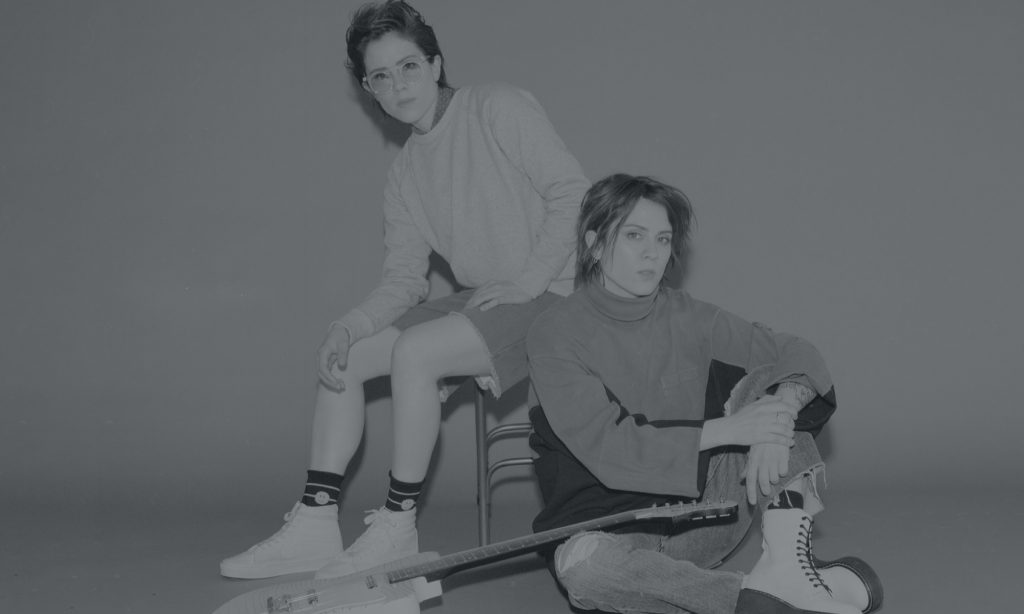 This week brings us new music from indie-pop legends Tegan and Sara, plus big tour announcements from country "Wildcard" Miranda Lambert and indie rock greats Pixies. It's also the final week of major league baseball's regular season, so we've got all the updates on who to root for in the upcoming playoffs. Meanwhile, football fans should keep their eyes on the Los Angeles Chargers now that Melvin Gordon is back in play.
1. Tegan and Sara Release Hey, I'm Just Like You
Canadian duo Tegan and Sara are in the midst of a whirlwind week. They just unveiled their debut memoir, High School, on Tuesday, and have released their ninth studio album, Hey, I'm Just Like You, today. And that's not all: The Quin twins are now officially back on tour, heading to Los Angeles tomorrow and making their way across North America through to November 1 with a final show in Austin. According to the duo, "This tour is going to be like nothing we have ever done." They'll be playing mostly acoustic, reading from their memoir, and even showing old video footage from their teenage years.
2. Melvin Gordon Returns to the Chargers
The Los Angeles Chargers will get a boost in their running game now that Melvin Gordon has ended his two-month contract holdout. The former first-round draft pick officially returned to the team yesterday, and may make his 2019 debut against the Denver Broncos in Week 5. Adjust your fantasy football lineup accordingly.
3. Miranda Lambert Announces 2020 Wildcard Tour
Amid her Roadside Bars & Pink Guitars Tour with her group the Pistol Annies, Miranda Lambert is already plotting out a big 2020. The country star has just announced her 27-date Wildcard Tour in support of her upcoming seventh studio album, Wildcard, due out November 1. The tour begins January 16 in Tupelo, Mississippi, and runs through the end of February, while a second leg will start on April 23 in Boise, Idaho, and hit up Spokane, Washington, before heading north into Canada. Tickets go on sale today.
4. The Braves, Yankees and More Prepare for the MLB Playoffs
It's the final week of the MLB regular season, and the competition is heating up. So far, these are the teams have already clinched playoff berths: the Atlanta Braves, who just took their second straight NL East title — their 19th division title, which ties the New York Yankees, who also just snatched the AL East crown. Joining them are NL West victors the Los Angeles Dodgers, AL West winners the Houston Astros, AL Central champs the Minnesota Twins, NL Central leaders the St. Louis Cardinals (who play the Chicago Cubs this weekend) and the Milwaukee Brewers and Washington Nationals, both who grabbed Wild Card spots. 
5. Pixies Plan Intimate Shows This December
Pixies continue their long streak on the road for the rest of 2019. The indie rock vets are currently touring Europe, but coming back to this side of the pond in December for a small six-date tour of intimate shows to support their just-released album, Beneath the Eyrie. During the tour, the band won't be playing from a planned setlist. Instead, they'll pull from a collection of about 90 songs to be picked spontaneously — even the players won't know what they'll be playing until seconds before. The tour kicks off with two nights at the Troubadour in Los Angeles on December 2 and 3, before heading to San Francisco, New York, Boston and Toronto. Tickets go on sale today.
You Might Like
Plus: The Smashing Pumpkins return, Netflix Is a Joke Fest and more.
Plus: Maren Morris announces tour, the NFL combine and Kraftwerk turn 50.
Plus: NCAA Men's Basketball rankings, a new album from Grimes and The National hit the road